If you want only to sync the metrics back to Salesforce, then you've definitely come to the right page!
Let's get tackling it in the simplest way for everyone to understand.
Here it goes:
Before heading to SyncApps to set the configuration, you'll need to log in to Salesforce and edit your Campaign Page Layout, be sure to create the NUMBER fields for Opens, Clicks, Bounces, Sents, and Forwards so that these can be mapped in Step 4 of the integration Set Up piece.
In Step 1 of your Set Up, check the "Want to track the Marketing Metrics such as Opens, Clicks, Bounces back to Salesforce from your Constant Contact Campaign(s)? Select this feature " checkbox, and below that select "Bring back Marketing Metrics Only" in the drop-down menu then tap NEXT.
In Step 3 of your Set Up, which is the Field Mapping, these fields will show up once you have set the configuration in Step 1. If these fields don't show up, then click "Refresh Fields." Map the Opens, Clicks, Bounces, Sends, and Forwards to the Campaign Object fields:
And lastly, tap Save Changes, then tap Reset Sync Process and Sync Now.
Is storage in Salesforce getting in the way?
To delete any data in Salesforce, try using Dataloader.io https://dataloader.io/deleting-data-salesforce or http://www.storageminder.com/ is a new cool one.
Below also is a best practice flow for Constant Contact to Salesforce integration; this flowchart below shows the "Campaign + Activity" as the Campaign Response Sync Mode.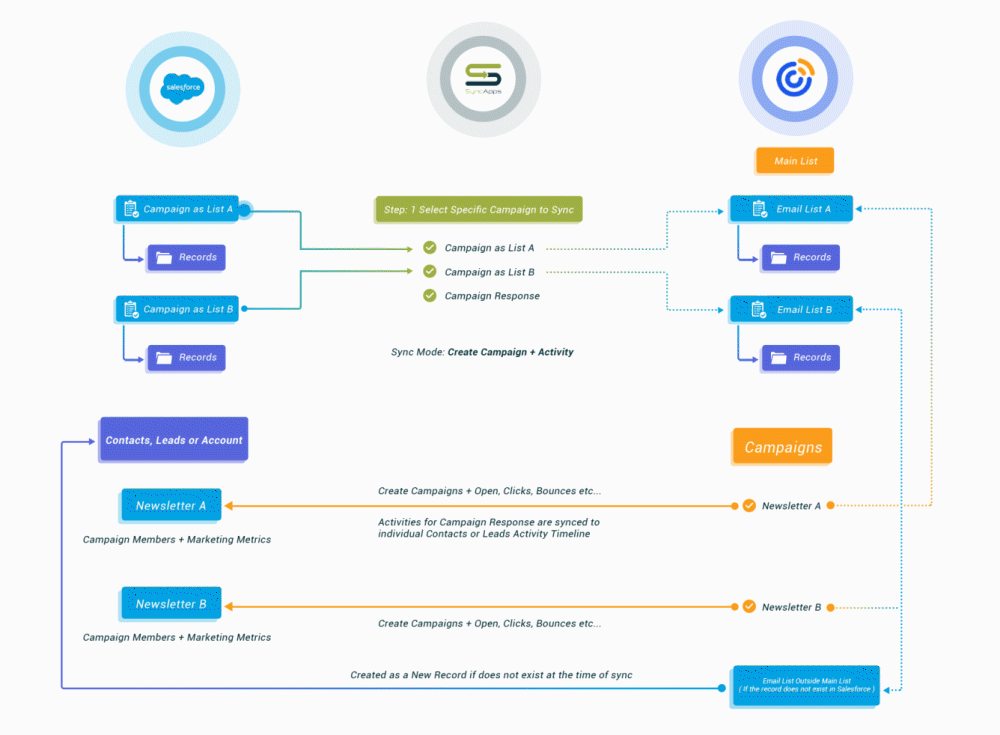 Carefully follow all the above steps, and you'll be up and running in no time.
Need some help?
Check out the options below on how you can contact our Support team and find the answers you need to help you with your SyncApps integrations.
Help Center & Email is 24/7 to support@cazoomi.com | Live Chat & Phone is scheduled
FAQs
Check out these Help Desk articles for answers to frequently asked questions.
Get Started | Login Issues | Pricing
Check out our subscriber's story here on how SyncApps helped them save 100s of hours per year!