Hi there, welcome to Cazoomi Support!
We always love to help, and the fact that you stopped by probably means that you are having some issues.
If you want to only sync the metrics from your Marketing Automation back to Salesforce, then you've definitely come to the right page!
Let's get tackling into it in the simplest way for everyone to understand.
Here it goes:
In Step 1 of your Sync Profile, check the "Sync Campaign Responses" checkbox and below that select Create Salesforce Campaign Only (no Campaign Member) in the drop-down menu in "Campaign Response Sync Mode." Then press NEXT or SAVE so that any changes in this Step will be applied.
To sync only your Marketing Email Campaign with no Salesforce Campaign Members you can select "Create Salesforce Campaign Only (No Campaign Member)" for "Campaign Response Sync Mode" option.
In Step 4 of your Sync Profile, which is the Field Mapping, these fields will show up once you have set the configuration in Step 1. If these fields don't show up then click "Refresh Fields."
And lastly, Reset Sync Process as this will save all the changes in the configurations of your Sync Profile.
Storage in Salesforce getting in the way?
To delete any data in Salesforce try using Dataloader.io https://dataloader.io/deleting-data-salesforce or http://www.storageminder.com/ is a new cool one.
Below also is a best practice flow for Constant Contact to Salesforce integration: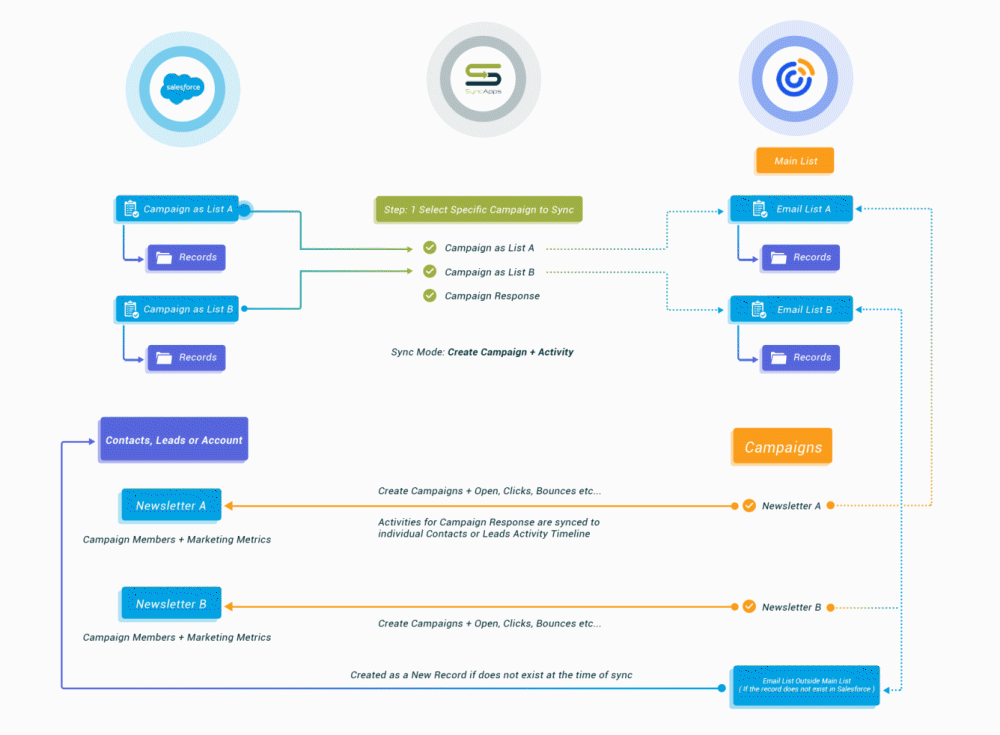 Carefully follow all the above steps, and you'll be up and running in no time.
If you run into challenges, please don't hesitate to drop us a line & our CRM team will be glad to help you 24/7.