Integrating Zendesk, where your customer success team lives, with NetSuite where Salespeople live is super easy.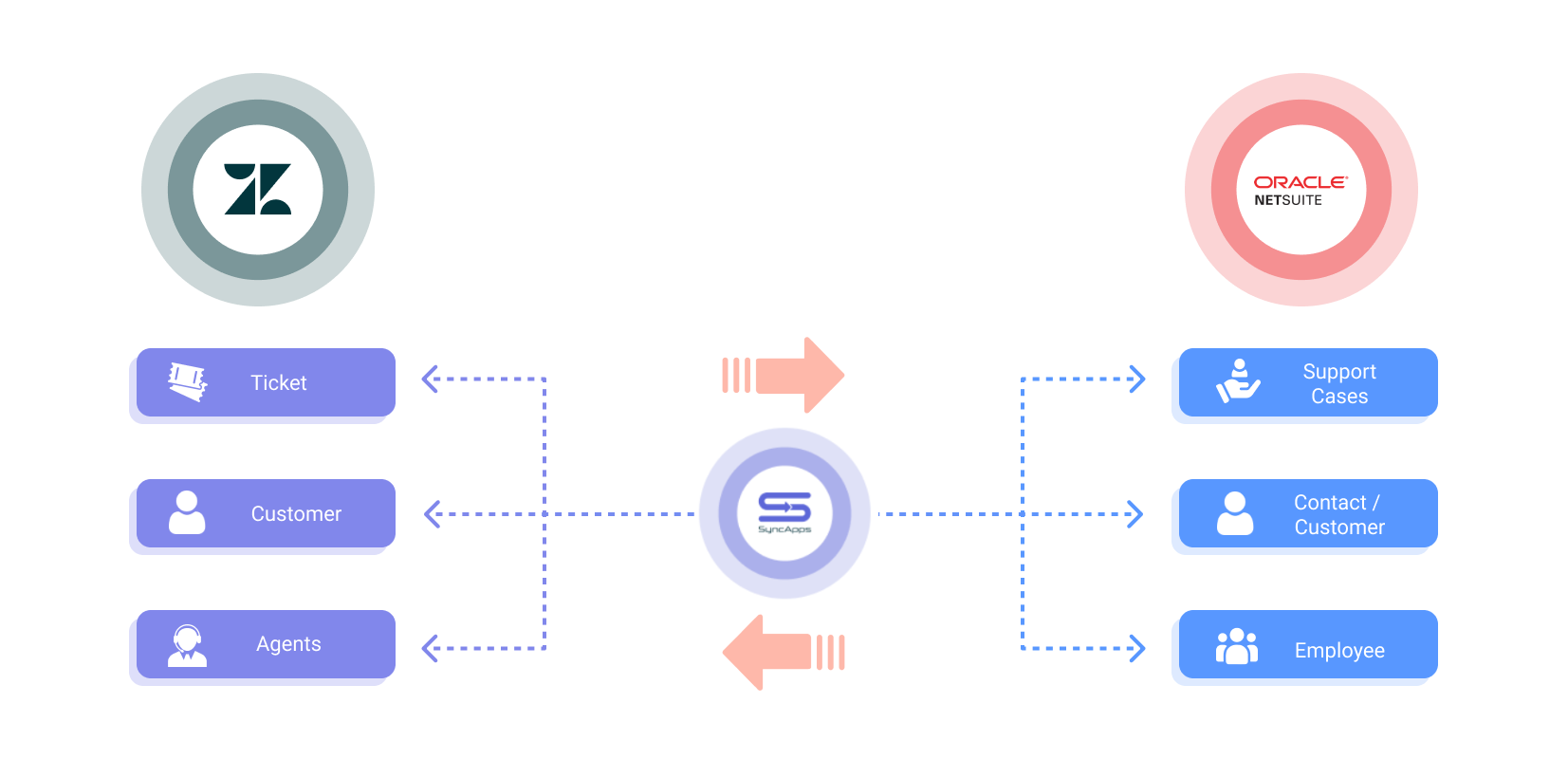 Try to see which mode of integration makes the most sense for your team and choose the right one.
Sync Modes, or a term for direction of integration really, for the Zendesk for NetSuite Integration can be found at Step 1 of your Set Up.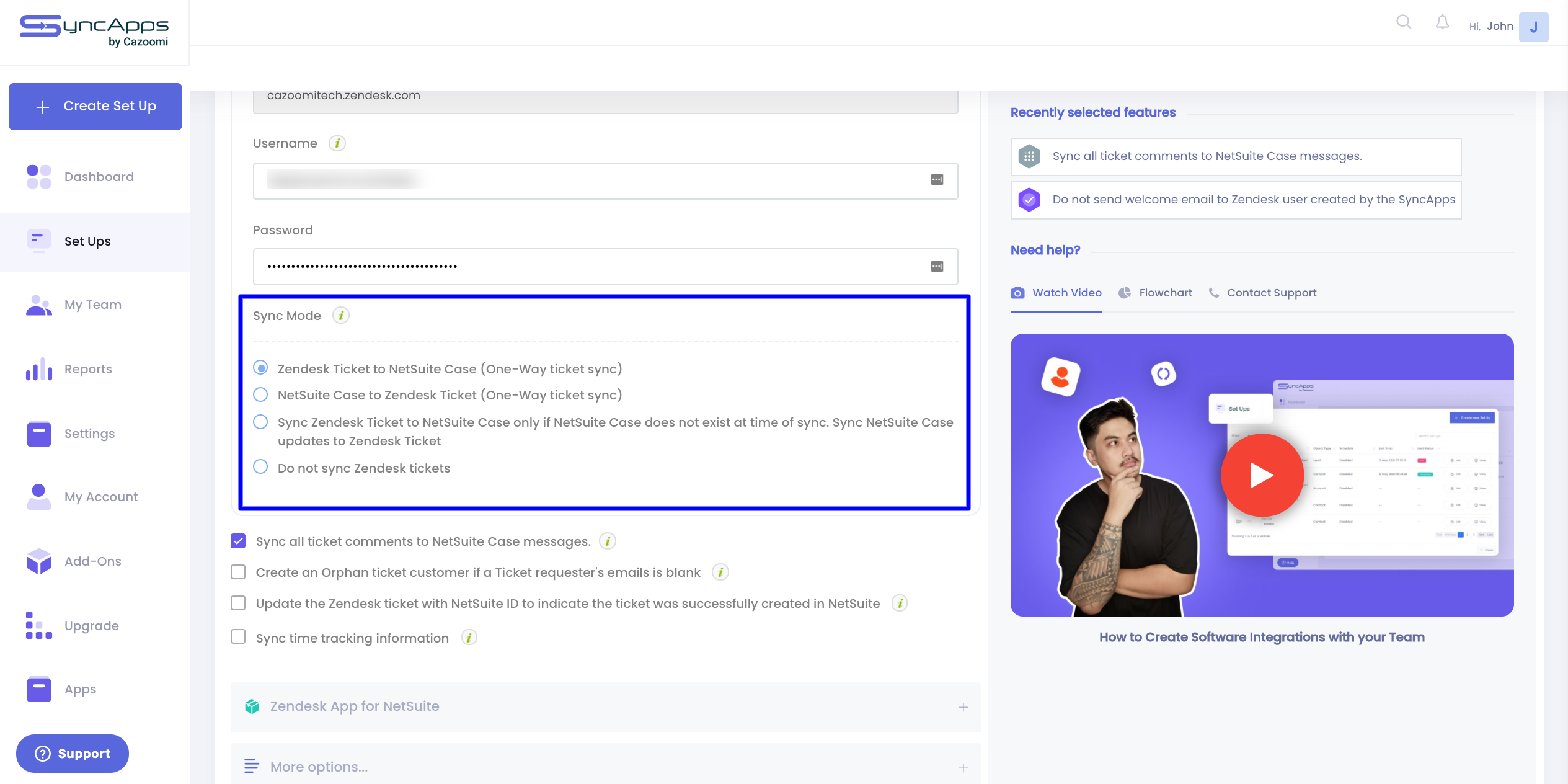 The Sync Mode option cannot be changed once selected.
Using one integration with one Sync mode is recommended for a robust integration experience with Zendesk and NetSuite.
Check with our support team today to see which integration mode is best for your business.
These are the following Supported modes:
Zendesk Ticket to NetSuite Case (One-way ticket sync)
The Zendesk Ticket is synced to NetSuite Case and updates from Zendesk Ticket will always be synced to NetSuite Case. NetSuite Contacts or Customers can be synced to Zendesk User.
NetSuite Case to Zendesk Ticket (One-way ticket sync)
NetSuite Case is synced to Zendesk Ticket and updates from NetSuite Case will always be synced to Zendesk Ticket. NetSuite Contacts or Customers can be synced to Zendesk User.
Need to only sync specific NetSuite Cases back to NetSuite? Be sure to edit the role that you're using for SyncApps then select only the specific Subsidiaries so that only NetSuite Cases with the selected Subsidiaries will be synced to Zendesk.
Sync Zendesk Ticket to NetSuite Case only if NetSuite Case does not exist. Sync NetSuite Case update to Zendesk Ticket.
Sync Zendesk Ticket to NetSuite Case. A NetSuite Case is created if the Case does not exist at the time of sync. Any updates in NetSuite Case are synced back to Zendesk Ticket. Update in Zendesk fields is not synced to NetSuite Case fields. Syncs comments bi-bidirectionally. NetSuite Contacts or Customers can be synced to Zendesk User.
This mode is for a scenario where Zendesk is used to receive support endpoint, NetSuite cases are created on every Zendesk ticket then a support person works in NetSuite and updates NetSuite Status.
Status in NetSuite will then be updated to the Zendesk ticket.
Do not sync Zendesk tickets.
If this mode is chosen then tickets from Zendesk are not synced to NetSuite Cases and users will not be synced from Zendesk to NetSuite as contacts or customers
Note Still using Username and Password for your Authentication in NetSuite (Step 2 of the Sync Profile)? Switch to Token-Based Authentication now and have an enhanced integration experience today!
Need Some Help with a Human Touch?
Check out the options below on how you can contact our support team and find the answers you need to help you with your SyncApps integrations.
Help Center & Email is 24/7 to support@cazoomi.com | Live Chat & Phone is scheduled
FAQs
Check out these Help Desk articles for answers to frequently asked questions.
Get Started | Login Issues | Pricing
Be sure to see one customer's story on how SyncApps helped them save 13 days per year of manually importing/exporting data!