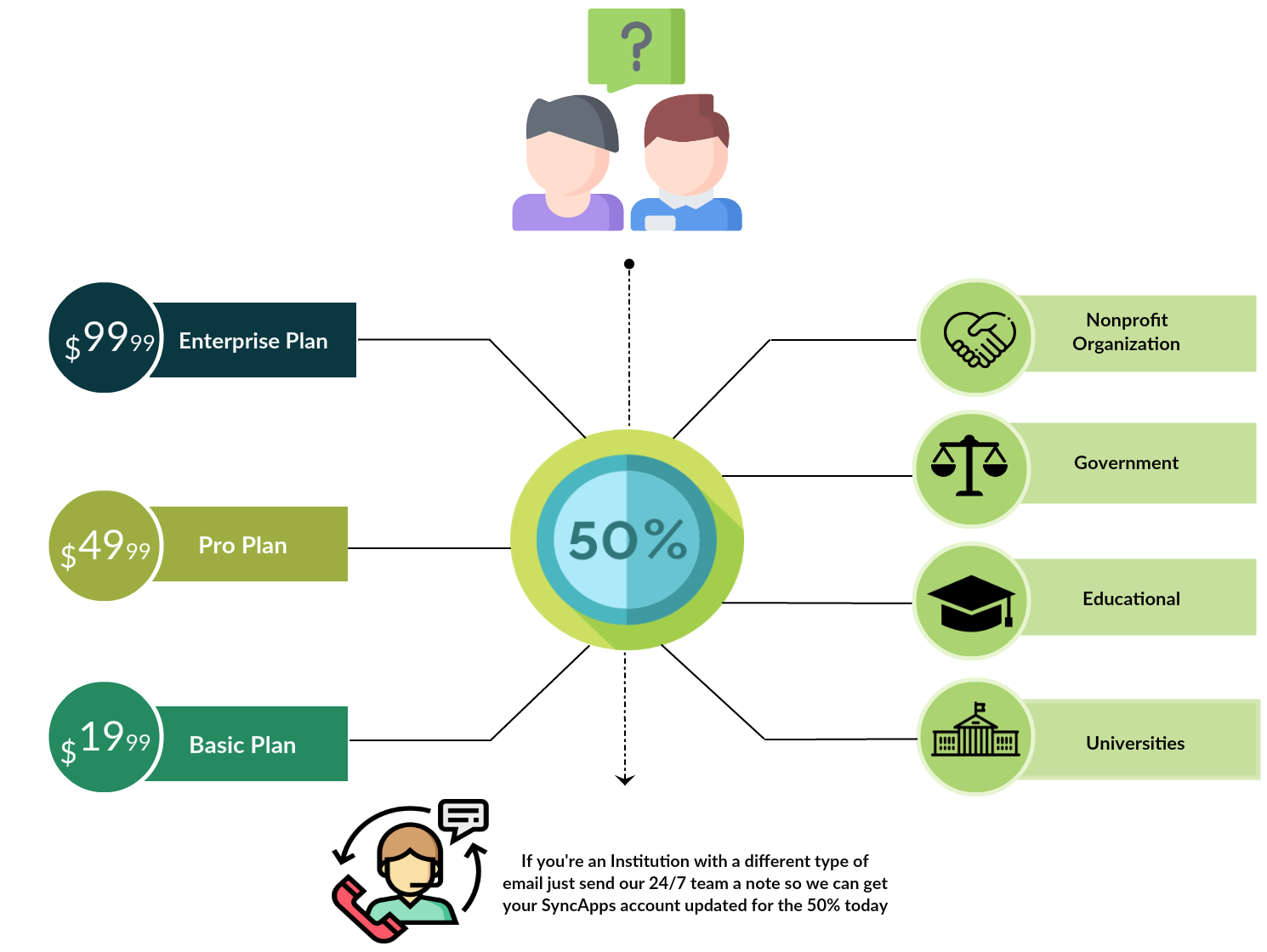 Hi there, thanks for visiting us today! 
Are you wondering if we offer Nonprofit or Education-based pricing?
YES, we do!
See others just like you who started on a trial and get your own 50% off all our pricing plans!
Institutions include education, government, and nonprofit organizations; universities and colleges are also eligible to participate in the SyncApps discount programs.
In your SyncApps account, this discount is automatically applied to all .org and .edu Trial emails in our system upon upgrade. Please note that the 50% discount is applied to subscription fees only. Add-Ons and Services Package fees are at their regular rates.
If you're an Institution with a different type of email just send our 24/7 team a note so we can get your SyncApps account updated for the 50% today.
Check out this question from nonprofits for upgrading and downgrading plans!
We are pretty sure that this query relates you and help you to be all set.
Subscriber:
Hello,
My nonprofit only sends out Mailchimp emails about 3 times a year. Could we subscribe to the $19/month for only those 3 months?
Or, if the 50% nonprofit discount applies to the $19/month rate, then we could afford to subscribe the full year.
Cazoomi:
Thanks and in your use case, might best try our Professional plan if using Salesforce when you need it.
Or our Basic plan if using another CRM.
Just subscribe when you need to send out an email then cancel and resubscribe the next time this year you all need to send out an email to your clients.
Super simple to do with our Upgrade/Downgrade tab in SyncApps.
You total plan per month to send email is only $24.99/month for Pro, and $9.99/month for Basic so should work fine for your needs.

Check out our Subscriber's Story below on how SyncApps helped them save time!