Resolving errors like FIELD_CUSTOM_VALIDATION_EXCEPTION or FIELD_INTEGRITY_EXCEPTION in Salesforce:
Error creating a record for xyz@example.com. There's a problem with this state, even though it may appear correct. Please select a state from the list of valid states.: State/Province, code: FIELD_INTEGRITY_EXCEPTION
OR
Error creating the record for me@email.com. You must enter a value, code: FIELD_CUSTOM_VALIDATION_EXCEPTION
Please check the "Retrieve state name instead of State abbreviation" option. This can be found in Step 2 of your Set Up.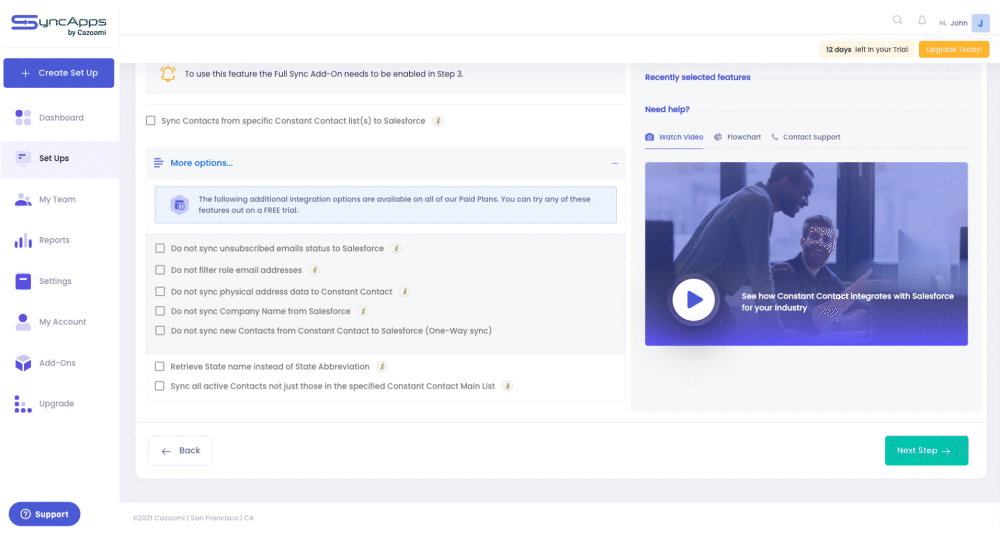 If you enable "State and Country Picklists" in Salesforce, it requires entered data to match the picklist values, which is the state name.
For Constant Contact by default, SyncApps retrieves state code. This option can be checked to retrieve the state name instead.
Another error example is the one below:

This means that the new records from your Marketing Automation software can't be synced over to Salesforce because the storage limit has been exceeded. To fix this, you might need to remove unwanted records, or you may need to purchase additional storage in Salesforce.
Need some help?
Check out the options below on how you can contact our support team and find the answers you need to help you with your SyncApps integrations.
Help Center & Email is 24/7 to support@cazoomi.com | Live Chat & Phone is scheduled
FAQs
Check out these Help Desk articles for answers to frequently asked questions.
Get Started | Login Issues | Pricing
Check out our subscriber's story here on how SyncApps helped them save hundreds of hours per year!