Have you ever wondered why your integration is taking some time to wrap up?
Below are some basic guidelines around what is actually happening: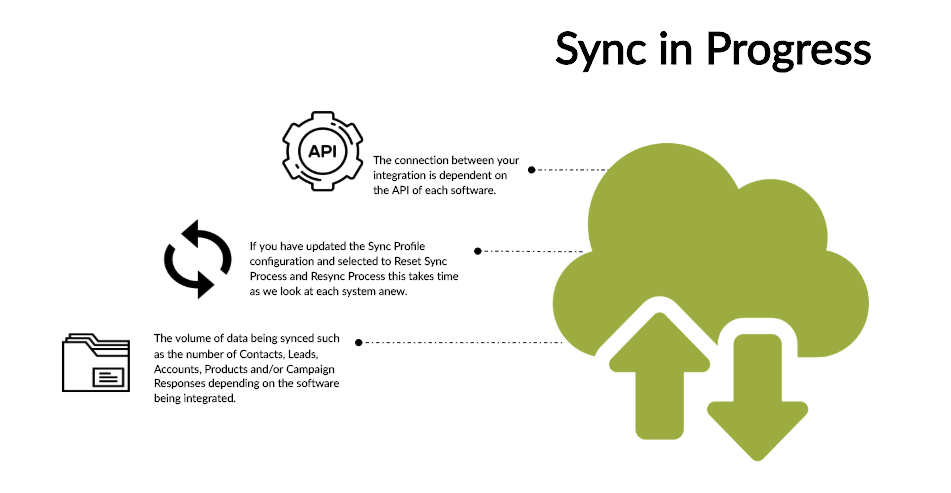 Is your integration still processing and let's say it stays at a specific percentage for over an hour or two?
Don't worry as this is not stuck, but it will take a lot of time due to the following factors:
The volume of data being synced such as the number of Contacts, Leads, Accounts, Products, and/or Campaign Responses depends on the software being integrated.

If you have updated the Set Up configuration and selected Reset Sync Process and Resync Process, this takes time as we look at each system anew.

The connection between your integration is dependent on the API of each software.
Stopping your sync while the sync is still "in progress."
There are also some instances when you might stop your sync while it's in progress yet due note that this might take more time to stop due to our SyncApps indexing algorithms.
When stopping the sync, it really depends on the size of the database being synced as SyncApps will halt the process by ending all sync processes and making sure SyncApps stop the data sync at the moment you press this Cancel button so that we pick up where you left off syncing on subsequent sync runs.
If you've pressed the "Cancel" button and it has been more than 4 hours to stop, then please reach out to our 24/7 Support Team.
Understanding API calls on Campaign Responses why the sync is longer than expected
As stated above "The volume of data being synced such as the number of Contacts, Leads, Accounts, Products and/or Campaign Responses depending on the software being integrated.", one of the factors why the sync takes longer than expected is the number of Campaign Responses for Campaigns that will land back to your CRM records.
Below is a use case where one of our subscribers had been clarified with one of our support:
Subscriber:
Each day, about 12,000 calls for a month-long period of campaigns.
So, to help me understand:
1 campaign has 72,000 contacts on sends. Does this equate to 144,000 API calls for Dynamics?
Or is it 144,000 API calls for the sends, 28,800 API calls for opens (20% open rate), 450 API calls for clickers (3% click rate)?
Cazoomi:
It would be 144,000 API calls for each email address we combine the open, click, forward information into one record. This is why we always need to retrieve whole Campaign Responses from Constant Contact every time as we do not store any Campaign Response data on our server for security compliance.
We have already optimized it by updating only records with open/clicked/bounces/forwards data newer than the previous sync.
Need some help?
Check out the options below on how you can contact our Support team and find the answers you need to help you with your SyncApps integrations.
Help Center & Email is 24/7 to support@cazoomi.com | Live Chat & Phone is scheduled
FAQs
Check out these Help Desk articles for answers to frequently asked questions.
Get Started | Login Issues | Pricing
Check out our subscriber's story here on how SyncApps helped them save 100s of hours per year!