Yes!
Best Practices for testing Mailchimp for NetSuite:
Create a SyncApps free trial and set up a Sync Profile 
From NetSuite, we take the unlimited Contacts/Leads in your NetSuite or the specific Saves Search and sync them to a "Master List" in Mailchimp so make sure that for testing purposes, create test records so only these specific records will be synced to MailChimp.
Use NetSuite Saved Searches to a segment to Mailchimp Groups, automatically on each sync
To test Mailchimp Email Campaign metrics put your own email in the Master List or a synced Group in MailChimp, <myname@company.com>, and send yourself a Mailchimp Email Campaign
Sync Now in your SyncApps Sync Profile
We auto-create a custom record for Mailchimp Marketing Metrics which auto-attaches to the customer/contact record in NetSuite
All Opens, Clicks, Bounces, and Links Clicked are tracked on this custom record
Reports can be set up for it in NetSuite (saved searches) and/or SuiteScript for workflow created to meet various use cases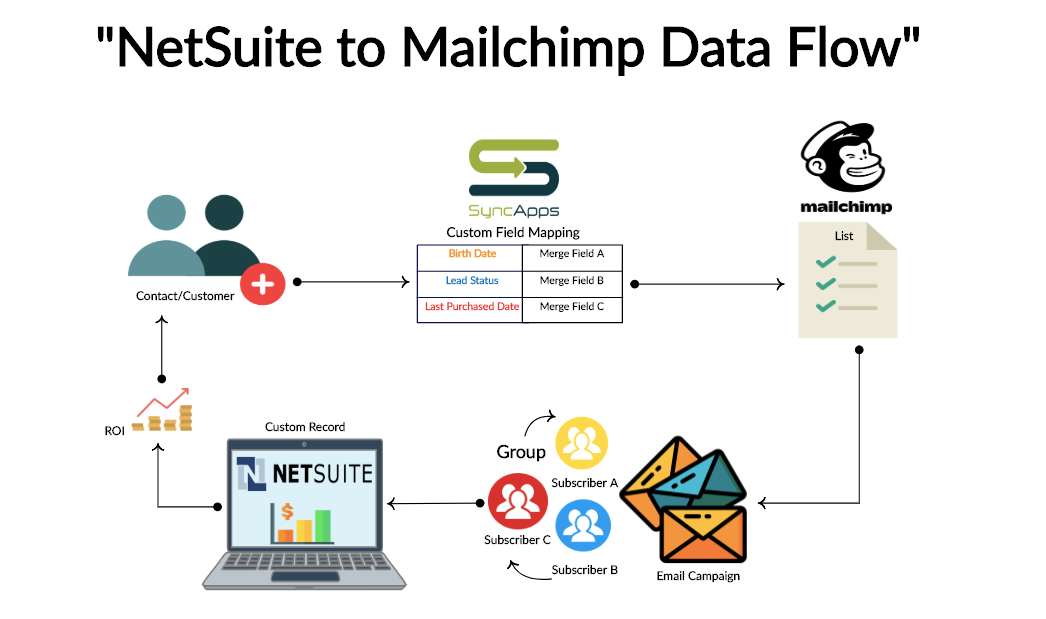 FEATURES:
You now have the ability to tie Mailchimp to NetSuite's robust CRM so you can have your sales reps aware of where prospects are in the sales cycle and manage your subscription lists globally. 
Abandoned Cart prospects synced from NetSuite to Mailchimp List when the Transaction Saved Search is used in the Sync Profile in Step 1.
Enjoy full-blown marketing automation using Mailchimp SyncApps by choosing merge field changed options to trigger your Autoresponders when subscriber information is updated in your list from NetSuite field updates.

For example, if you have a field in your list called -Last Product ordered- you can set your Autoresponder to trigger when the value for -Last Product ordered- changes based on CRM field updates.

2 Weeks Free!