New Feature roll out:

NetSuite Subscription(s) to Marketing Automation List(s), Segment (s), Group(s).
Unsubscribe from ​Email Service Provider (​ESP​)​ will remove subscriber from NetSuite​ subscription. ​
NetSuite's Global subscription status is not taken into account​ nor affected in any way​.
Each NetSuite Subscription will create a MailChimp Group under your Master List.
For "Sync NetSuite Subscription(s) to a Marketing Automation List(s)" feature a NetSuite Saved Search option is provided to speedup the contacts retrieval. Please note that you must make sure that the NetSuite Saved Search(s) only return records that are subscribed to the specified NetSuite Subscription name.
Each NetSuite Subscription will create a List for Constant Contact, Delivra, VerticalResponse + others...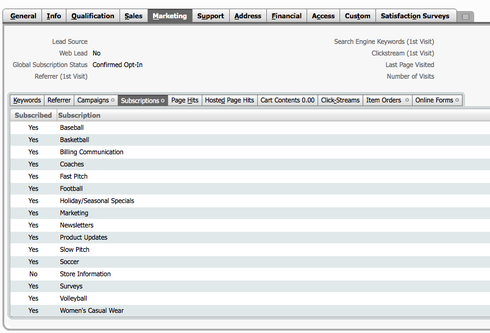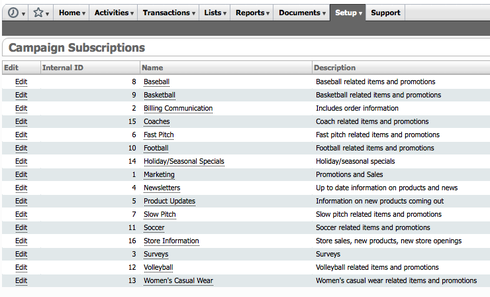 This feature is now available on any Trial of SyncApps.
Marketing Automation Scenario(s) in which this feature really works well:

Step 1: The Enterprise client sets up 10 Sync Profiles, sets each to sync a NetSuite Subscription to a MailChimp Master List

Step 2: A Subscriber in MailChimp unsubscribes from MailChimp Master List #3 thus opt-outs their record in NetSuite for this Subscription #3 yet the Customer/Contact is NOT unsubscribed and synced to NetSuite's Global Opt-Out as they are still Opted in to 9 MailChimp Lists
You will just need X number (in the above use case 10) Sync Profiles to sync X (in this use case 10) number of subscriptions.

Each subscription you currently have in NetSuite under Setup > Marketing > Campaign Subscriptions will be available to select in each Sync Profile Step 1 of the configuration.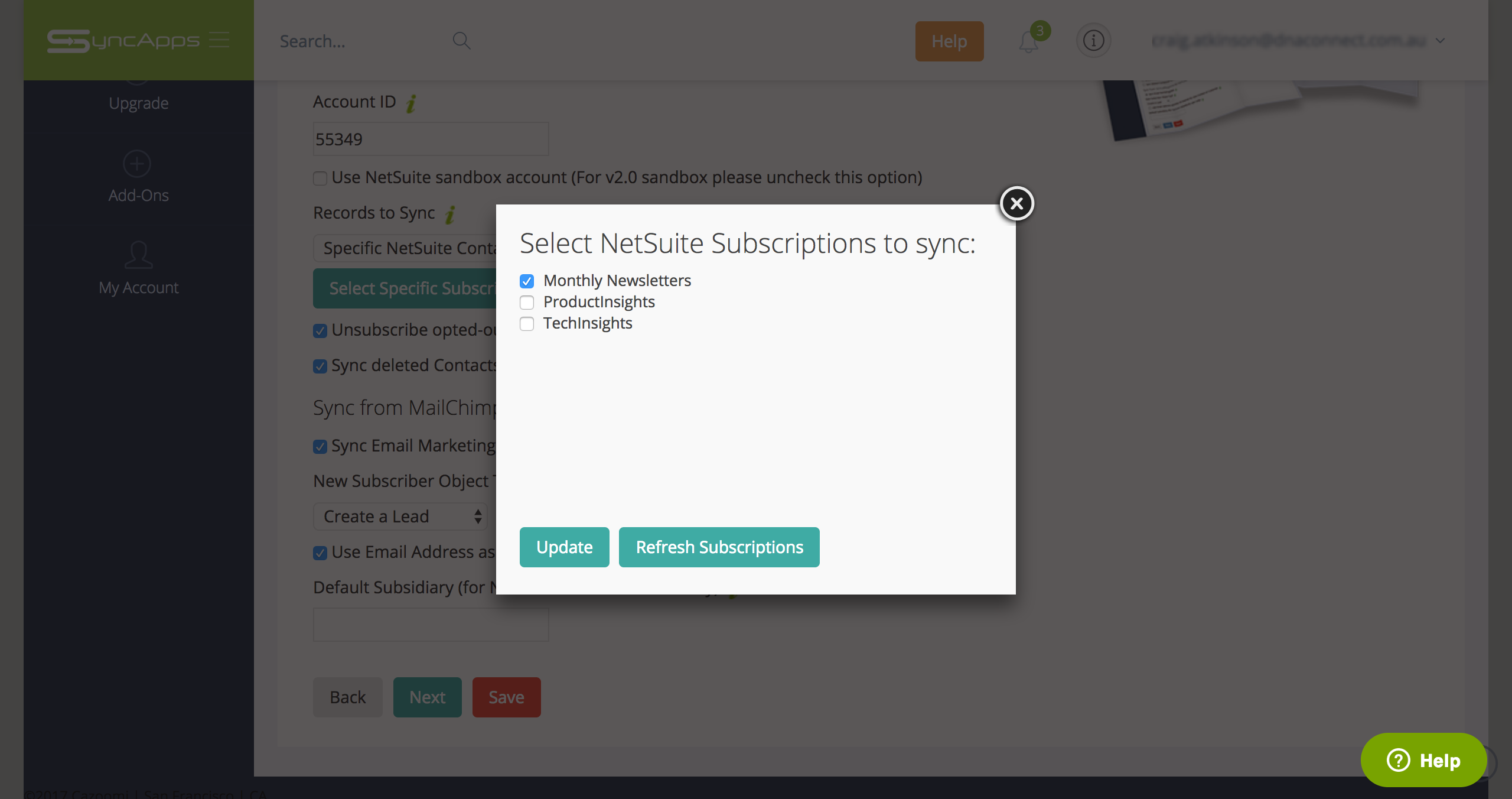 Once this is set up in each Sync Profile then anytime a subscriber in your marketing automation platform like MailChimp unsubscribes from a Master List the NetSuite Subscription will be updated.
Also, use NetSuite Subscription(s) to Marketing Automation List(s), Segment (s), Group(s) feature to manage NetSuite Subscriptions to MailChimp Groups with the MailChimp Update Profile form.
Once a subscriber unchecks a MailChimp exposed Group on the form SyncApps will uncheck their NetSuite Subscription for it.