Do you have any questions regarding the integration options for NetSuite Saved Searches?  
First, to find the Saved Search internal ID (numeric) ID just look for the ID which is at the end of the NetSuite Saved Search URL in your browser when you run it to see a Saved Search you are dealing with today.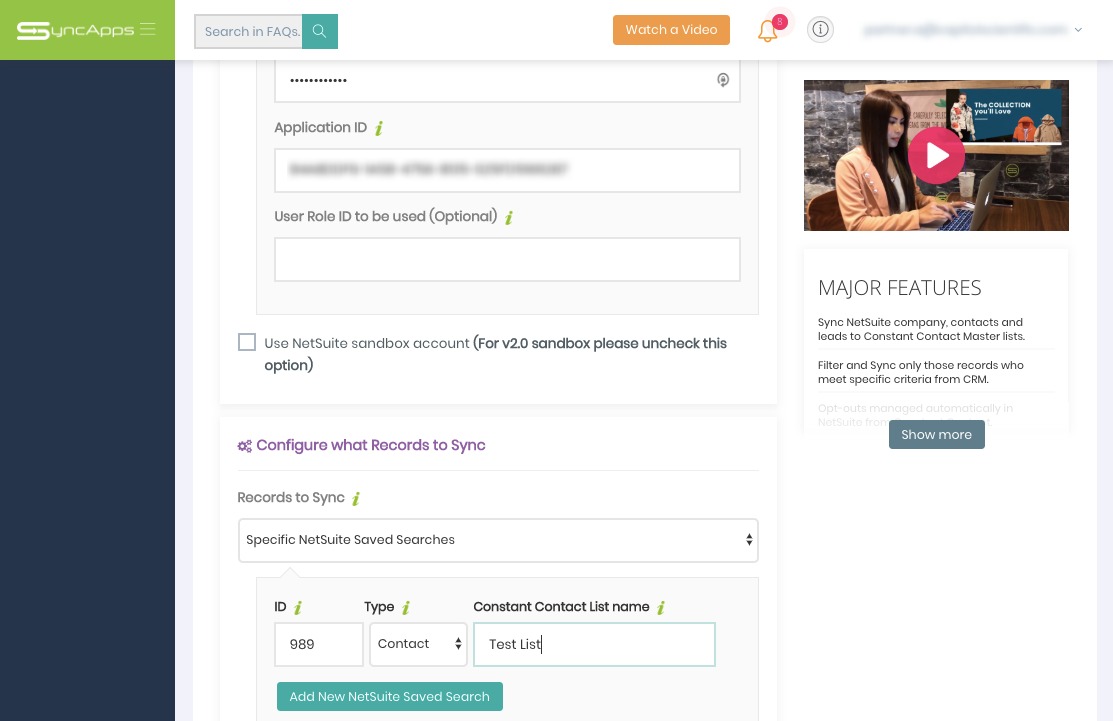 Based on the screenshot above, when you select "Specific NetSuite Saved Searches" under Records to Sync, the when you specify the ID, TYPE, the record(s) under the Saved Search ID will be synced to that new/existing specified Marketing Automation List Name.
Take a look at this question below from one of our subscribers might help you shed some light on your own questions: 
Subscriber:
I have noticed over the past few weeks that our syncs seem to be taking a lot of time for a small amount of data. For instance, it takes 15-20 minutes for the syncs when only one or two records have changed. What might be the problem? Is it beyond regular NetSuite slowness and can it be rectified?
Cazoomi:
It seems the NetSuite Saved Search last modified criteria addition does not work. Alternatively, another reason could be that the customers are constantly being updated, thus explaining the 229 records retrieved from NetSuite.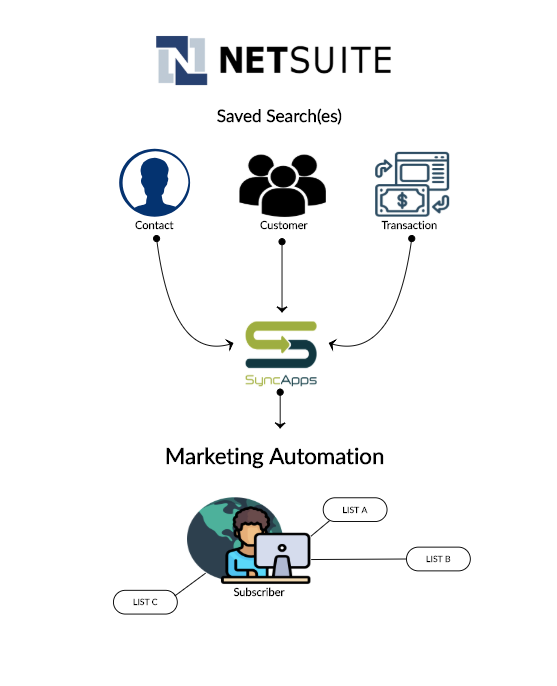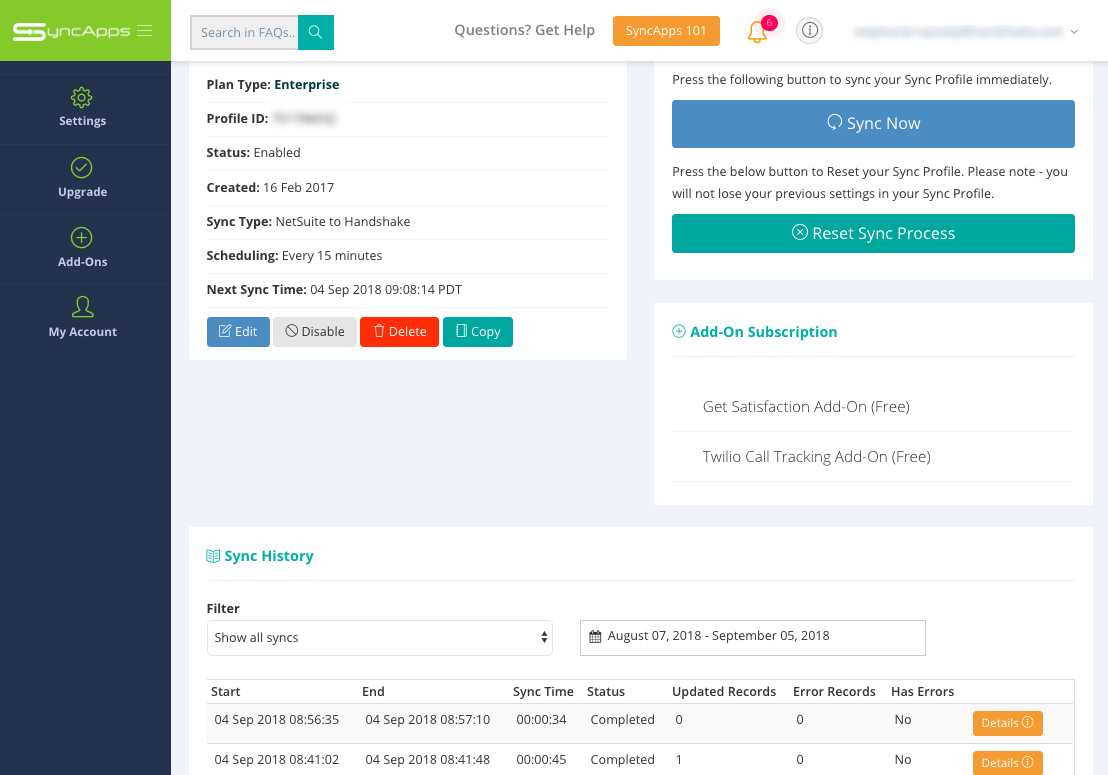 Could you please send us a screenshot of your last Saved Search criteria?
Subscriber:
Here is the requested screenshot below. What are your thoughts?

Cazoomi:
We noticed that the last modified date criteria addition does not work for "Use Expressions" with OR logic. It will produce an incorrect Saved Search result.
Please put one more outermost parenthesis:
(Inactive = false AND .. AND ..) OR Name/ID = ... OR Name/ID = ...
TO
(( Inactive = false AND .. AND .. ) OR Name/ID = ... OR Name/ID = ...)
We have updated SyncApps tooltip and docs with the following rule to rectify the error:
If Saved Search criteria "Use Expressions" is checked then criteria MUST be wrapped with parenthesis "(" and  ")"
SyncApps will need to add one more last modified criteria.
If wrapper parenthesis is not added then saved search could produce incorrect result especially if criteria contains OR logic.
For example: Name = "A" OR Name = "B" must be changed to (Name = "A" OR Name = "B")
If you get any permissions Error on Sync Profile or NetSuite Saved Search with the internal ID x does not exist, please go to the following URL to review NetSuite User/Role permissions solution.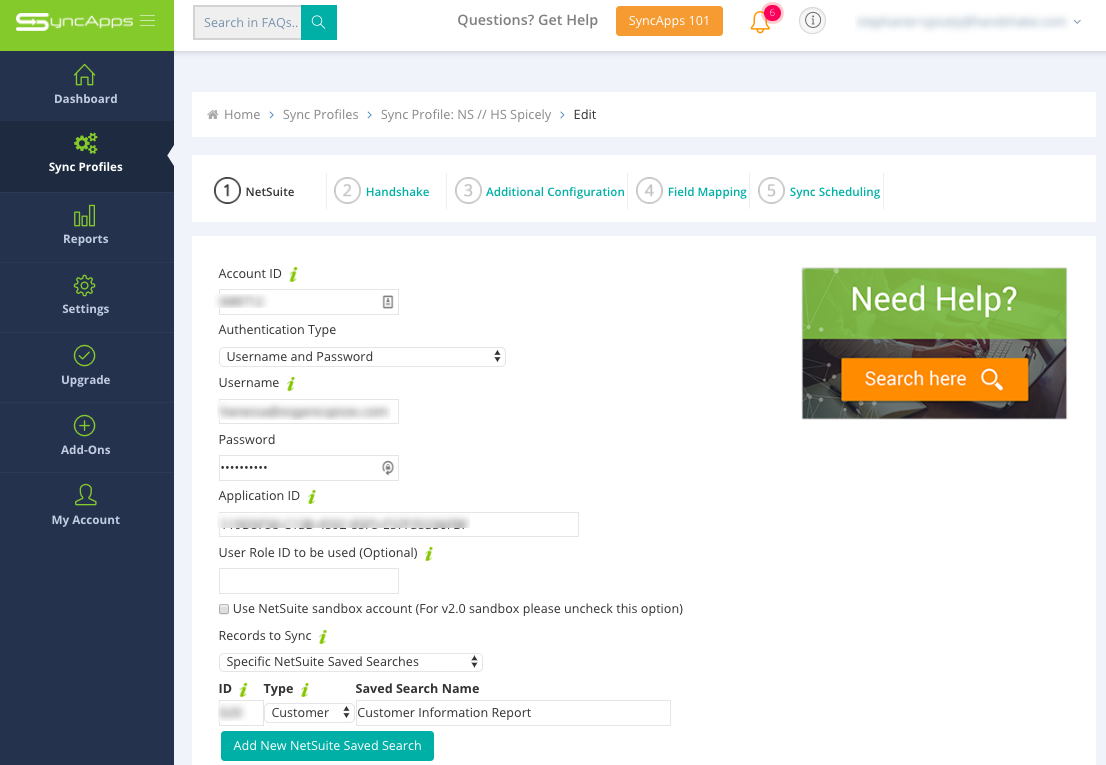 Note:
Do not use the Summary Saved Searches because they are not supported in NetSuite API.
Options available to determine which records to sync from NetSuite to Handshake:
They include:
Sync All Customers
All Customers will be synced to Handshake.
Sync Specific NetSuite Subscriptions
All Customers subscribed to the selected subscriptions will be synced to Handshake.
Sync Specific NetSuite Saved Searches
Only records returned by the specified Saved Searches will be synced.
Check out our subscriber's story here on how SyncApps helped them save 100s of hours per year!
Feel free to reach out 24/7 to our Support Team if you get stuck.