Subscriber:
I wanted to see the way SyncApps is treating Soft Bounces. It appears that these are being recorded along with Hard Bounces as Bounced in CRM (both in member status and in the Campaign Response field). Unfortunately, the Soft bounces are then indistinguishable from Hard Bounces.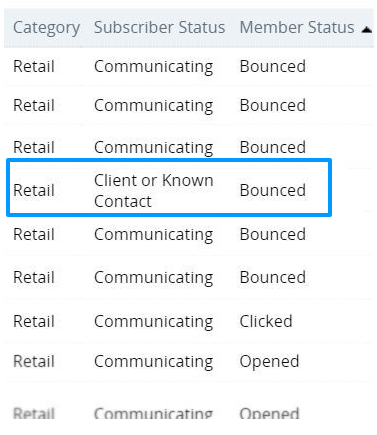 As you will be aware, Mailchimp "cleans" any Hard bounces from your Audience and prevents mailing to the same address. However, soft bounces (which could be caused by a full mailbox, or other reasons) are permitted to be mailed to again, up to 7 soft bounces.
It would be much better if soft bounces were identified separately (i.e., Soft Bounce?) because they are treated differently to hard bounces (i.e., I would not be deleting them from our Audience or ringing up to find out if the contact has moved, for example).

If one is to be able to manage the lists via the metric data, this distinction is pretty important. Interested to hear your thoughts!
Cazoomi:
For Campaign Response coming from Mailchimp, there are not separate soft bounce, and hard bounce calls as the API does not differentiate that information. However, for hard bounce (cleaned) status it can be synced back to a CRM custom field (checkbox type), so you can see if a contact is in hard bounce status.
Please map the field from Mailchimp to CRM today in Custom Field Mapping in Step 4 in your Sync Profile.
If you encounter any issues please reach out to us 24/7 today.