Here's an interesting use case we came across when using Landing Pages and Mailchimp segmentation.
Issue:
In Mailchimp, you've created a single Audience that has multiple groups created to send specific emails to specific groups.
You've also Set Up an integration for both Leads and Contacts.
You're also using a single Main Audience in Mailchimp
The question is how do you define which Group in Mailchimp the Lead or Contact in CRM belongs to?
Solution:
For the Lead Set Up, you can select a CRM List with only Leads in it which would sync and create a Group of the same name as the Main Audience in Mailchimp.
The same holds true for Contacts.
SyncApps used our proprietary email-based algorithm for integration, so duplicates are not possible to create using SyncApps in your CRM or in your target application, in this case, Mailchimp.
Best Practice is using 1 Audience in Mailchimp with up to 60 Groups for segmentation. Leads and Contacts can sync to the same Audience in Mailchimp.
Note:
Be sure to not exceed 60 Groups in Mailchimp on an Audience as the integration will error out.
Error details: Mailchimp Error: Cannot have more than 60 interests per Audience (across all categories). [instance: 11e8f685-fda9-471f-bd91-317981dd045a] (HTTP Status Code: 400)
If you encounter this type of error then please follow this best practice below:
The best practice to solve an issue like this is thru deleting the Group Category (all Groups) In Mailchimp and then the next Reset Sync Process on the Set Up so SyncApps will recreate the Mailchimp Groups.
Please do this method to see the new Groups recreated, and numbers sync up to under 60 Groups in Mailchimp.
If you need another Mailchimp Audience to sync, then you would set up another Set Up.
Using Landing Pages and need to tag each record back to CRM using a single value?
Our Static Text feature for each Set Up using Step 4 Field Mapping to manage this process is the best practice as we have tons of consultants how to use 100s of Set Ups like this to tag every lead from Mailchimp flowing into a landing page to Mailchimp Audience as "XYZ" lead source static text field for example.
For each Landing page, you would need a separate Set Up and 1 Group for the "XYZ" lead source static text field.
Need some help?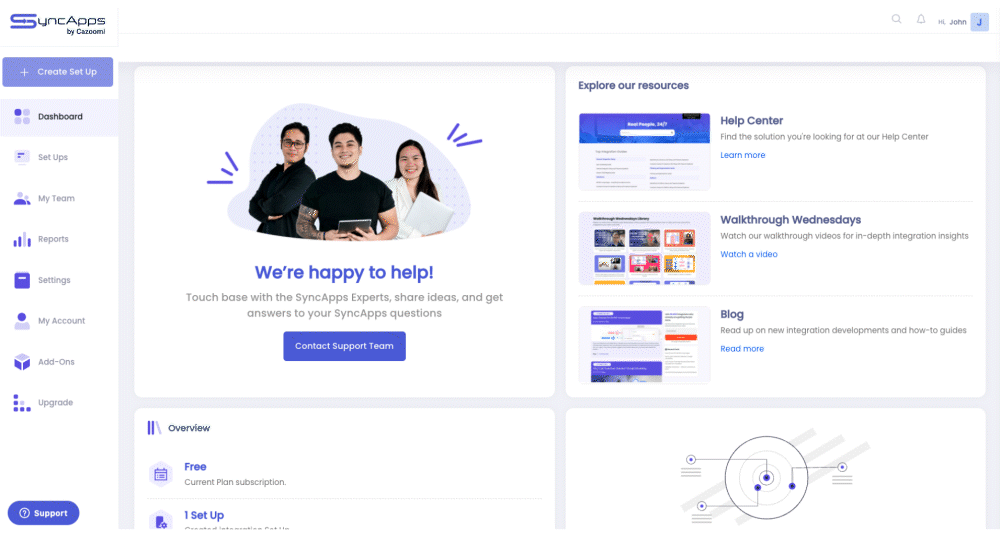 Check out the options below on how you can contact our support team and find the answers you need to help you with your SyncApps integrations.
Help Center & Email is 24/7 to support@cazoomi.com | Live Chat & Phone is scheduled
FAQs
Check out these Help Desk articles for answers to frequently asked questions.
Get Started | Login Issues | Pricing
Be sure to see one subscriber's story on how SyncApps helped them save 13 days per year of manually importing/exporting data!