Hi, there! Thanks for dropping by!
Our Checkbox Field Feature is now available for Mailchimp for Zoho CRM integrations!
*Available as a paid Add-On in Basic and Professional Plan. However, this feature is included in our Enterprise Plan.
Using our Checkbox Field feature lets you control which CRM Contact or Lead record can be integrated into your specific Mailchimp Group(s). Also, you can use the Mailchimp Update Profile form to control checkboxes back to CRM for ultimate control.
To have this option exposed in Step 1 of the Sync Profile, our Add-On purchase is needed.
Please note that using Checkbox Fields for Segmentation will supersede Campaign or List selection in your Sync Profile in Step 1.
Mailchimp Segmentation Method in Step 2 must use Mailchimp Groups in the drop-down menu, not Tags when using our Checkbox feature yet you have selected our newest feature Tags.
Groups are interdependent to our Checkbox fields feature, and Tags are not.
Group Title
The Groups in Mailchimp must be in one Group title and also named in the "Group Title to Use" in the Sync Profile. 
Checkbox field feature FROM Mailchimp to Zoho CRM, this will only take effect on new records. For existing records, you need to update Zoho CRM Checkbox fields, then export these records and import into CRM to make sure the Checkboxes are updated in CRM first thru CSV's.
Example of Mailchimp Group members which are preexisting and need to be exported into CRM first then Checkboxes will work moving forward using your SyncApps integration.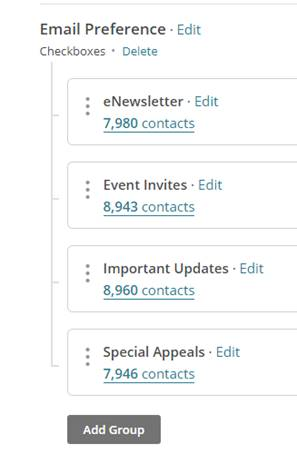 If you encounter any snags, don't hesitate to drop an email to our 24/7 Support team. We'd love to help you out.