Hello, Subscriber community!
Need help in fixing the INVALID LOGIN in Salesforce? No need to worry as this is an easy fix!
ERROR:
Unable to login to Salesforce
Invalid username, password, security token; or user locked out. (Error code: INVALID_LOGIN)
Error details:
Salesforce password you specified has expired. Please change the password and update the Sync Profile configuration with the new password. You will also need to update the security token if the password is changed.
First, we will need to identify the factors that might have caused this:
Updated the Salesforce credentials such as Password and/or Security Token yet did not update in Step 1 of the Sync Profile.

Updated the Password but still using the old Security Token.

Edited the new credentials in Step 1 of the Sync Profile but still errored out.

Salesforce Password has expired.
Important reminder:
Password is tied up with your Security Token.
Please note that when you update your Salesforce Password, the NEW Security Token will be sent by Salesforce to your email. So when you edit your password in Step 1, it is crucial to also enter the new Salesforce Security Token.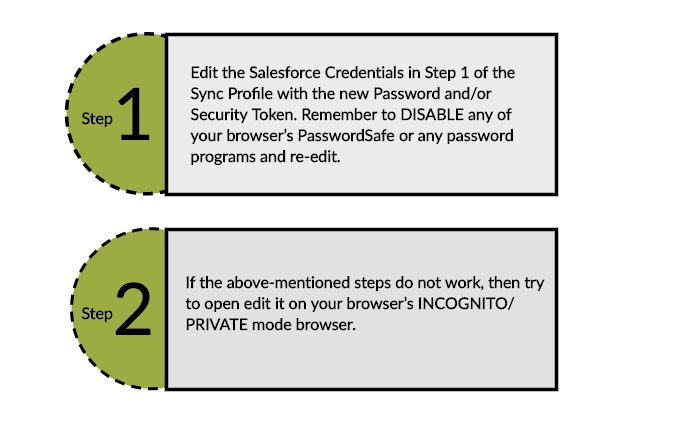 How to fix:
Edit the Salesforce Credentials in Step 1 of the Sync Profile with the new Password and/or Security Token. Remember to DISABLE any of your browser's PasswordSafe or any password programs and re-edit.

If the above-mentioned steps do not work, then try to open edit it on your browser's

INCOGNITO/PRIVATE mode browser

.
API_DISABLED_FOR_ORG
This error is from your Salesforce account which means that your account is not API enabled. This usually happens to Professional Salesforce Edition.
For this to be fixed, you'll need to purchase the API in Salesforce. Once done, you can now use SyncApps for your data integration needs.
Hope this helps you to continue syncing your data!
Reach out to out to our 24/7 support today if the issue still exists.