Setting up your integration Set Up is super simple, but it's understandable that when there are choices there tend to be questioned.
Here's one of the frequently asked questions regarding Salesforce integrations.
Does SyncApps require an API key or Security Token to integrate using the Salesforce API?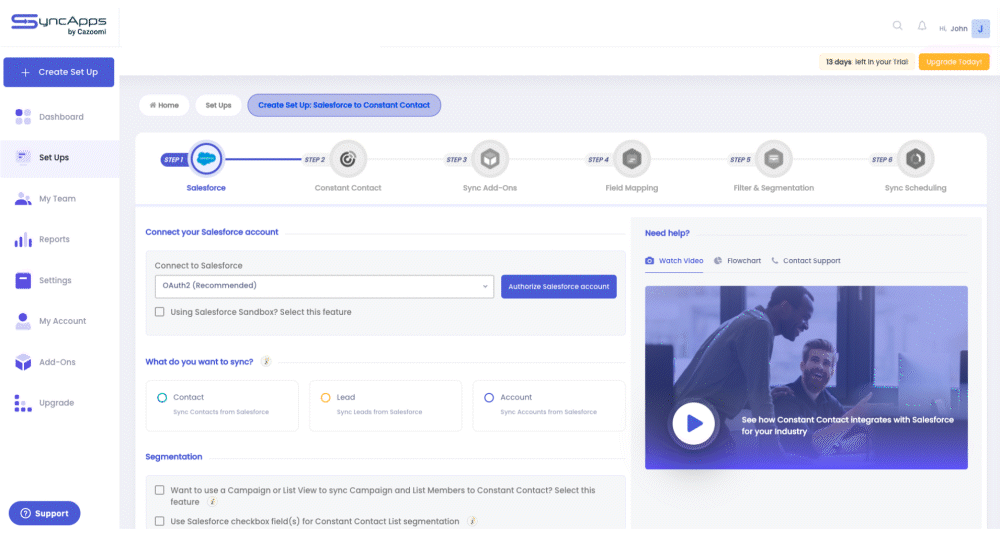 If you use oAuth2 we support it for Salesforce authentication as well as Username and Password. You can even just safelist our IPs to connect.
If choosing to use the Username and Password method then an API key or Security Token is very important as it serves as a key for you to access your software by SyncApps and be able to migrate your records to your other connecting software. If you do not have the API key or Security Token, you can safelist your IP.
Connect different CRM Accounts to your connecting software
If you want to connect, let's say five different CRM Accounts to your Marketing Automation software, you will need to enter a different Security Token or API key per Account per Set Up.
Multiple Set Ups with one CRM Account
You can use the same Security Token or API key for this time of requirement even if you have one CRM account to connect to multiple Marketing Automation software.
Need Some Help with a Human Touch?
Check out the options below on how you can contact our support team and find the answers you need to help you with your SyncApps integrations.
Help Center & Email is 24/7 to support@cazoomi.com | Live Chat & Phone is scheduled
FAQs
Check out these Help Desk articles for answers to frequently asked questions.
Get Started | Login Issues | Pricing
Be sure to see one customer's story on how SyncApps helped them save 13 days per year of manually importing/exporting data!