Hey there!
New to SyncApps and still studying how to sync your Marketing Metrics such as opens, clicks, bounces, etc.?
See the details below!
Here are a few Help Center Articles that will help you have an idea of how Salesforce to Marketing Automation works: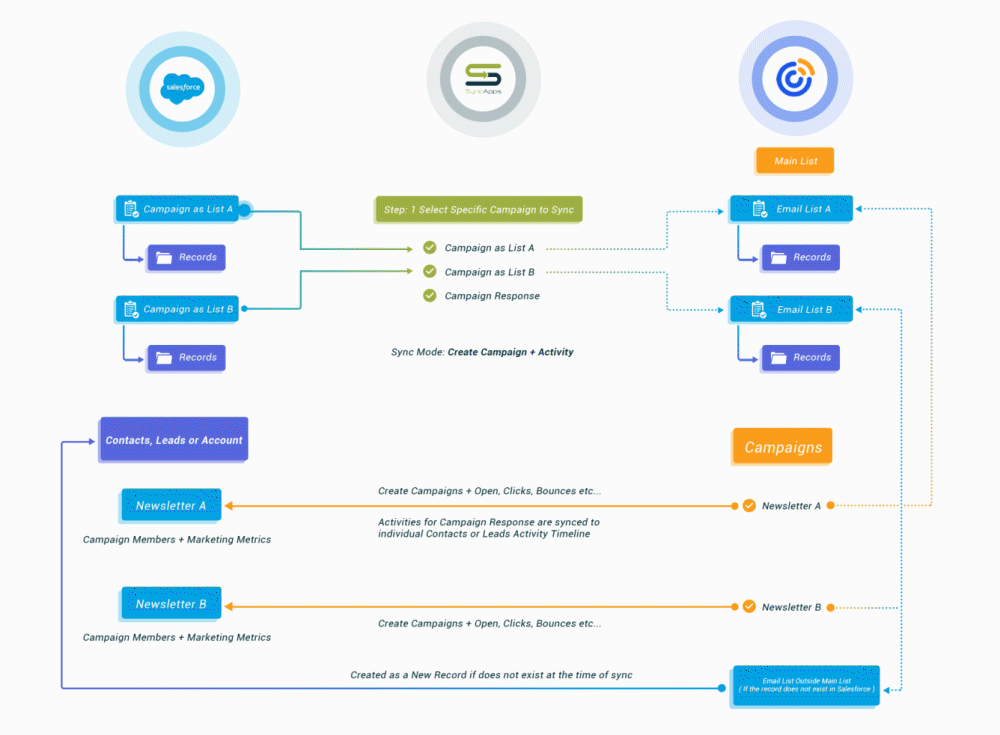 Flow: Salesforce to Marketing Automation
Records from Salesforce CRM Campaign A and CRM Campaign B are now synced to your Marketing Automation's Main List/Audience and now created into segmented Email List(s) or Group(s) with the same name under that Main List/Audience.
In Step 1 of the Sync Profile Configuration, you have selected "Create a New Salesforce Campaign" as the Campaign Response Sync Type.
Flow: Marketing Automation to Salesforce
Now that the records have landed in your Marketing Automation's Main List/Audience, create and run the Marketing Automation Campaign and make sure that you have selected these Email List(s), Group(s) that were created from the Salesforce CRM Campaign(s) as the recipients of the Campaign.
Let's assume that the Campaign is 100% done and when the sync runs, SyncApps will then create a new Salesforce CRM Campaign together with the Marketing Automation's Campaign Responses marketing metrics such as opens, clicks, bounces, etc.
Hit any snags during the process? Hit us up today!