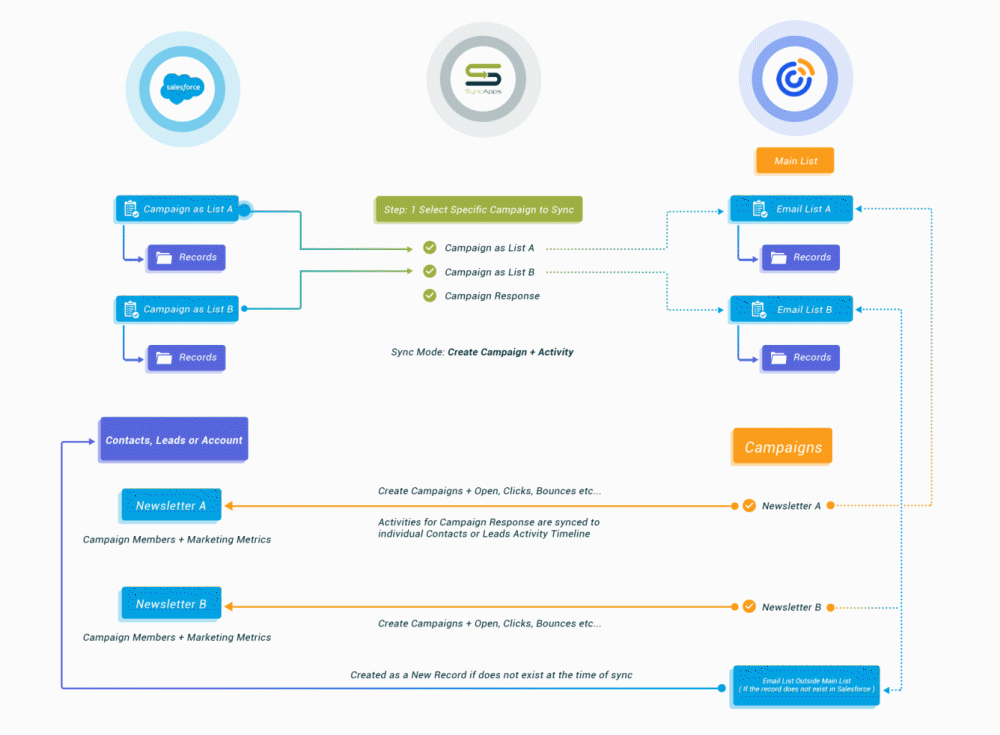 Hey there!
The flowchart above explains how basically the Marketing Metrics flow back to Salesforce. But for starters, what are Marketing Metrics?
This is our Campaign Response Feature in which you can grab the opens, clicks, bounces, etc. from the Marketing Automation Campaign.
In the flowchart above, when the Salesforce Campaign(s) are synced to the Marketing Automation List/Audience, they become segmented email list(s), Group(s), or Tag(s). When you run a Marketing Automation Campaign, it should land to your Main List/Audience or in the segmented list(s) such us email list(s), Group(s), or Tag(s); meaning, you'll make them as the recipients of the Marketing Automation Campaign.
In SyncApps, there are several Campaign Response Sync Types, but in this case, we'll use the "Create New Salesforce Campaign". This will create a new Salesforce Campaign together with the Marketing Metrics.
Syncing back to the original Salesforce Campaign is not supported.
For more information on how Salesforce works with your Marketing Automation, check out our dedicated Help Center article here.
Also, check out how other organizations, both large and small, are solving their integration use cases today below!