Are you curious about segmenting Saved Searches from NetSuite to your Mailchimp Audience?
Let's talk about that now!
Segmenting NetSuite Saved Searches to Mailchimp Groups is crucial for sending Email Marketing Campaigns because each Group is connected into specific Saved Searches and can receive specific Campaigns.
Let's walk through the steps of getting it set up.
First, make sure that each Netsuite Saved Search has its preferred filters and determined types, such as Contact, Customer, Transaction, Employee, Partner, or Vendor.
NetSuite Saved Search Best Practices & Options for Integration
In SyncApps, head to Step 1 of the Set Up, and under "What do you want to sync?", select "Specific NetSuite Saved Searches".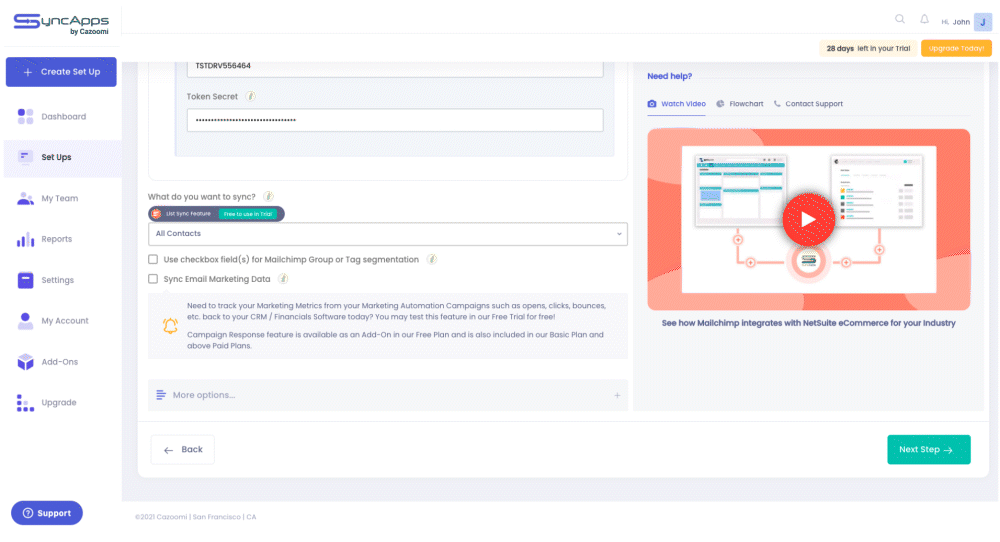 Enter the NetSuite Saved Search ID, Type, and which Mailchimp Group would you like this specific NetSuite Saved Search will be synced to. SyncApps will create the Mailchimp Group automatically on syncing or if it exists in Mailchimp already we will marry the Saved Search to the Group.
Note:
In our Free Trial, you can only sync 1 NetSuite Saved Search for testing.
If you're subscribed to our Free Plan, please purchase our "List Sync Add-On" to be able to sync unlimited Saved Searches.
Unlimited Saved Searches feature is included in our Paid Plans such as Basic, Professional, and Enterprise Plans.
Double-check if you have specified the correct Mailchimp audience in Step 2 of the Set Up and if the Groups are already created under your Mailchimp Audience. You can also use existing Group(s) if you prefer.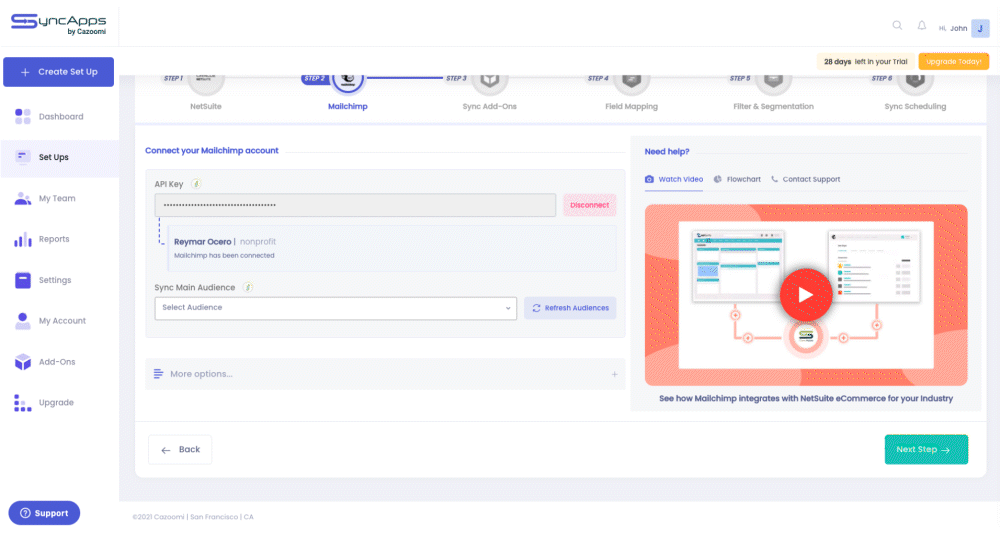 Hit Save, then Reset Sync Process and resync.
What does the "Reset Sync Process" button in my Set Up page do?
I upgraded to a Free Plan and they went all to my Main Audience. Why is that?
This is a typical case where a subscriber already set the Saved Search when they were in the Free Trial. However, when they upgraded to the Free Plan, the Saved Search setting and Records to Sync option in Step 1 was changed to "All Contacts".
Please note that our Free Plan only syncs the records without any ability to control the segments like Saved Searches to make your integration more granular.
Other features are available as Add-Ons or via our Paid Plans so try them out today! Below is a screenshot of which Add-On applies to this case: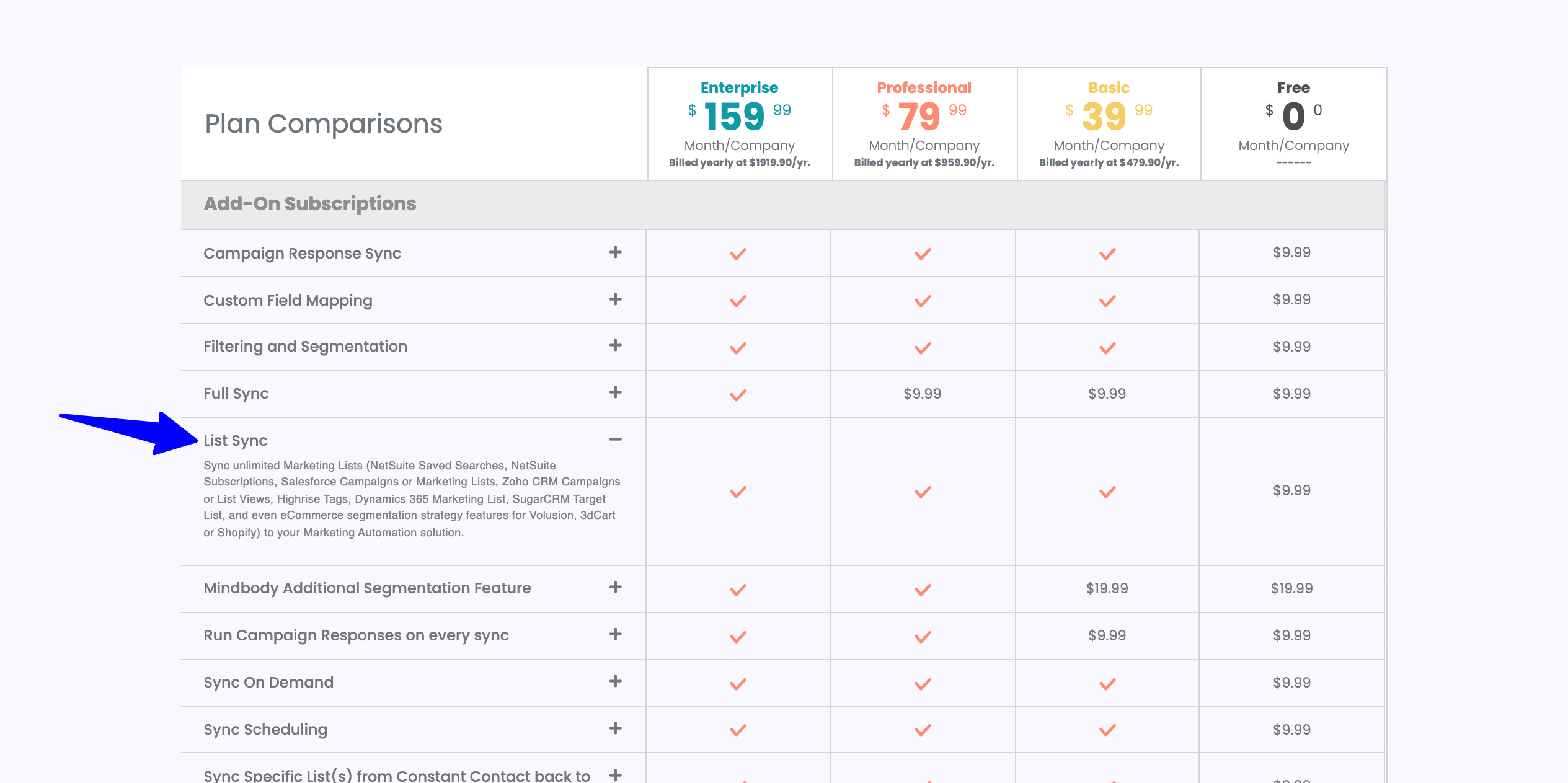 In this case, you'll need to purchase our List Sync Add-On (it's in Step 3 of the Set Up) or in the Add-Ons tab. See the video below how List Syncs works.
Need some help?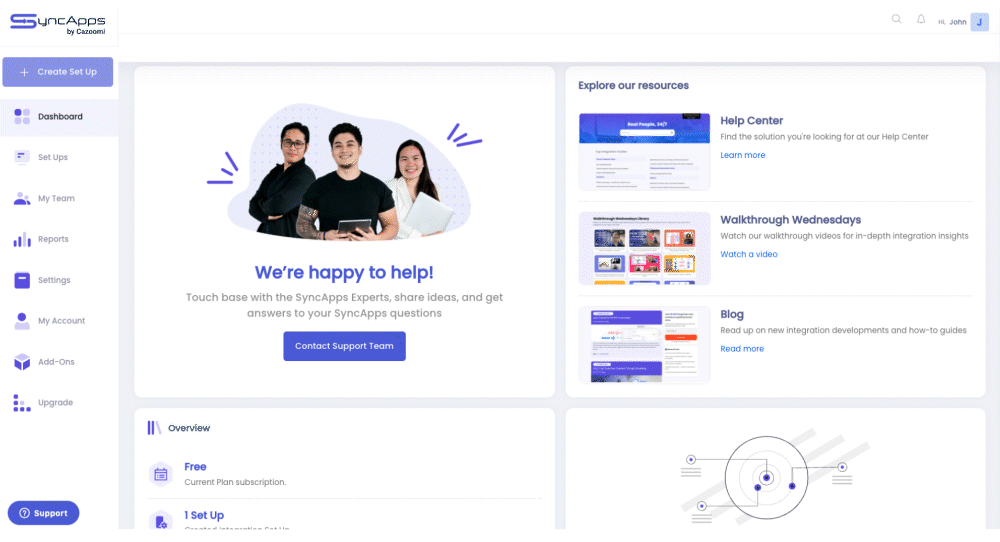 Check out the options below on how you can contact our Support Team and find the answers you need to help you with your SyncApps integrations.
Help Center & Email is 24/7 to support@cazoomi.com | Live Chat & Phone is scheduled.
FAQs
Check out these Help Desk articles for answers to frequently asked questions.
Get Started | Login Issues | Pricing
Check out our subscriber's story here on how SyncApps helped them save hundreds of hours per year!