Hey there, nice of you to join us today!
Are you having trouble tracking your Marketing Automation solution metrics in NetSuite?
No worries; we are here to help you get all that sorted out.
So, let's get right to it.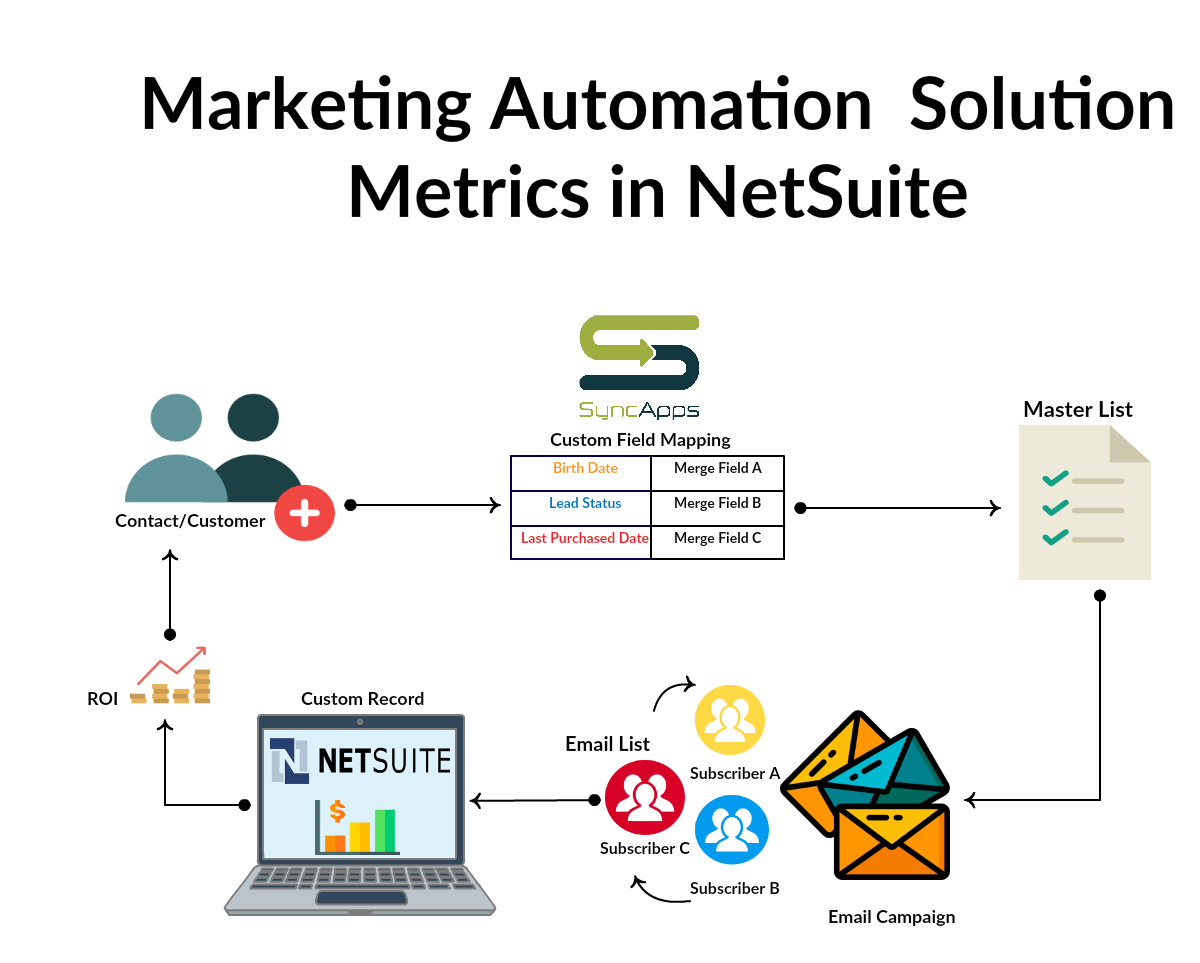 This is how it works:
Activate the Sync Email Marketing response in a

NetSuite integration

for your marketing software.

A Custom Record with the name "Your Email Marketing Software Email History" or "Your Email Marketing Software Emails-Cust" is then created.

Email Marketing Data will sync to any NetSuite Contact or Customer Record Custom Subtab when selecting in Records to Sync, "All Contacts."

First, create a Contact or Customer Saved Search configured in your Sync Profile if you are using the saved option. What this does is facilitate the placement of your marketing metrics in the subtab.
Note: If you select Record Type to Sync, "All Contacts," and need Marketing Metrics back to NetSuite, please also select "Create a Contact" for New Subscriber Object Type in order to have SyncApps automatically sync the metrics back to Contacts.
If this option for "Sync Email Marketing Data" is checked in Step 1, Email Marketing data (Opens, Clicks, and URLs clicked or links clicked metrics) will be synced to a custom record in NetSuite.
The clicked URLs should be visible in Email Events field as shown below on the Contact custom subtab: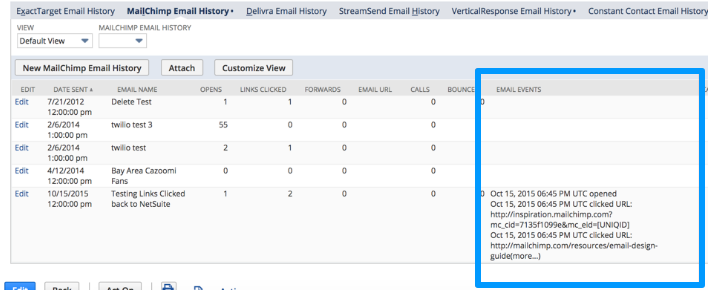 The custom record will be created automatically by SyncApps and capture data starting with the date of creation and on a rolling 30 days basis after a Campaign is initiated.
Email Marketing Campaign metrics land on the custom subtab on the NetSuite Customer/Contact record. You can change the NetSuite custom subtab name to meet your needs in NetSuite.
Custom Records
Your records will be displayed under a NetSuite custom subtab. The below case shows Constant Contact to NetSuite:
For example, changing the subtab name to Eblast History can be achieved through the following easy process:
Go to Setup > Customization > Subtabs > Click Entity tab.

Add a new tab with the name "Eblast History." Click Save.

Go to Setup > Customization > Record Types, Click "Your Email Marketing Software" Email History.

Click Fields > Contact. Update parent subtab to "Eblast History." Click Save.
Need more info on this? Check the NetSuite Answers site.
How It Works
This feature will track your Eblast History on your Contact, Customer or Lead records in NetSuite so your sales reps can easily see what marketing touches the customer is interested in before picking up the phone.
Additional Uses of the NetSuite That Will Enhance Your Experience
An example of Subtab Renaming in NetSuite:
You might want to rename your subtab in NetSuite. Below is an image illustration of the process:
Custom Record created by SyncApps for each email sent by your email marketing software (e.g., Constant Contact)
This is how you can view the custom record created by our SyncApps for each mail from your email marketing software:
Email Campaign Results portal for "Bay Area Subscribers" email sent on NetSuite Dashboard (CRM of choice/used also synced to records via SyncApps):
You can view your email campaign results.
Troubleshooting:
If SyncApps logs display Campaigns are synced, but no email history records are created in NetSuite follow the steps below:
Open menu

Setup > Integration > Web Service Process Status

Download recent requests and response files. Your download should be similar to the screenshot below:

Send both the request and response files (the latest one) to our

24/7 support

team along with your Sync Profile ID or URL. We're always here to help you make the most of our solution!
Check out our subscriber's story here on how SyncApps helped them save 100s of hours per year!