With Constant Contact integration, you have one of the most powerful allies, which can save you, on average, over 13+ days a year in manual import/export tasks for your team.
Check out one feature that makes this happen called "Sync from Specific List(s)" in Step 2 of your Set Up.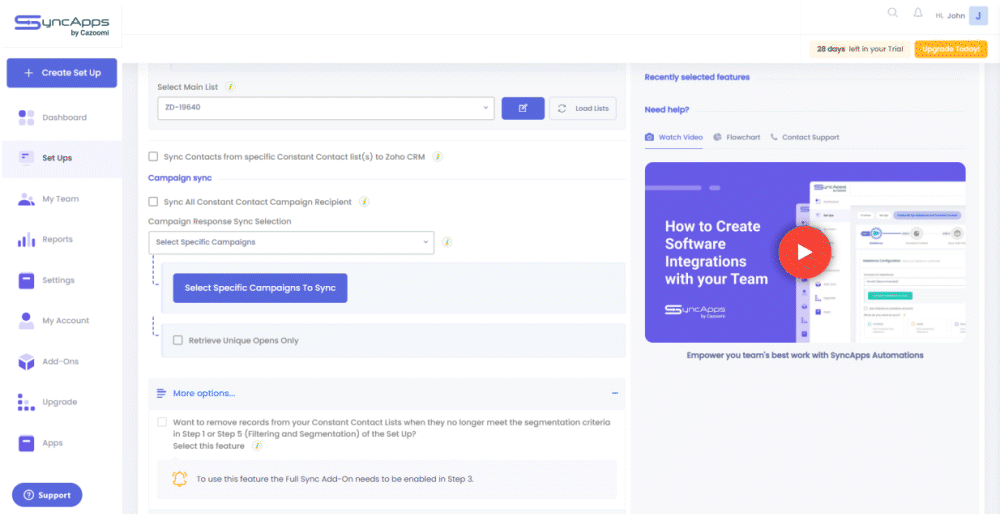 Once this feature is enabled, then all or specific Constant Contact email list(s) aside from your specified Main List in Step 2 of the Set Up will be synced back as a new Contact(s), Lead(s), or Customer(s) back to your CRM, Accounting, or Financials.
What this also means is any email sent from Constant Contact to a record in your Main List will always flow back to CRM, yet unless you have checked the "Sync from specific Lists" feature, the records sent to Campaigns outside your Main List will not flow back to CRM as the Campaign is not sent to that List or its records.
Choose this feature to bring back records and Campaigns outside your Main List to each specified List you choose.
Note: Works with Constant Contact integrations and is available on all trials and Plans.
How it works
In Step 2 of the Set Up, select the option "Sync from specific Lists," then tap " Select specific Lists to Sync."
If you haven't selected any list(s) and you have enabled the option, then all your records from those Constant Contact Lists will be synced to CRM, Accounting, or Financials as new records under the Contact, Lead, or Customer Tab. If the record(s) already exists in CRM, then it will just marry and update rather than create a new record.
By default, new records will be created as "Contacts." But if you prefer Leads, then select the "New Subscriber Object Type" for Leads in Step 1 of the Set Up.
Once done, hit Update, Save, then Reset Sync Process and Resync.
Need some help?
Check out the options below on how you can contact our support team and find the answers you need to help you with your SyncApps integrations.
Help Center & Email is 24/7 to support@cazoomi.com | Live Chat & Phone is scheduled
FAQs
Check out these Help Desk articles for answers to frequently asked questions.