Hi there!
You must have been looking for answers regarding your questions about Mailchimp, specifically its feature, Multi-Groups. Well, you just found the right article. Let's get the discussion started!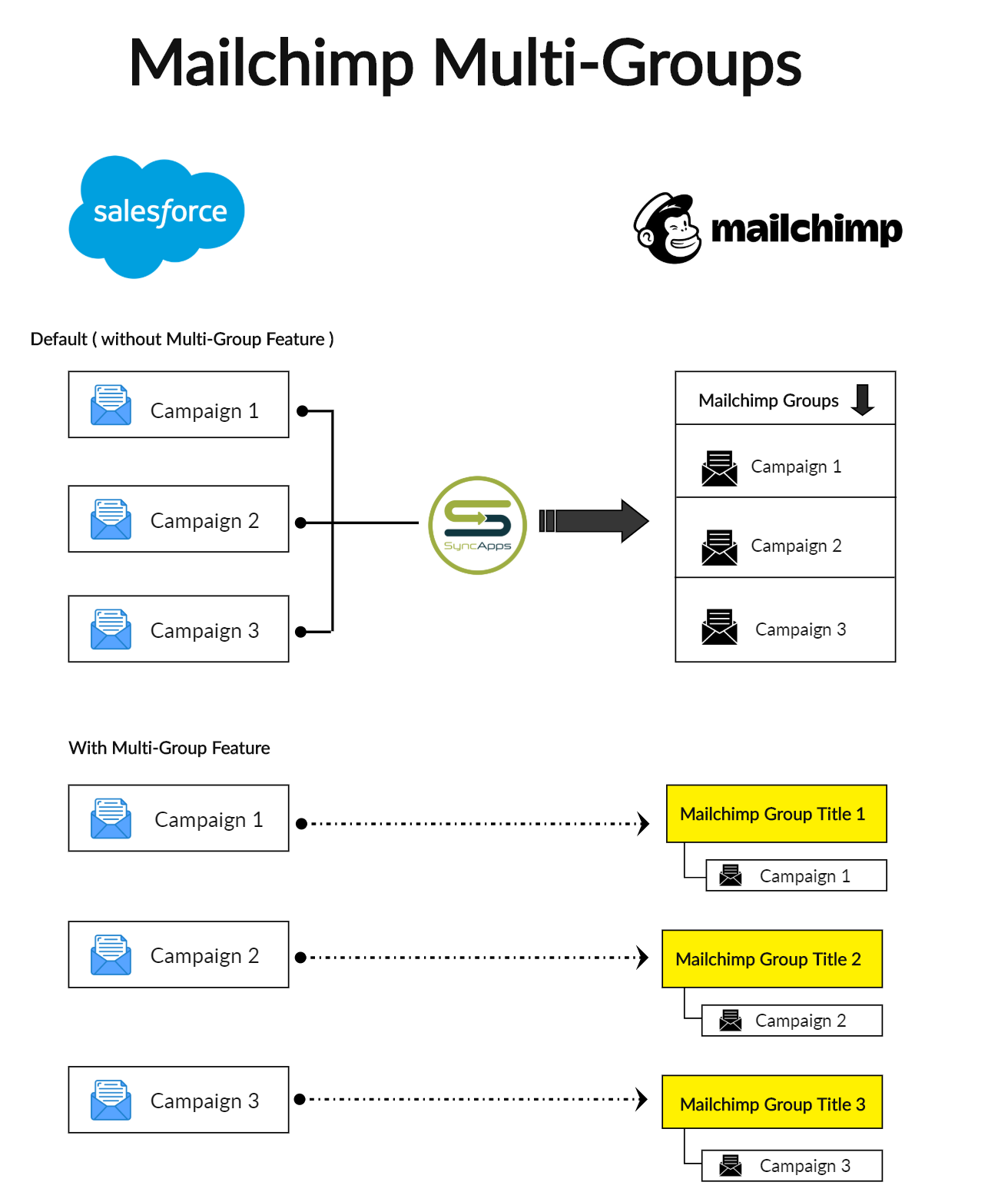 Mailchimp Groups are a fun and efficient way to order many types of data, like Salesforce Campaigns, CRM Marketing Lists, NetSuite Saved Searches, and CRM Checkboxes. The problem is, manually inputting all the Group's data can be tedious and time-consuming - especially when you're starting from scratch, like what's shown below.
This is where SyncApps comes in. Check out the steps below to set up your integration for Salesforce data and Mailchimp's Advanced Segmentation features like Multi-Groups. Watch your business become more efficient in real-time.
Getting Started with the Steps
Here's how this particular feature works using Salesforce Campaigns and Mailchimp as an example:
When setting up the Sync Profile, select the "Sync Salesforce Campaign/List Members to Mailchimp Group" in Step 1.
Under the available options, select either of the following:


Use Salesforce Campaign as List
Use the Marketing List Package
A third option is using CRM Checkboxes on your records to control which Mailchimp Groups your records are added to under the "Group Category" function in Mailchimp. To enable the Checkbox Feature Add-On, check the left panel on the dashboard - you must have already availed this particular Add-On for the option to appear.
(If you're having trouble with CRM Checkboxes, more details can be found here.)
Using "Salesforce Campaign as List"
The Salesforce Campaign as List allows subscribers to integrate each Salesforce Campaign to a Mailchimp Group under a Group category.
Tap the browse button and select the specific Campaign(s). Make sure that these Campaign(s) are set to Active and that you've added at least 1 Contact record per Campaign.
If you're satisfied with your selections, tap "Update" to update the list.
Then tap the Next button so that the configuration in Step 1 will be saved.
Toggling Campaign Records
In Step 2 of your Sync Profile, the selected Campaign(s) will show up, which will help you to assign an existing Mailchimp Group under a specified Audience for syncing. You can also create a new Mailchimp Group under a new name.
Once done setting up, hit the Save button, then Reset Sync Process and resync.
After the sync is done, check your Mailchimp Audience; the Salesforce Campaign(s) will now be synced to specified Mailchimp Group(s) under each Mailchimp Group Category specified in your integration.
And you're done!
You can repeat these same steps if you are syncing NetSuite or 365 as using Saved Searches and Marketing Lists are both supported for our Mailchimp Multi-Group feature.
How can I add my Mailchimp Group Members to my Salesforce Campaigns as List?
Check out the simple steps below:
Pre-Steps
1. In your Mailchimp Audience > Group Category> Create a Subgroup with Contacts in it, for example, "Group A".
2. In Salesforce, Create a Campaign as List with the same Name of Mailchimp Subgroup -> "Group A"
Setting up in your Sync Profile
3. Setup SyncApps
A. In Step 1 of the Sync Profile, enable "Want to use a Campaign or Marketing List to sync Campaign/List Members to Mailchimp?" and select the newly created Campaign in Salesforce which is "Group A".
B. In Step 2 of the Sync Profile, enable the "Display button to manually sync Mailchimp Groups to Salesforce"
C. In the same Step, enable "Allow Multiple Group Category" with Salesforce Campaign Name "Group A" and Mailchimp Group Category used where you can find "Group A" Mailchimp Subgroup.
D. Hit Save then tap the "Reset Sync Process" button to apply the changes.
F. After tapping the "Reset Sync Process", scroll down where you can see the "Tools" then tap "Sync Mailchimp Groups to CRM" button.
Once the sync is completed then the Mailchimp Group Contacts are now created as new Contacts or Leads in your Salesforce Campaign.
Let us know what you think of this feature and how we can improve it by reaching out to our 24/7 Support team today!