Trying to sync NetSuite Saved Search Custom fields as your marketing team needs them created and segmented into Tags in Mailchimp?
Simple!
When using Mailchimp Groups, there is a limit of 60 Groups per Mailchimp Audience. However, with segmenting records there is hope. Try to use Tags if you have more than 60 Groups instead.
Check out the example use-case below: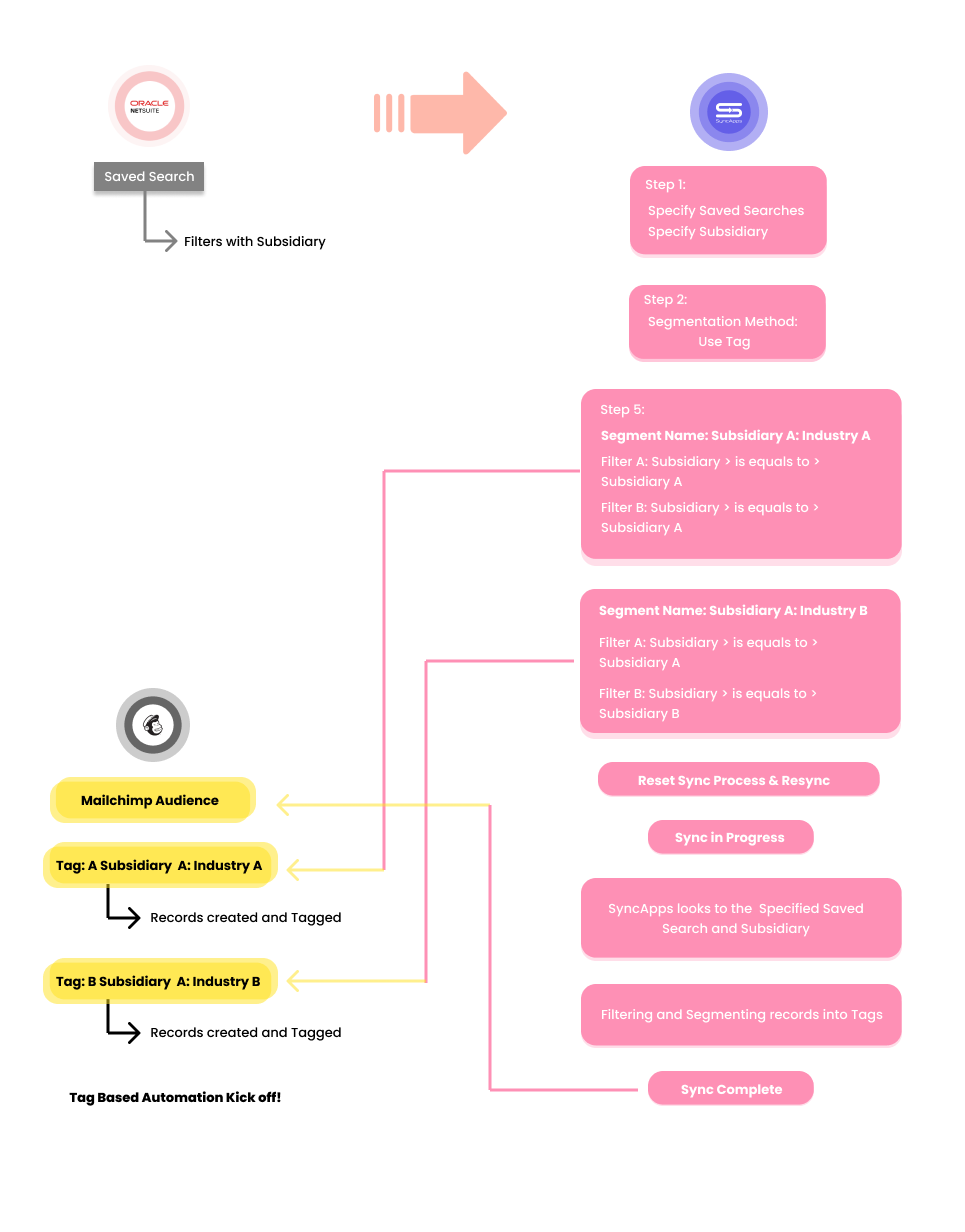 Moving customer record information on NetSuite (such as workplace, industry, etc.) over to Mailchimp tags
Let's review the needed Steps setup part in SyncApps!
Let's get started!
The very first step is to make sure that you already have set up a Saved Search in Netsuite that has only the records under the specified Subsidiary as you will specify this Saved Search in Step 1 of the Set Up.
Need some guidance on Saved Searches best practices to see our guide here.
And also, be sure to double-check the records to make sure their custom fields have values. These Custom fields will be part of the Filtering criteria per segment in setting up the Filtering and Segmentation. If the values are blank then SyncApps will ignore these records to be created in Mailchimp.
Step 1: NetSuite Configuration
Under the "Records to Sync", select the "Specific NetSuite Saved Searches" and specify the Saved Search ID, Type, and to which Mailchimp Group Name will be synced.
When this is specified, SyncApps will only sync the records from this Saved Search.
Using NetSuite OneWorld with subsidiary management? If so then this next part is for you.
Be sure to enter the "Default Subsidiary". SyncApps will only sync the records under the specified NetSuite Subsidiary.
To make sure that each Set Up syncs with its assigned Subsidiary please be sure to only use a NetSuite role with NetSuite Subsidiary access and also create a separate NetSuite role to reach NetSuite Subsidiaries assigned.
Note:
Default subsidiary is only used for new record creation in NetSuite.
Step 2: Mailchimp Configuration
Enter the Mailchimp Audience where you want these records to be created with Tags then for the Segmentation Method, select "Use Tags". When the integration runs, SyncApps will segment each record per Tag instead of using Group(s).
Step 5: Filtering and Segmentation
Segment name - Be sure to rename this one as that will be created as a Tag in Mailchimp.
Filtering Criteria - Set the criteria and always make the "Subsidiary > Is Equal To > (Name of the specified Subsidiary)" as the first criterion per Segment then tap the "Add Filter" to add another filtering criterion. If having multiple criteria per Segment, tap the "Add filter".
To add another Segment(Tag), just tap the "Add a new Segment" button.
After setting it up, hit the Save button then Reset Sync Process and Resync.
Need some help?
Check out the options below on how you can contact our Support Team and find the answers you need to help you with your SyncApps integrations.
Help Center & Email is 24/7 to support@cazoomi.com | Live Chat & Phone is scheduled.
FAQs
Check out these Help Desk articles for answers to frequently asked questions.