Take a look at how to use our Static Text field mapping feature for new Mailchimp leads.
Creating a Salesforce workflow for your SyncApps integration is super simple!
IMPORTANT:
Starting in Winter '23, Salesforce is discontinuing workflow rules. For new automations, use flows.
One use case is automatically checking non-subscription/non-preference checkboxes in Salesforce. These CRM checkboxes are for subscriptions and preferences only.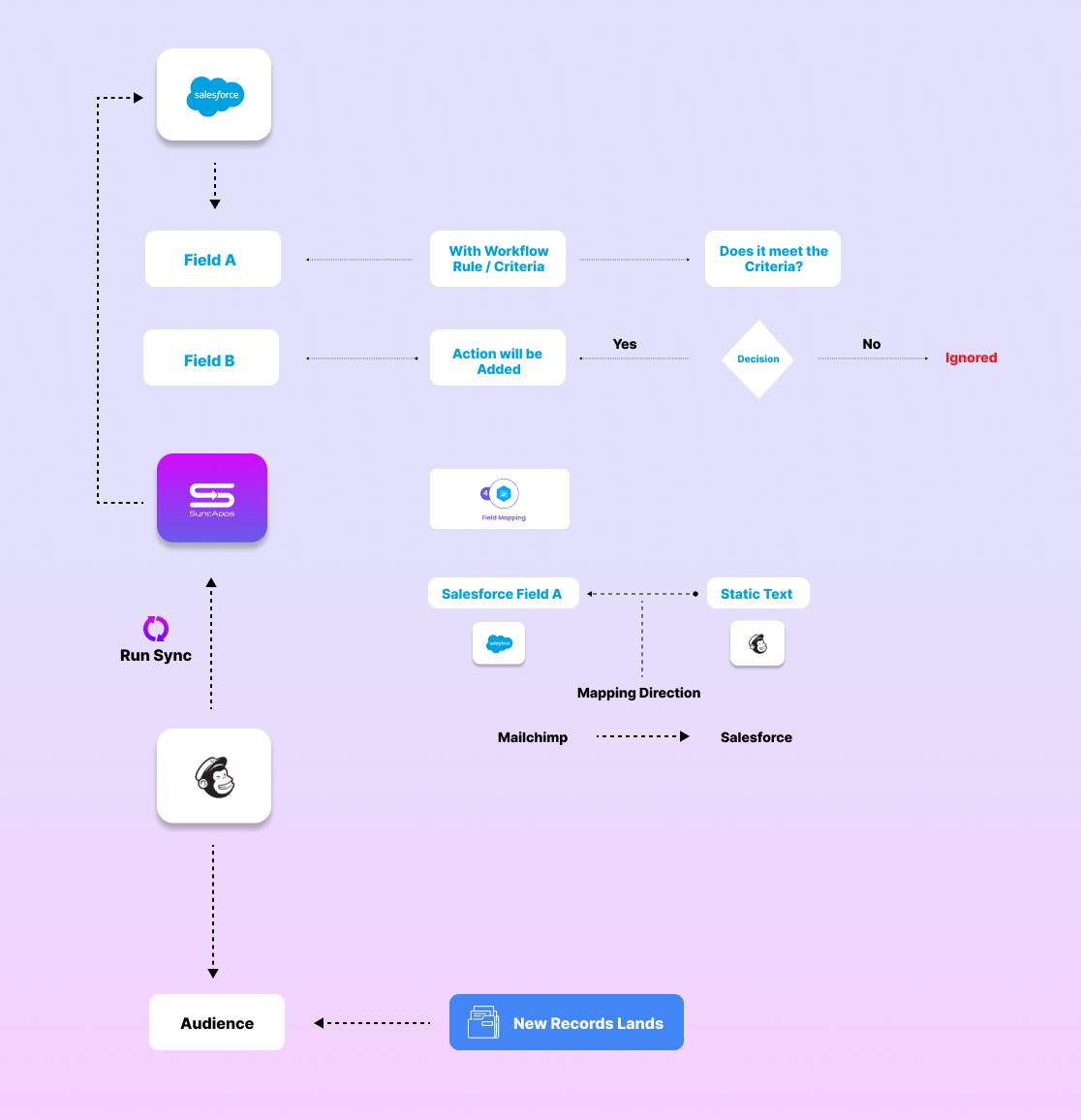 Let's do it!
Use-case example:
Check the "VIP" checkbox whenever a new record lands on your Main List/Audience.
Problem:
No Checkbox field type available - example in Mailchimp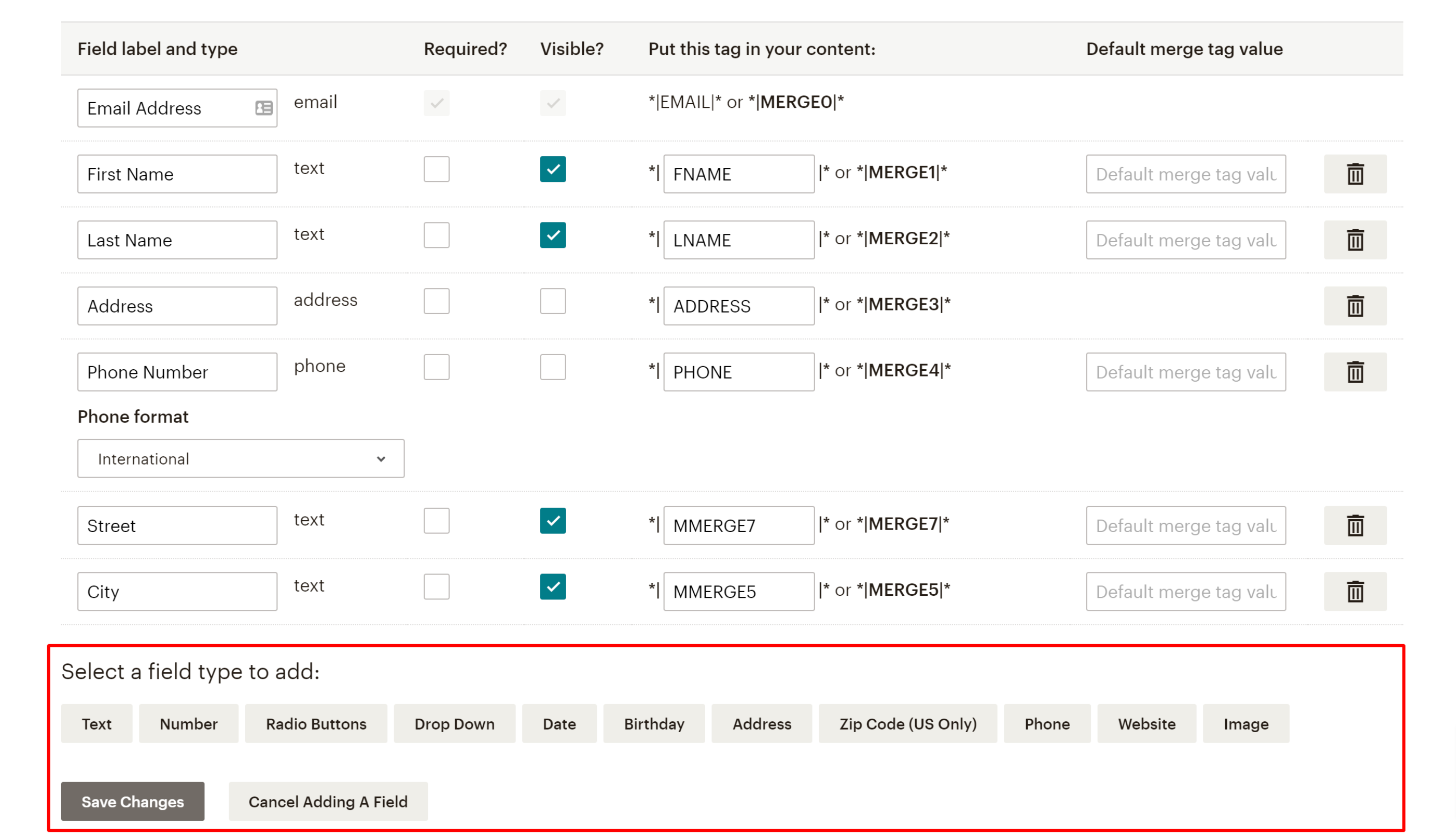 Process:
To begin, make a text field in Salesforce and choose the checkbox or other field you want to use for the workflow. Then, attach the Salesforce workflow to that specific text field in the Contact/Lead record. After that, include both fields (text and checkbox/other) in the layout of the Contact/Lead page so that they are accessible for mapping in Step 4 of the Set Up. An example of a workflow would be that when a field in Salesforce is filled, the corresponding checkbox will be automatically checked.
See how to set the workflow rule below:
1. Set the Criteria for Your Workflow Rule
Get started with creating a new workflow rule by selecting the object the rule relates to and configuring its criteria.
2. Add Automated Actions to Your Workflow Rule
Once you've set the criteria for your workflow rule, identify what to do when those criteria are met.
3. Identify Your Salesforce Org's Default Workflow User
Select a Default Workflow User that you want Salesforce to display with a workflow rule when the user that triggered the rule is not active.
4. Activate Your Workflow Rule
Salesforce doesn't trigger a workflow rule until you activate it.
Source: Salesforce Help Center
In your SyncApps Set Up, make sure that you have specified that Main List/Audience in Step 2 of the Set Up so that SyncApps will sync the new records that will land to this specific Main List/Audience back to Salesforce.
Next, in Step 4 of the Set Up, map the fields, and select " Mailchimp to Salesforce " for the Mapping Direction. In your Mailchimp field, select the " Add Static text" option located at the very bottom of the choices in the Mailchimp Field dropdown menu.
Map it to the created Salesforce text field, tap "Add Mapping," save, then Reset and resync.
The non-subscription/non-preference checkbox field will now be marked with a check.
Need some help?
Check out the options below on how you can contact our support team and find the answers you need to help you with your SyncApps integrations.
Help Center & Email is 24/7 to support@cazoomi.com | Live Chat & Phone is scheduled
FAQs
Check out these Help Desk articles for answers to frequently asked questions.