Bumping into any difficulties while setting up your own Sync Profile with SyncApps?
Or thought of these same issues/questions regarding which custom fields specifically in Constant Contact can be mapped in Step 4 of your Sync Profile? 
Custom Fields created in Constant Contact do not show up in SyncApps Constant Contact Field list even after refreshing fields.
I cannot see the Constant Contact custom fields in the additional field mapping while trying to map custom fields in both systems. Even if I press the refresh fields button the newly created fields do not show up.
The Fields are being displayed with Standard Naming in Cazoomi (custom_field_1-- custom_field_15) but not with the name we created in Constant Contact.
How do I import Custom Fields from the signup form, back to the Contact/Account/Lead/Targets?

I had a Custom Date Field called "Subscribed Date" in Constant Contact but I don't see that Custom Date field in the Cazoomi Field Mapping Section to map it to Salesforce.

How can I change the labels of the custom fields when performing the field mapping when setting up a SyncApps profile? (Example: Custom Field 01, Custom Field 02, Custom Field 03 ------ I would rather give these labels names like Channel for custom field 01, and Record Type for custom field 02)
Well, these don't sound so hard to answer however it's a bit more complicated.
SyncApps currently maps the following fields automatically so you don't have to in Step 4.
Additional field mapping is optional. Basic Contact fields such as email address, name, address, company name, and phone are already mapped.
For Custom Fields please note that adding a custom field in Constant Contact does not give any added functionality to the 15 Available Custom Fields allowed in the current API for Constant Contact.
In Constant Contact, only 15 Custom fields are allowed. Beyond these 15 custom fields, Constant Contact's API will not support extra fields. However, you can map the 15 fields to match your fields in CRM. 
Steps:
Add a new Custom Field and name it Custom Field 1

Add a new Custom Field and name it Custom Field 2 and so on.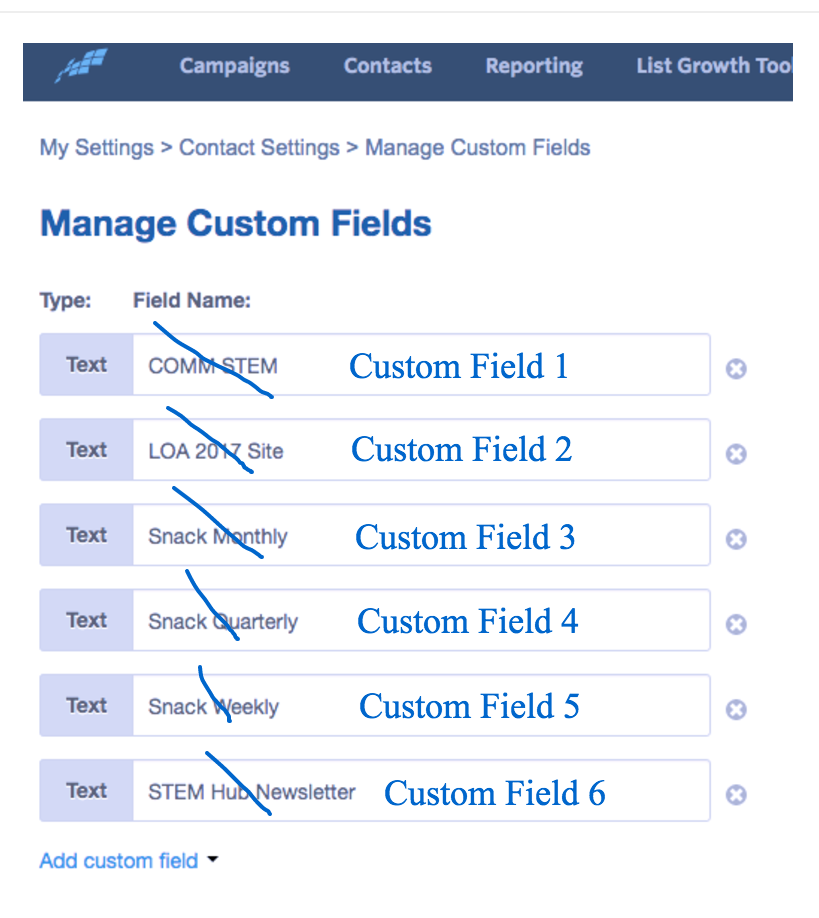 Just be sure to jot each field label (COMM STEM = Custom Field 1) down to be used in your Sync Profile to map the 1-15 custom fields available to your CRM field(s).  You will need them as Constant Contact only supports the naming of custom fields 1-15 as shown above.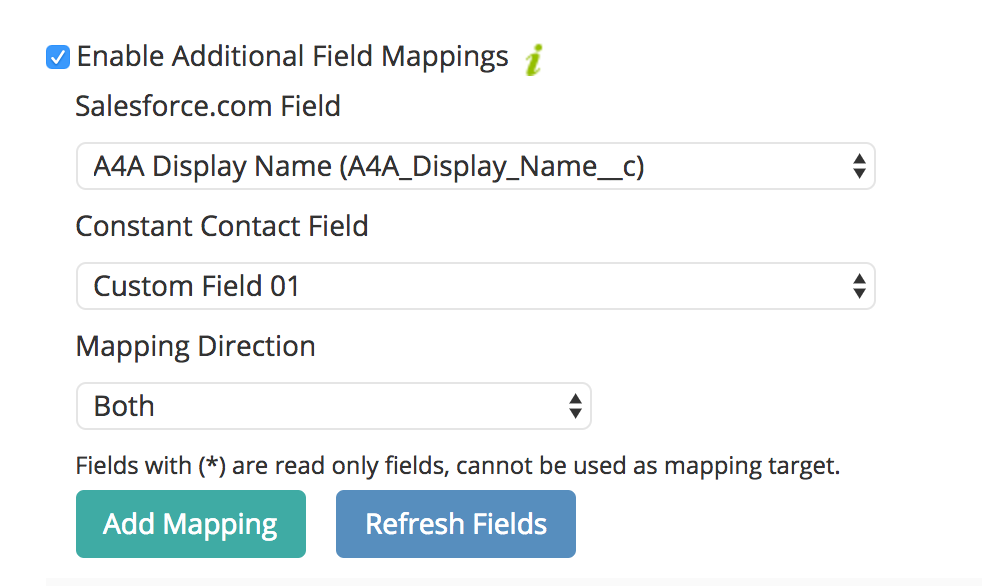 Let us know if you hit any snags through emailing us at support@cazoomi.com.