SyncApps can help your large, medium, or small organization grow. Syncing back your marketing metrics to Salesforce helps Sales, Marketing, and Operations make data-driven decisions in real-time without the need for IT or other system administrator's help gathering data.
Here are a few Help Center Articles that will help you have an idea of how Salesforce to Marketing Automation works: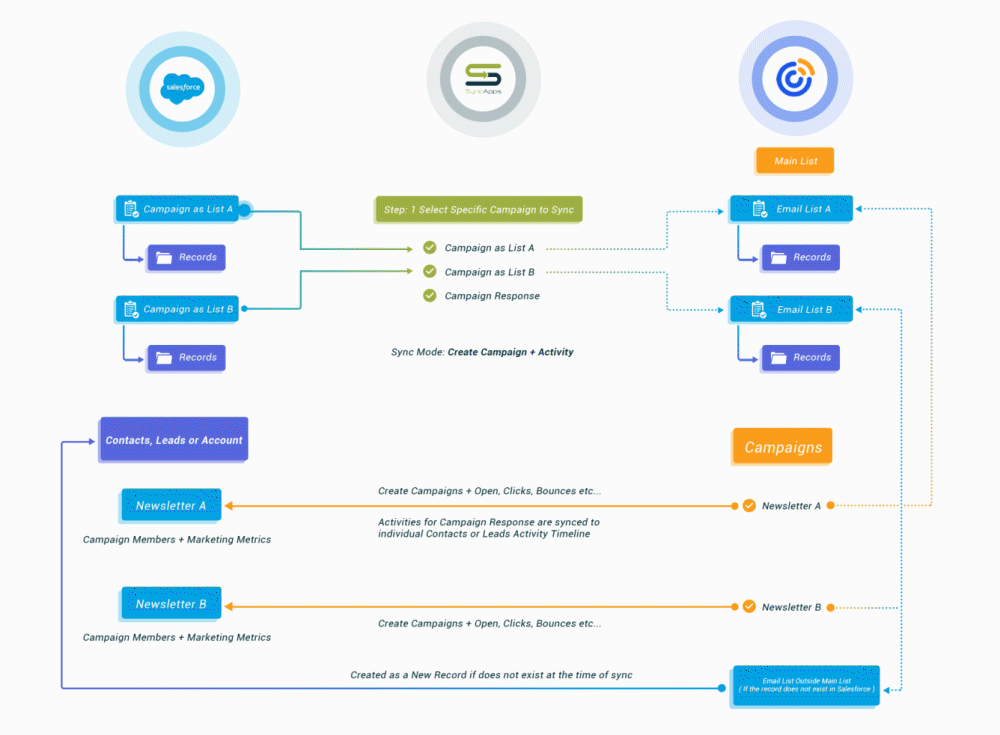 Flow: Marketing Automation to Salesforce
Now that the records have landed in your Marketing Automation's Main List/Audience create and run the Marketing Automation Campaign and make sure that you have selected these Email List(s), Group(s) that were created from the Salesforce CRM Campaign(s) as the recipients of the Campaign.
Let's assume that the Campaign is 100% done, and when the sync runs, SyncApps will then create a new Salesforce CRM Campaign together with the Marketing Automation's Campaign Responses marketing metrics such as opens, clicks, bounces, URLs clicked, etc.
Scenario: Some "Built-In" Salesforce Apps don't have a Campaign Object
Some Salesforce orgs might not have a Campaign Object like Apto, Ascendix, and so on. In this case, as an alternative, you can use "Create Activity" or "Create Contact or Lead Notes." For "Create Contact or Lead Notes," be sure to add the "Notes and Attachments" to your Contact or Leads page layout under Related Lists.
Need some help?
Check out the options below on contacting our support team and finding the answers you need to help you with your SyncApps integrations.
Help Center & Email is 24/7 to support@cazoomi.com | Live Chat & Phone is scheduled
FAQs
Check out these Help Desk articles for answers to frequently asked questions.