Are you a start-up, Nonprofit, small business, Federal organization, Franchise or Enterprise working with a Salesforce expert?
You're in good company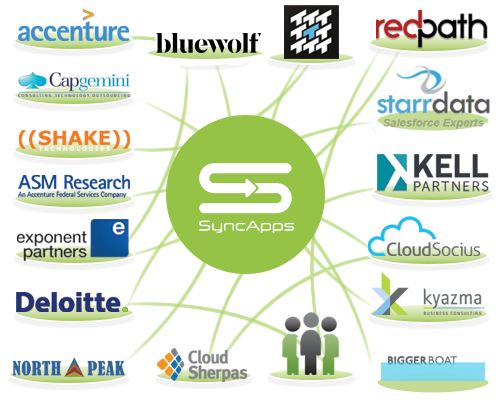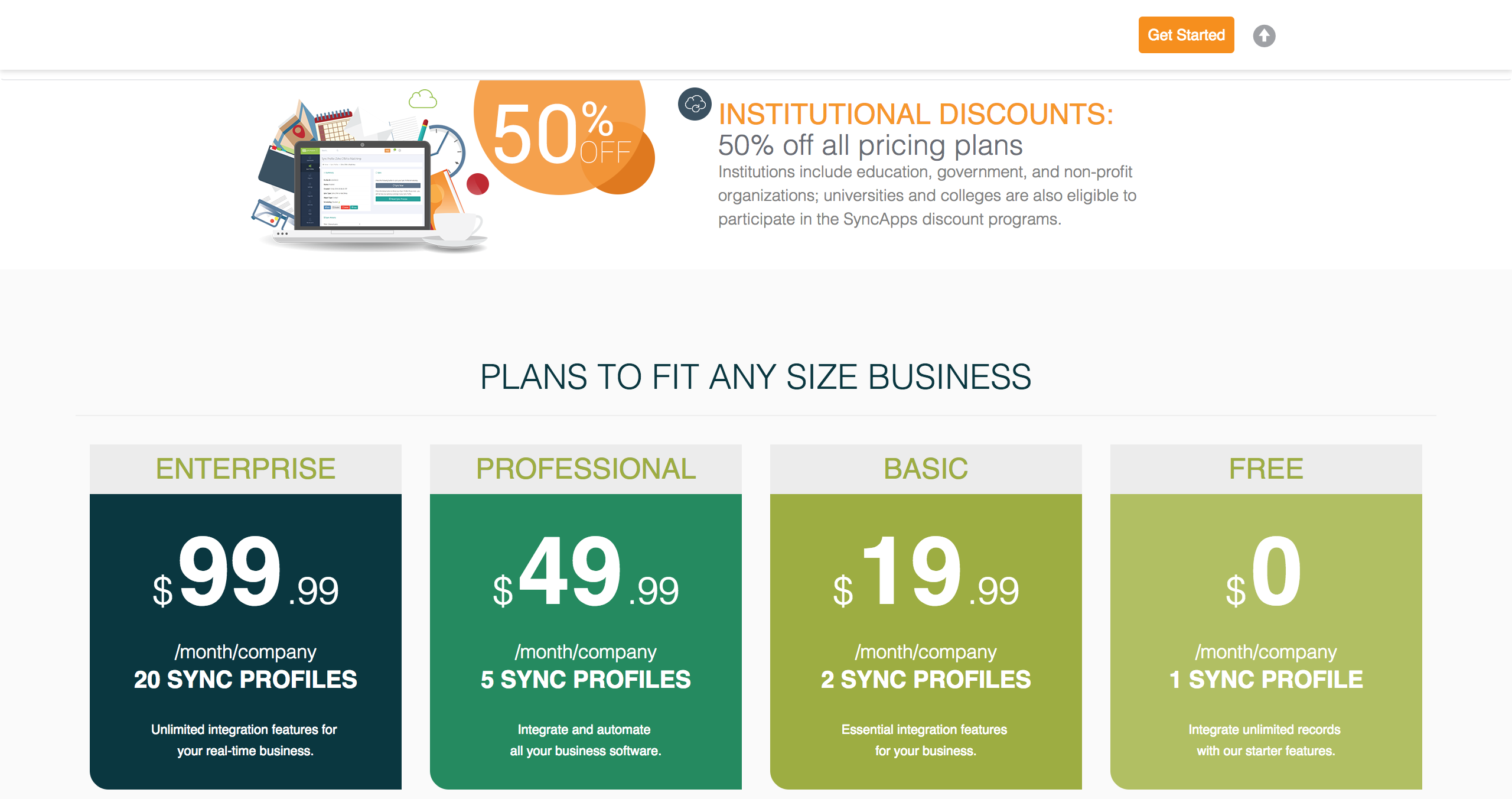 Supported "Built on Salesforce" software: PatronManager, Apto, and Navatar.
We have 3 plans to meet all requirements of Salesforce subscribers: 

Free Plan: 1 integration for Leads, Contacts or Accounts scheduled every 24 hours.  If needing more features on your Free Plan we have Add-Ons to meet every requirement for less than the price of a Netflix subscription!
Please see our Add-Ons to add features and functionality to your Constant Contact Free Plan.

Professional Plan: Down to 6-hour scheduling and all features for $49.99/month. 

Enterprise Plans: Real-time integration for $99.99/month and scheduled phone support. 
SyncApps can be used to sync your Contacts, Leads, Person Accounts and Campaign Members to Act-On Software, Constant Contact, Delivra, ExactTarget or Salesforce Marketing Cloud, MailChimp & VerticalResponse. 
Integrate Accounts, Person Accounts, Contacts & Leads | Sync Campaign Metrics | Sync Lists, Groups, Segments | Add/Remove from Lists/Groups based on rules | Opt-outs synced | Custom Field mapping | Scheduling & real-time
Review how one Salesforce Partner implements this solution on our blog...
Let our support folks know if you're integrating Navatar through support@cazoomi.com so that they can enable a customization for you.
Getting started in your trial!
  2 Week Free Trial testing best practice after you have set up your Sync Profile: 
Select 1 Salesforce Campaign, Cazoomi Marketing List or use a Filter in tandem with each in your Sync Profile to sync over to your Email Marketing Platform (use 100 records of which some meet your criteria and if using Accounts then these will pull the first 100 good Accounts to sync on initial sync) 
Place a few Contacts or Leads into the 1 Salesforce Campaign, Cazoomi Marketing List or if using a Filter use a Campaign or Marketing list to pull from the specific Campaign or Marketing list in your Sync Profile (if using Person Accounts please use Cazoomi Marketing List for this task)
Make sure "Email Opt-Out" field is visible on the Salesforce Account, Contact or Lead page layout used
Use an empty List in your Marketing Automation solution to sync to as the Master List
Press "Sync Now" 
Check your Marketing Automation Platform List and/or Group/Category/Segment for the 1 Salesforce Campaign, Cazoomi Marketing List or Filter now under the empty Master List now filled with up to 100 records from the Trial 
Create 

and Send

 an Email Campaign to your List or Group/Category/Segment which you have just synced
In your Sync Profile select the Specific Email Campaign to Sync feature in Step 2, choose the Email Campaign just sent & press Save
Press "Sync Now" 
Check Salesforce record's Campaign History to see all metrics on the record (opens, clicks, bounces, forwards, URLs clicked or email events)
Check Sync Dashboard and select Reports to review details of each Sync run test
Run again for your team to show how it works!
Note:
If using both Leads and Contacts please create 2 Sync Profiles from your SyncApps Dashboard
Setup separate Sync Profiles for both object types, Leads & Contacts.  If using Salesforce Accounts select Accounts as the object type
Using Salesforce Person Accounts then please use our Marketing List to search and add to each Marketing List synced to your Email Marketing Platform.
*Note: Sync on Demand is available in the Free Trial with Scheduling available on paid plans. Sync is limited to 100 records, 100 Opt-outs, 1 Campaign per Free Trial period. 
Hope that helps with testing as once completed you can remove the settings for testing and keep the features on it needed like Campaigns, Marketing Lists or Filtering.
Salesforce supported editions
The ability to subscribe to Salesforce SyncApps is available for Salesforce Professional (API Enabled), Enterprise, Unlimited and Developer editions.  Salesforce Lightning editions supported.
Due to restrictions on Salesforce Professional Edition, the ability to look-up Salesforce information and post back from applications requires adding API access to your Professional Edition organization; this is an additional cost ($300/year/user/org) to the Professional Edition.
Getting Started:  
Sign up for SyncApps Account https://syncapps.cazoomi.com/signup and review How it Works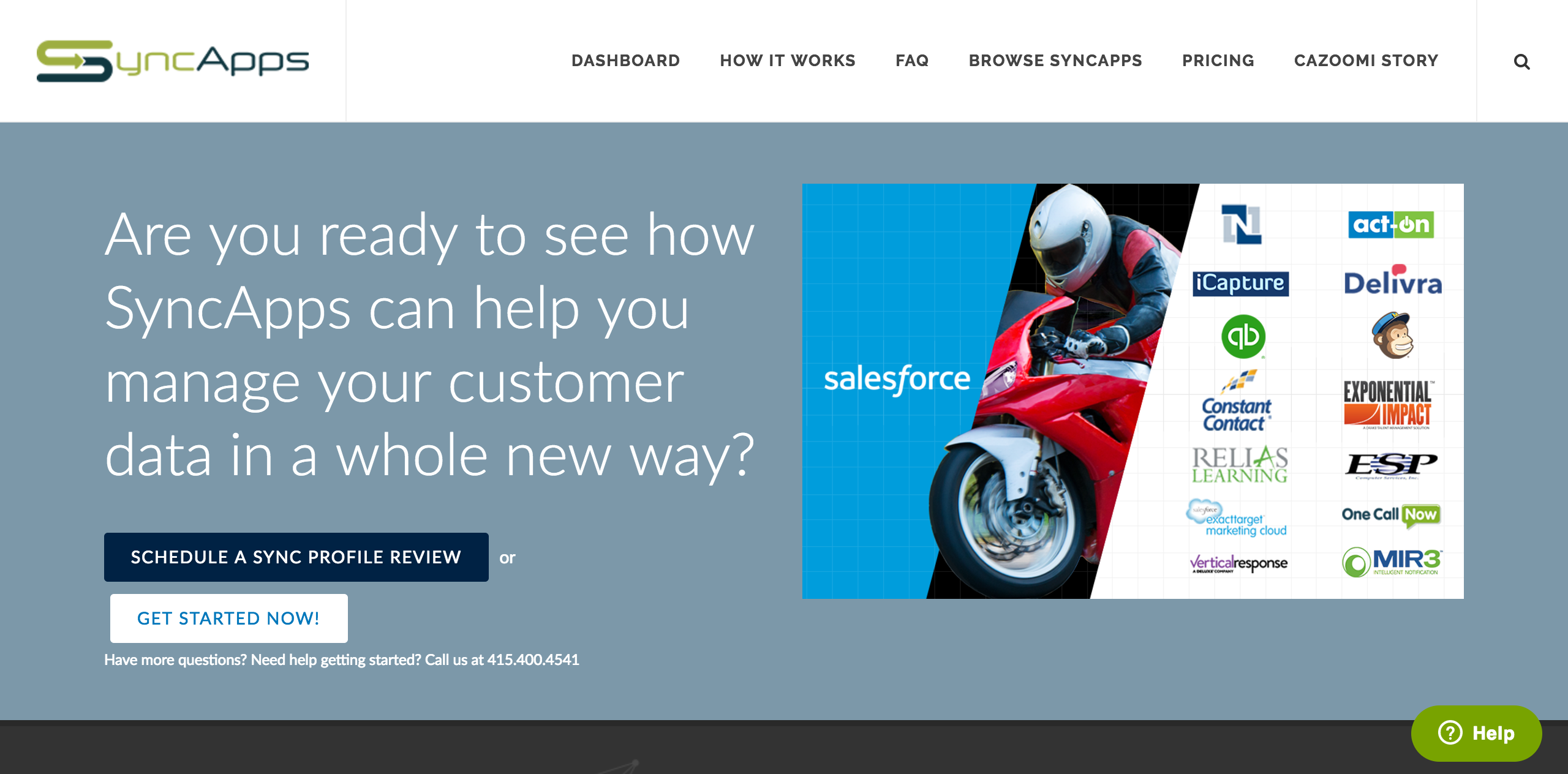 Getting Started with the Basic concepts:
Opt-Out Field:
The "HasOptedOutEmail" must be accessible by API and placed on each Salesforce Layout.  Make sure that the HasOptedOutEmail is visible and editable in both Contact & Lead layouts.
Campaigns:
For Campaign Responses flowing back to Salesforce there are two metrics being synced:
* Individual statistics: synced to Campaign Member Object. Custom fields for sends, opens, clicks are auto-created by SyncApps. Fields need to be placed on the Campaign Member layout so they are accessible by the Salesforce API.

* Summary statistics: synced to Campaign object. Custom fields for total Sends, total Opens, etc need to be created manually in Salesforce and mapped in each Sync Profile.  All newly created Fields to be mapped in Step 4 of your Sync Profile under the Campaign tab need to be placed into the Salesforce Campaign layout.
SYNCAPPS: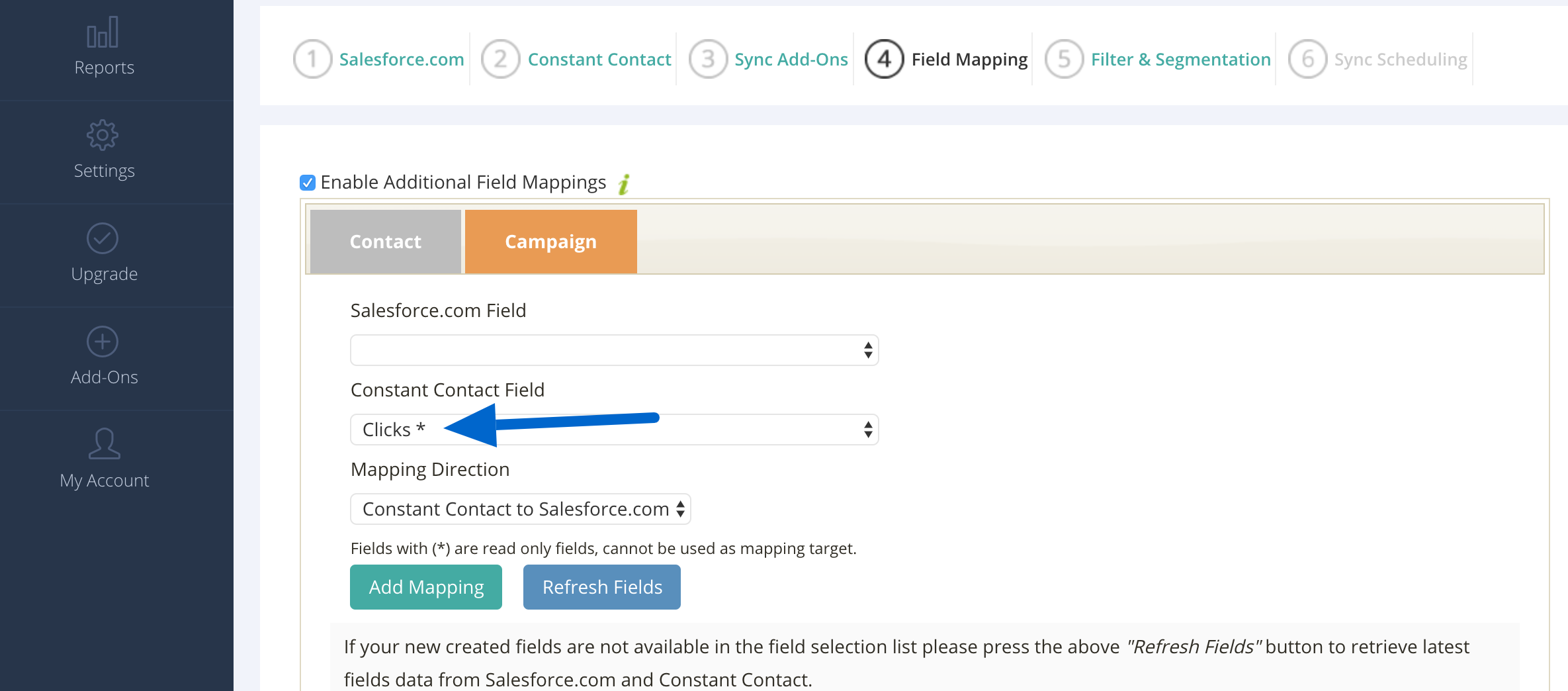 SALESFORCE: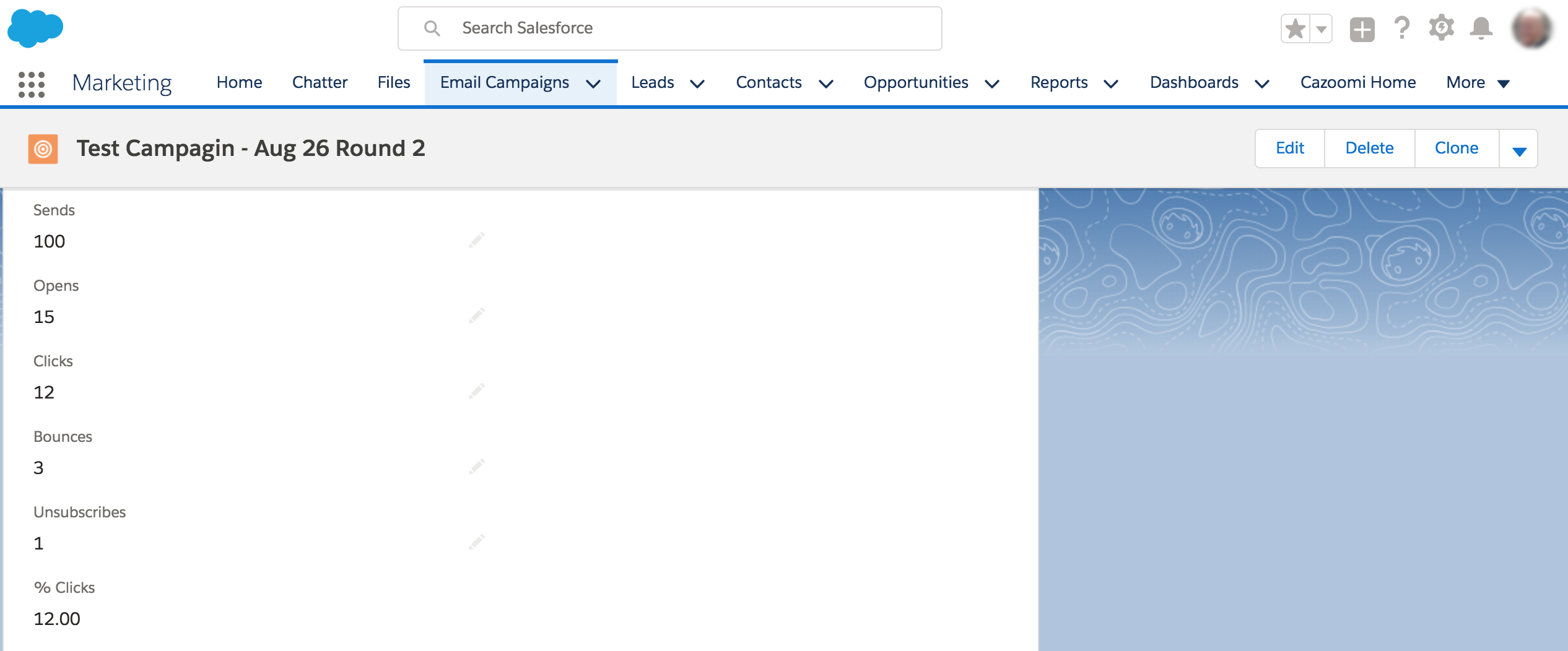 Activities:
If selecting to create an Activity in your SyncApps configuration then each event such as Opening, Clicking will create a new Activity (Task) in Salesforce.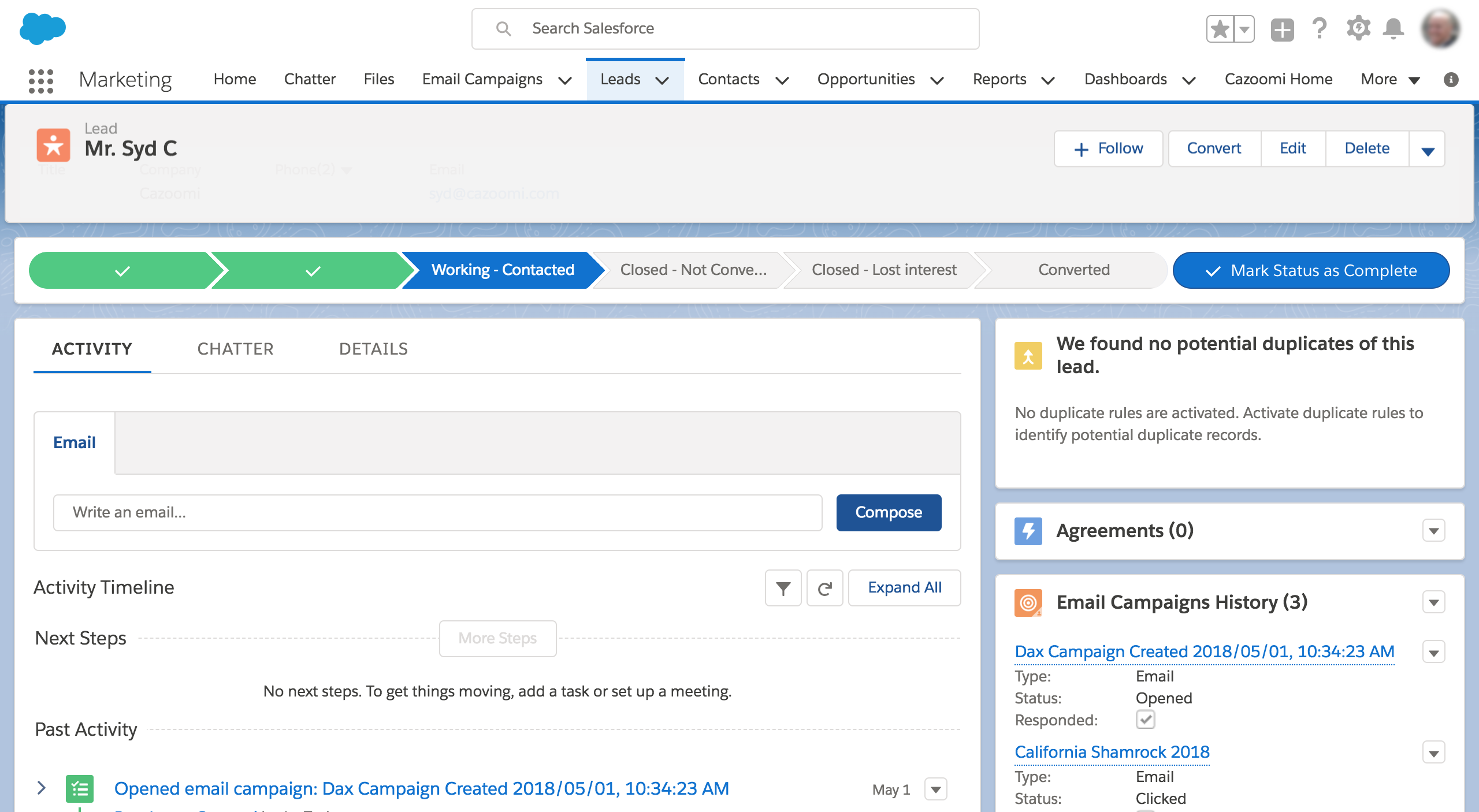 Note: place Activity Cazoomiid under Activity History on our Salesforce Layout and *Clicked URL.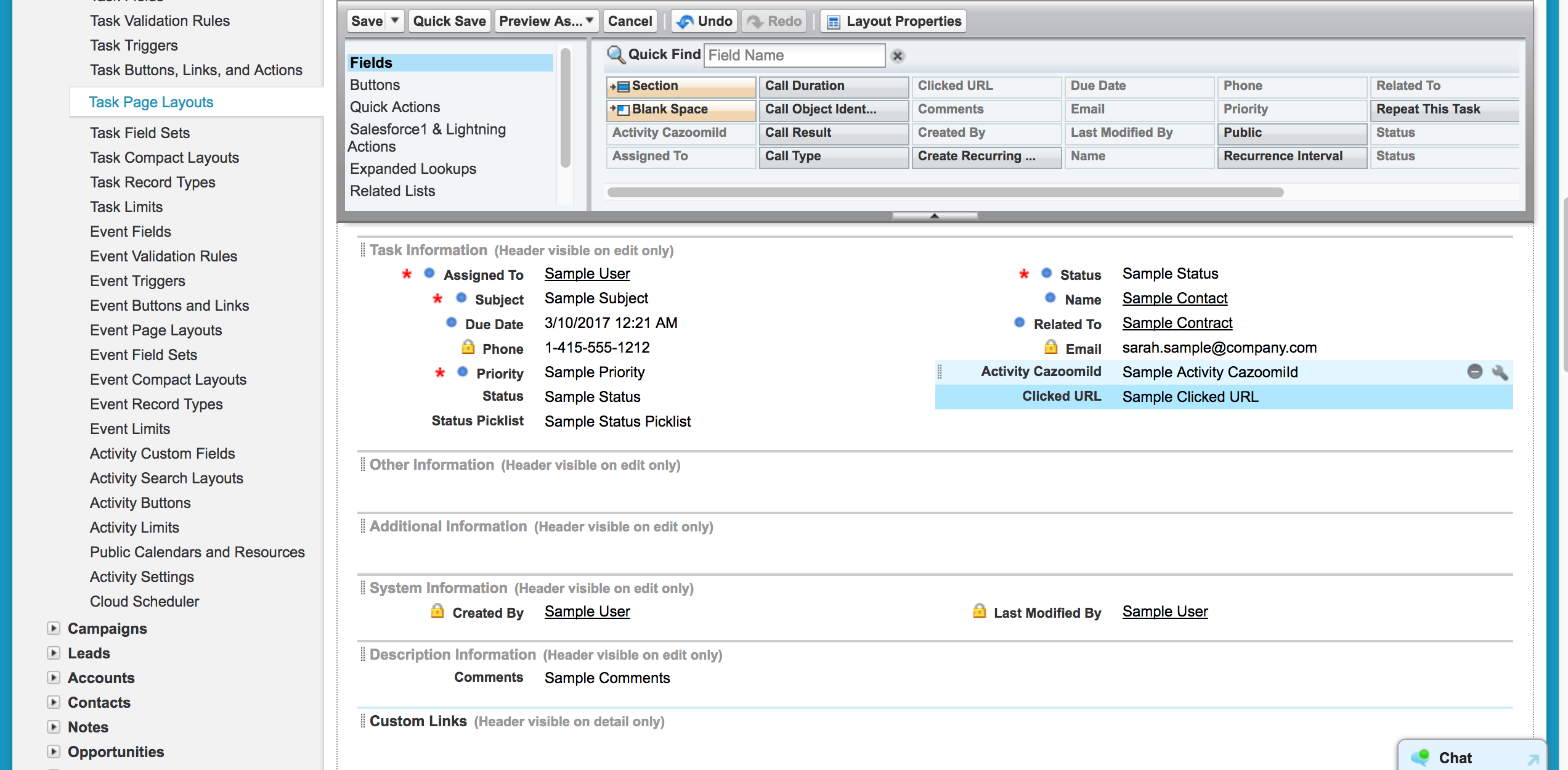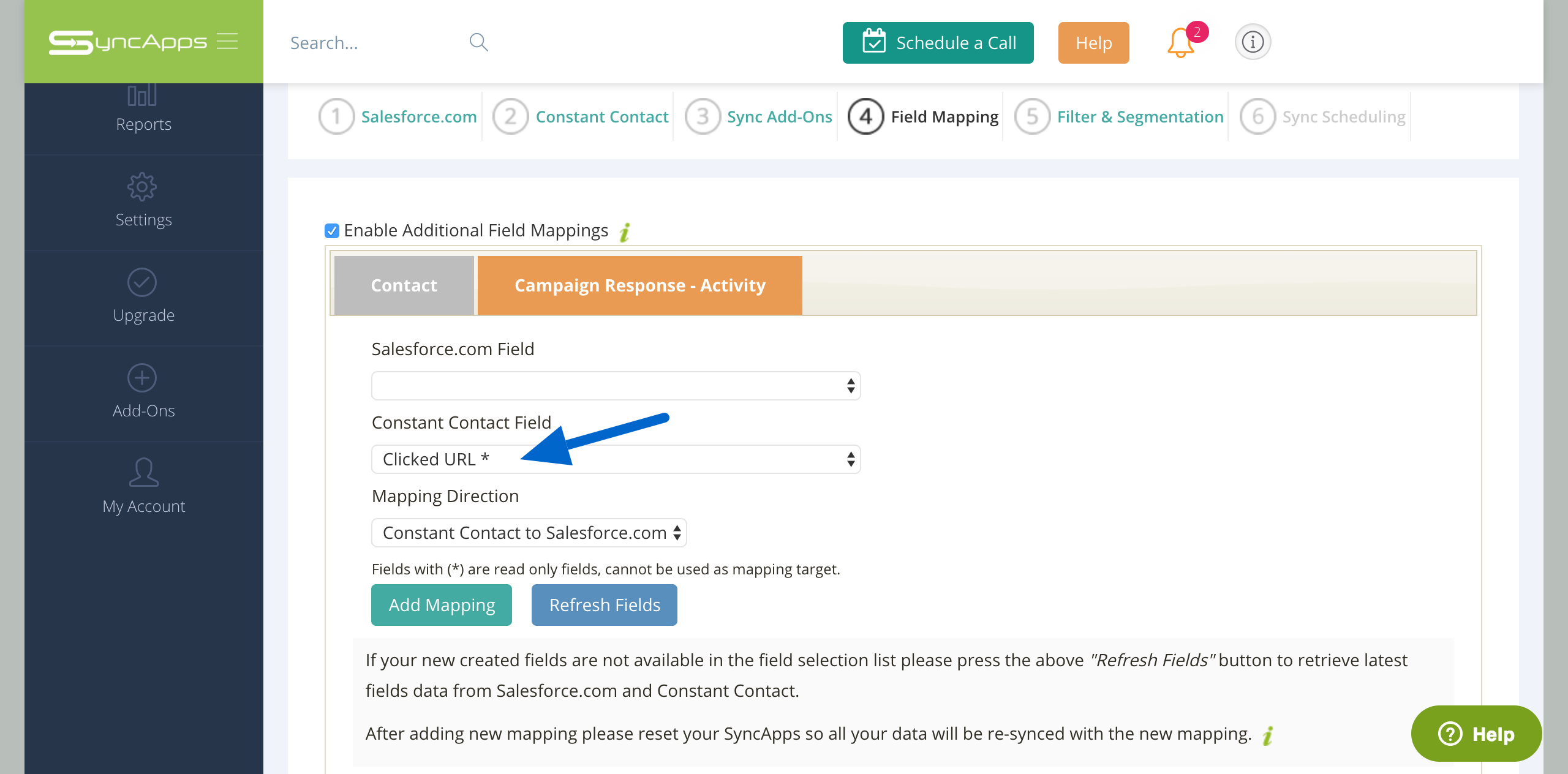 Campaign Members custom fields are created when "Sync Campaign Responses" in Step 1 of any Sync Profile is selected and the "Next" button is pressed or clicked in a Sync Profile configuration.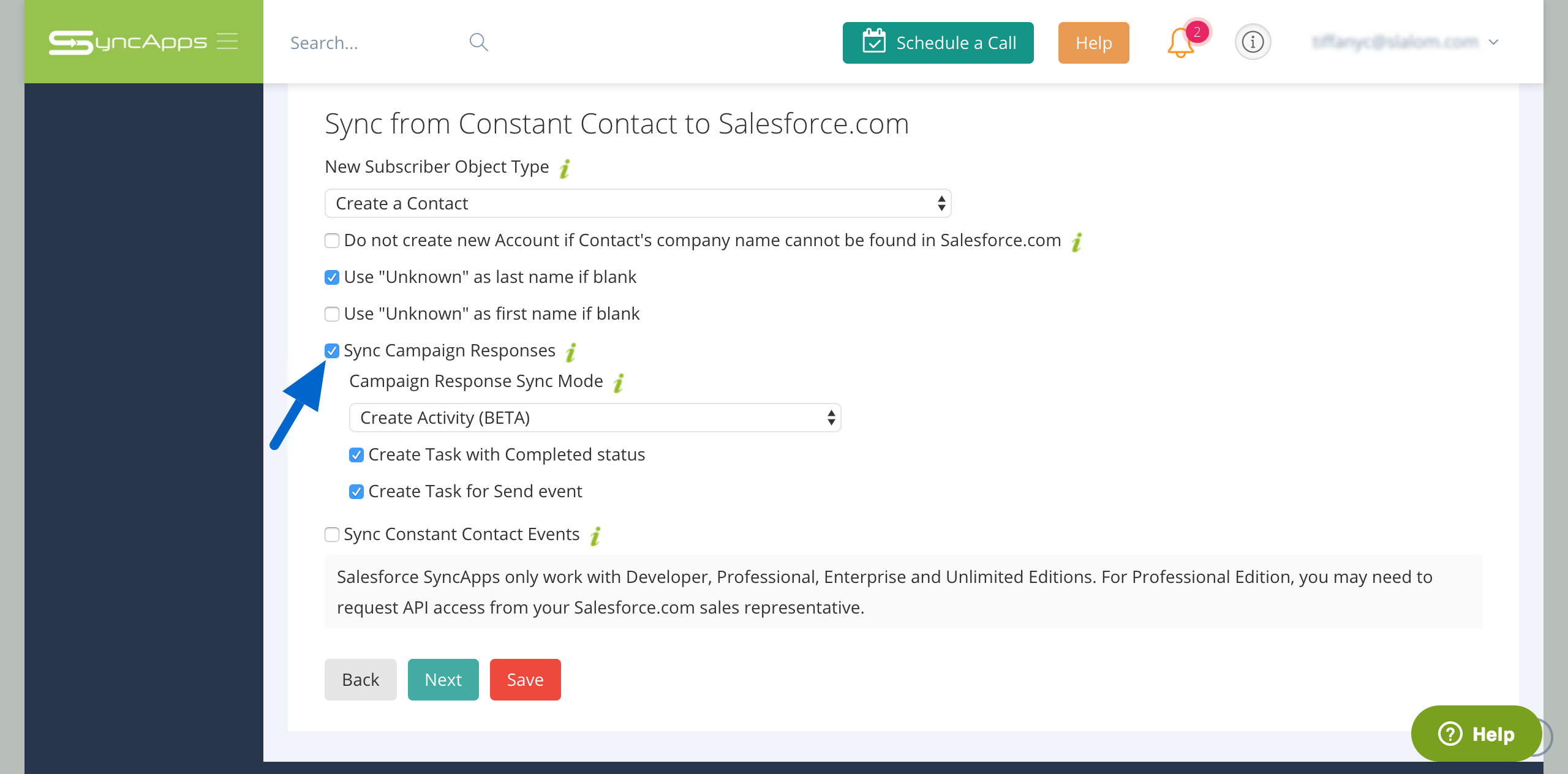 Getting Started - Campaign Layout fields: 
Once you have created a Sync Profile (don't worry it is simple to do) from your dashboard and are on Step 1 selecting "Sync Campaign Response" be sure to check your Salesforce layouts to make sure all fields created by SyncApps are dragged into the layouts for your Salesforce organization before continuing to Step 2.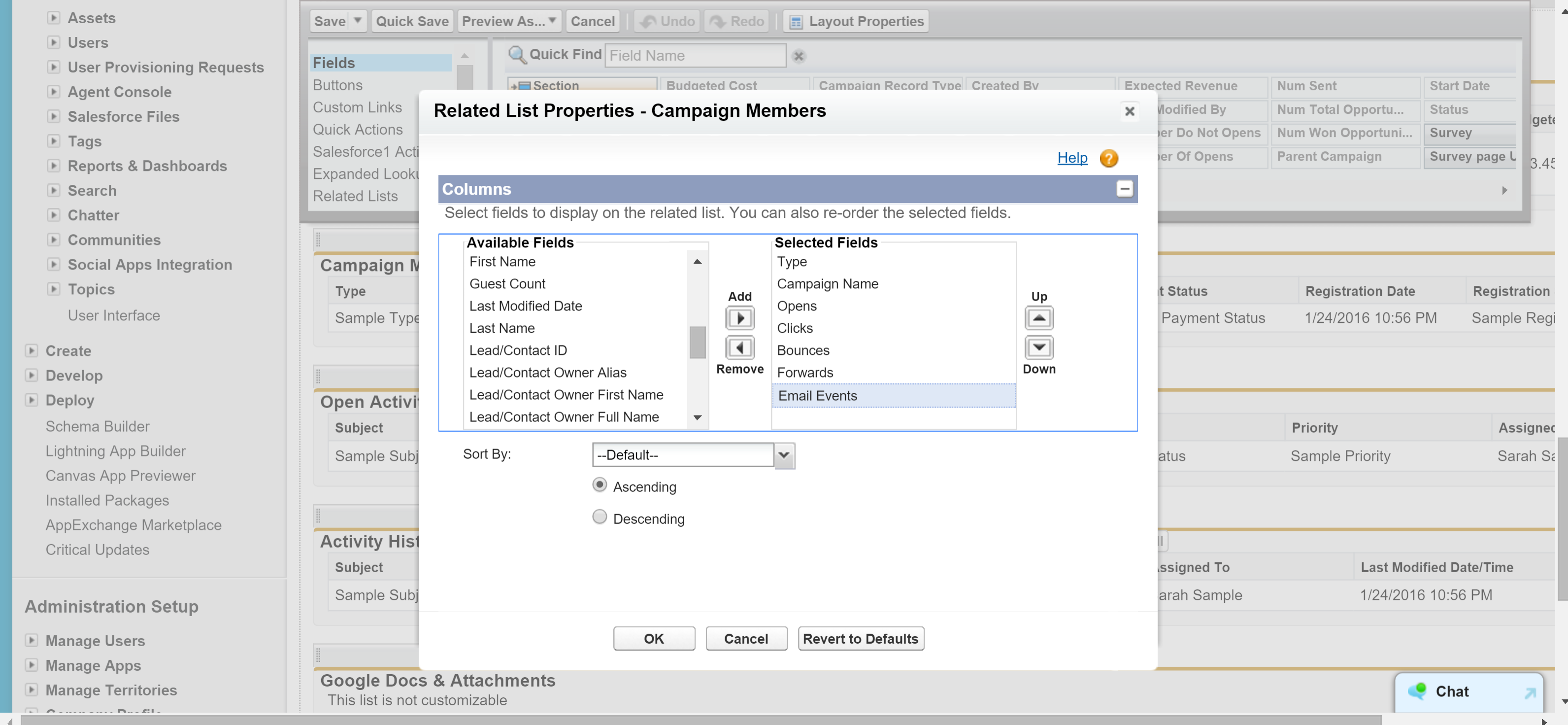 Sync Campaign Responses enabled feature is required in Step 1 of your Sync Profile setup before fields are automatically created by SyncApps.
We also support your Marketing Automation Email Campaigns to track the metrics to Salesforce in various ways to meet any requirement.
Email metrics flow back to Salesforce based on your choice in Step 1 of your Sync Profile Setup.
Campaign in Salesforce
Activity in Salesforce
Both Campaign & Activity
Note + HTML Template
Create Salesforce Campaign Only (No Campaign Member)

Please also be sure to place the Activity fields created by SyncApps on your Contact or Lead layouts.
*Using Accounts Object (Person accounts) and need to see Campaign Metrics?
Basically, there are 3 layouts that need to be edited in order to work for Salesforce Professional Edition with API Enabled:
* Campaign Page Layout: Add Campaign CazoomiId (optional for Enterprise Edition but make sure username has access to the fields)
* Campaign Member Page Layout: Add Campaign CazoomiId, Clicks, Bounces, Forwards, etc (optional for Enterprise Edition but make sure username has access to the fields)
* Contact/Lead Page Layout: Add Clicks, Bounces, Forwards to Campaign History related list. (optional but needed to see the metrics in contact/lead layout.)
  Salesforce layouts check: 
* Drag Campaign Cazoomiid into the Email Campaign Page Layout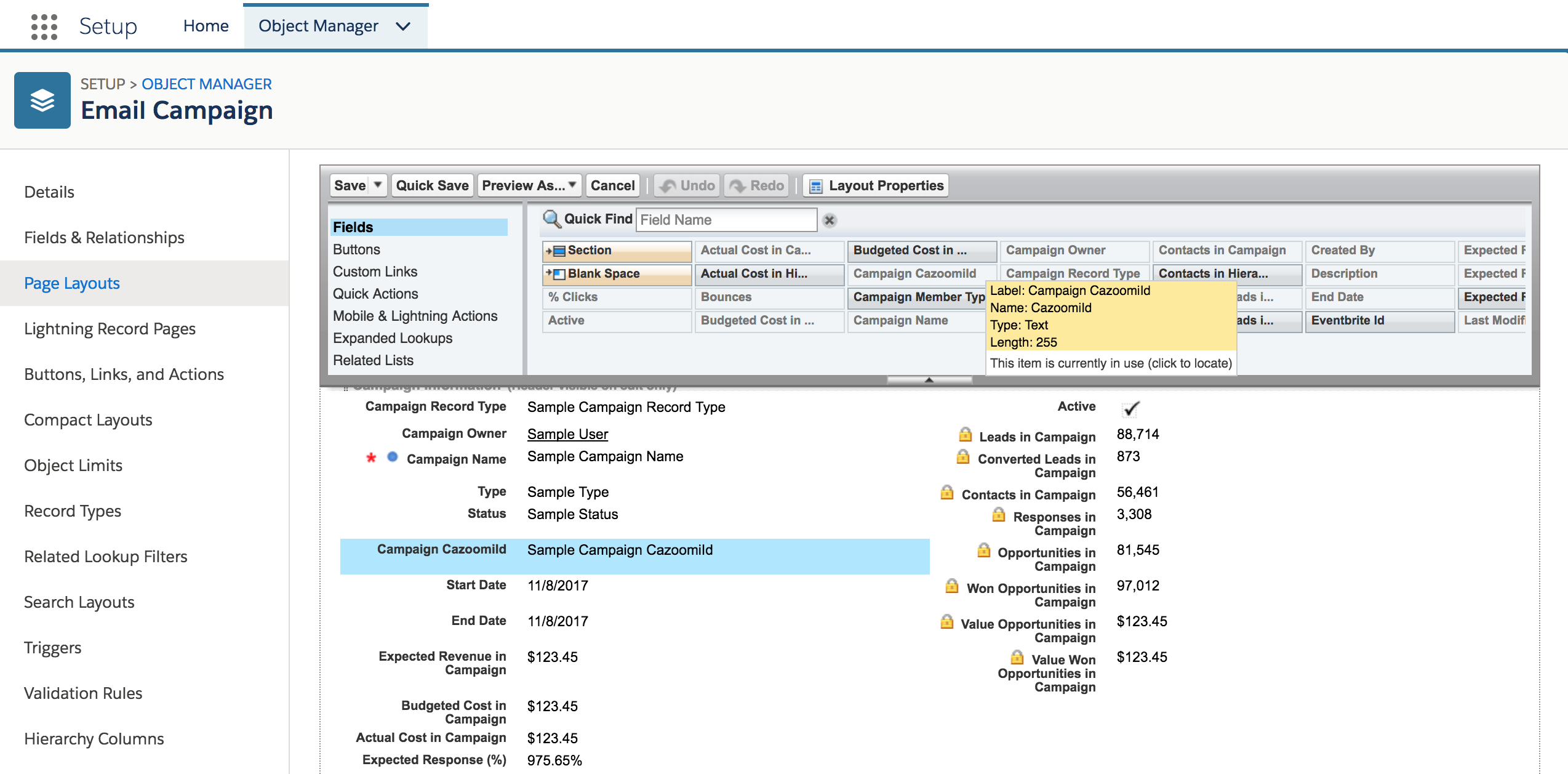 * Drag CampaignMember Cazoomiid into the Email Campaigns Member Page Layout and any fields you want to report on like Opens, Clicks, Forwards and Bounces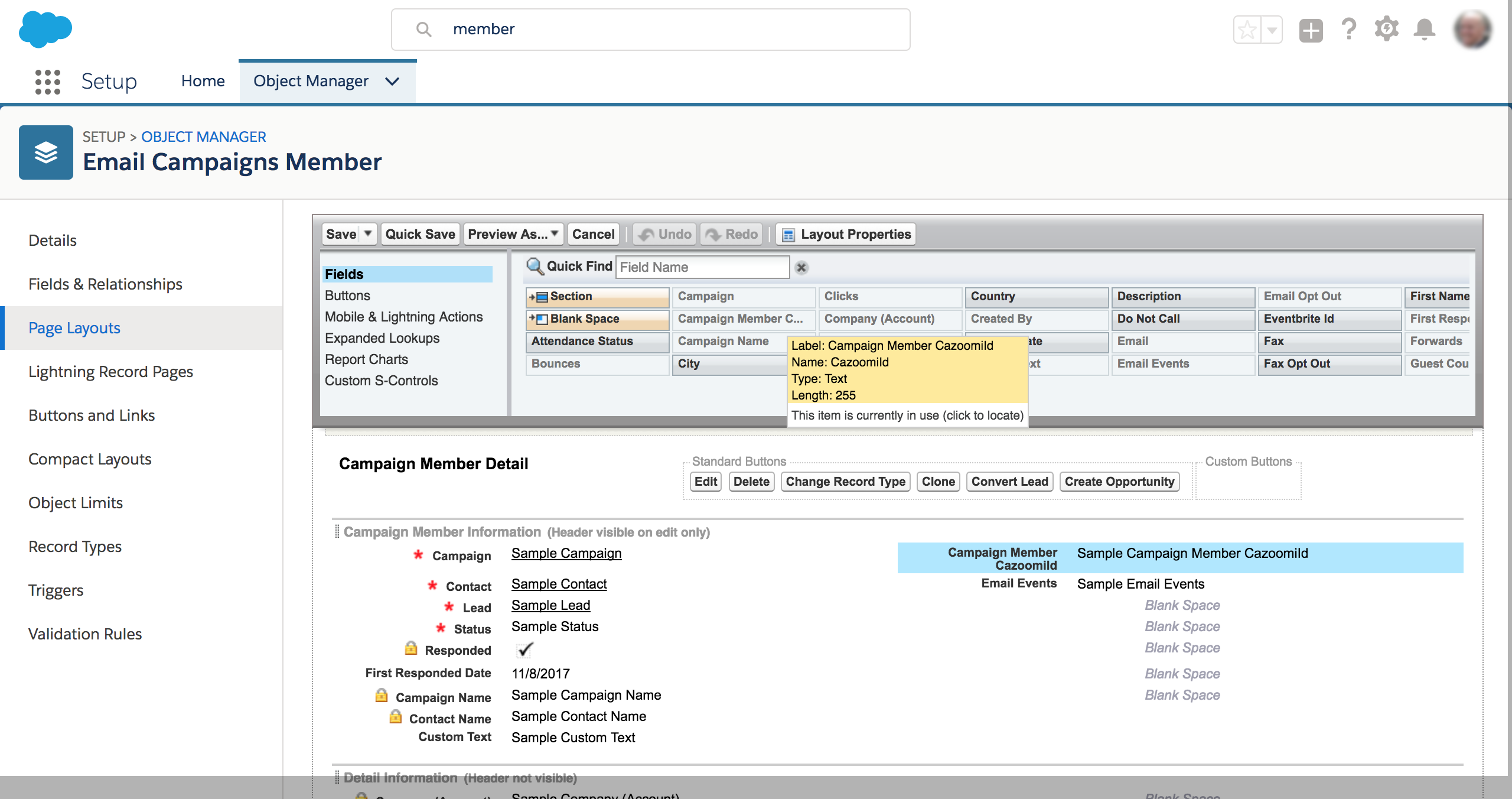 * The Campaign metrics fields placed in Campaign History layout (related lists) + Email Events will bring in the "URLs clicked" in the email into Salesforce from your Marketing Automation solution upon each scheduled daily sync 
*Campaign Response is synced every 24 hours so need real-time Marketing Metrics sync? Upgrade to Enterprise today from your Dashboard!
Individual Contact Record:​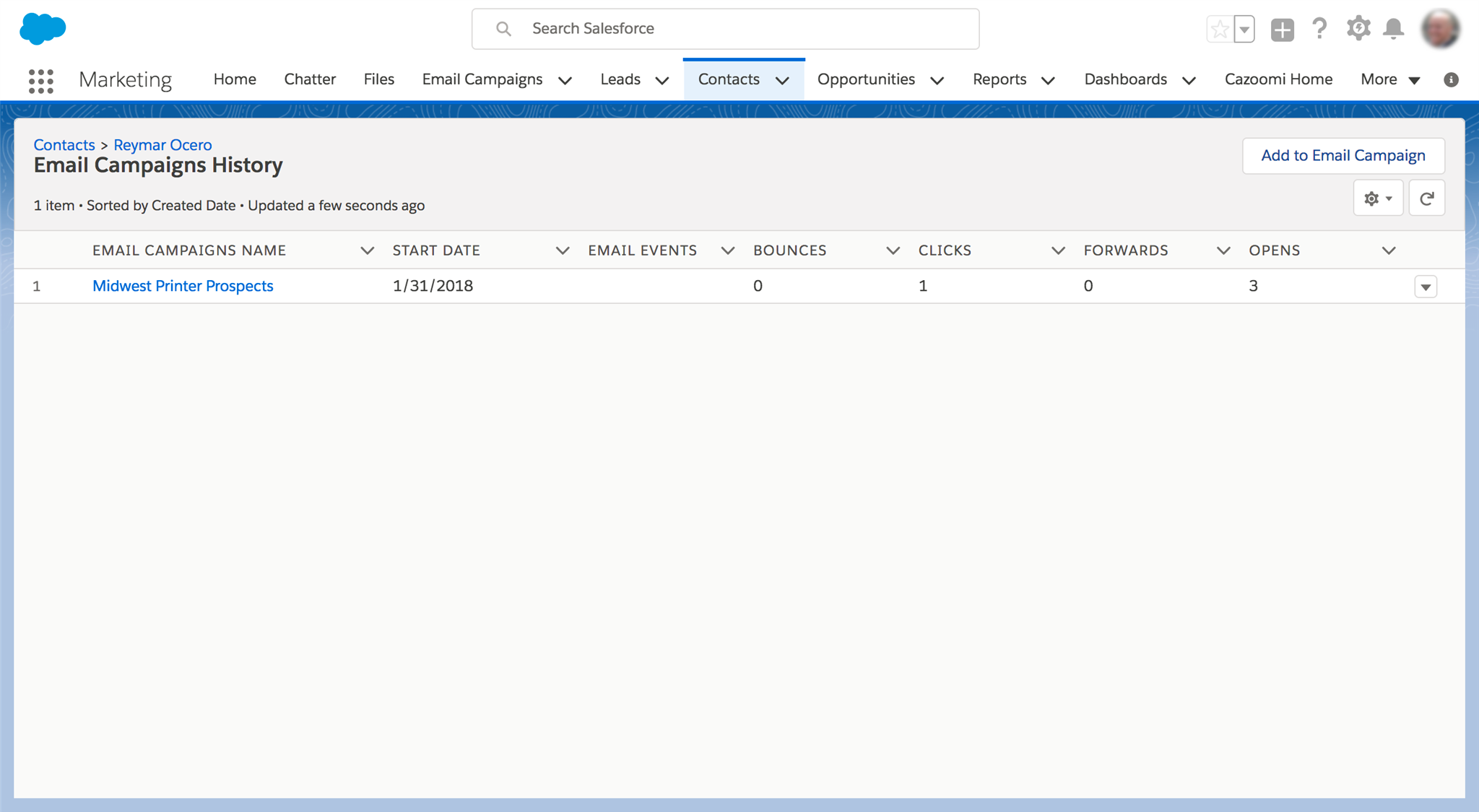 If using Salesforce Campaigns only then you can also download Cazoomi Marketing List to take advantage of our List membership feature for Constant Contact List and MailChimp Group subscribers.
*To capture which records are also removed from a Salesforce Campaign the Cazoomi Marketing List houses this logic via a Salesforce Trigger.
OR 
Using the Full Sync Add-On will replace this feature if not wanting to install the Cazoomi Marketing List App and you use Salesforce Campaigns as List in SyncApps.  This will manage automatic Contact, Lead record removal features for Campaign members to Email Marketing Lists and Groups on each Full Sync schedule.
What this means is anytime a record is added to OR removed from a synced Salesforce Campaign, created by SyncApps, it will always be in sync with the Act-On Software, Constant Contact, Delivra, ExactTarget, MailChimp & VerticalResponse Lists/Groups/Categories/Segments.
Need to Report on all SyncApps custom fields for Campaign Responses?  
See how here!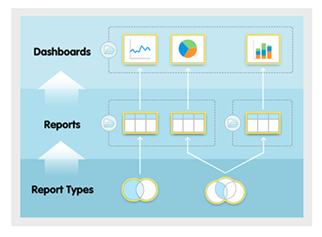 Any questions you have please shoot our CRM team a note at support@cazoomi.com today.