Hello, and you've come to the right place to learn about data migration from a specific start date.
In this article, we're going to talk about records migration based on date criteria, which is one of the SyncApps prime features offered on both our Free trial to test out and our Subscription Plans.
Here we go!
What is records migration?
Records migration is the key goal of integrations. It's marrying records from one software to another, whether it's done manually or through an integration platform. The difference between the two methods is that manual migration takes up a lot of time and effort, while an integration platform like SyncApps does the heavy lifting for you without the error-prone nature of manual efforts.
Don't have an account with us yet? No problem! Just sign up here, and we'll give you a free trial, with access to all our platform features to try out.
Now, let's talk about integration features.
Here at SyncApps, one of our features is records migration based on date criteria. What this means is that you can filter the records and only migrate them based on the date you've specified.
This feature is called Integration Start Date and can be found in Step 6 of setting up your Set Up.
Ok, so now let's break down the migration types that the Integration Start Date feature is used for:
First Sync of Newly Created Set Up for Historical Syncing

A newly-created Set Up can be set to migrate records from a specific date onwards for historical syncing. Historical syncing marries all existing records and creates a history of records, cache, which will be the basis of future integration Syncs as we only sync changed data once the first integration is run.
Reset Set Up for Filtered Record Retrieval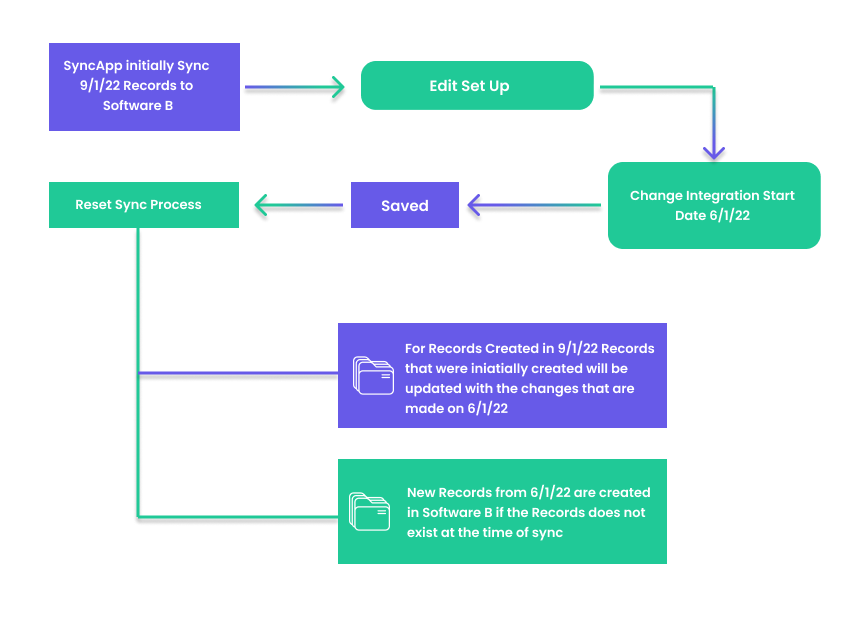 With the Integration Start Date feature, the platform will use the specified start date in Step 6 instead of retrieving all existing records on both software being integrated. This gives subscribers better control over which records are left untouched and which ones are updated during a Sync Cycle.
Full Sync for Full Records Migration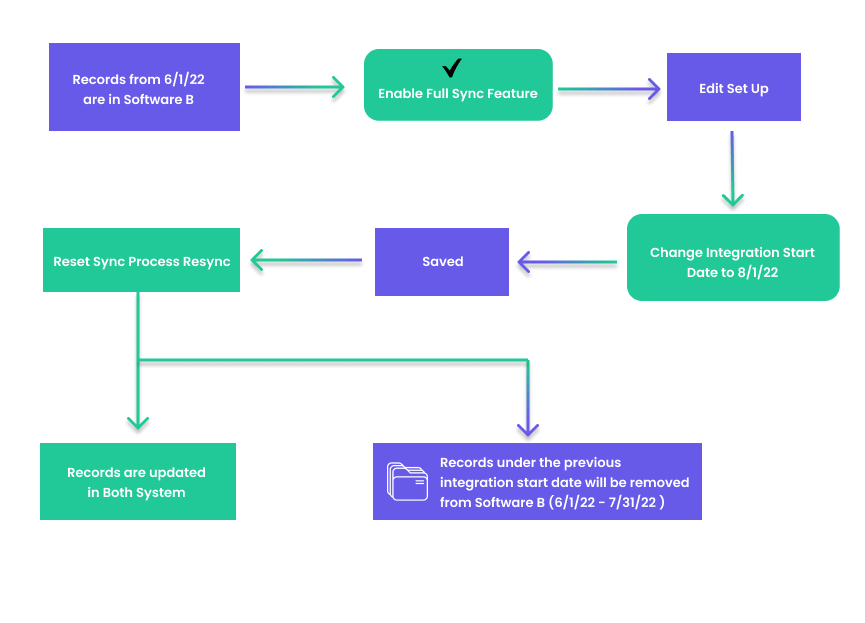 SyncApps will retrieve records since the integration start date. If also using our Full Sync feature be sure to note that as all previously synced records have been migrated to your other software that if choosing a new start date that is later than the previously synced records that the Full Sync will delete those records when it runs as they are before the new Start Date.
Finally, when changing integration start dates, remember to save the Set Up (for new Set Ups) or to Reset Set Up (for when you're editing existing Set Ups), so that the integration platform remembers your settings. Otherwise, you may have to set your Set Ups up again from scratch - as well as re-migrating everything from the start.
And that's all for now on Records Migration! We hope this article has helped you.
Need some help?
Check out the options below on how you can contact our Support team and find the answers you need to help you with your SyncApps integrations.
Help Center & Email is 24/7 to support@cazoomi.com | Live Chat & Phone is scheduled
FAQs
Check out these Help Desk articles for answers to frequently asked questions.
Get Started | Login Issues | Pricing
Check out our subscriber's story here on how SyncApps helped them save 100s of hours per year!