Are you using Salesforce Nonprofit Success Pack (NPSP) Person Accounts with your Marketing Automation Software?
See the best practices below for integrating the Salesforce Nonprofit Success Pack (NPSP) version today.
Before syncing the metrics back to Salesforce, be sure that you have correctly set up the Campaign Page Layout and Campaign Member Page Layout.
Check this article on how to set it up.
Salesforce Nonprofit Success Pack (NPSP) Contacts as Person Account
Setting up Contacts as Person Account is super simple, before running the integration, create a Salesforce Campaign which is to become your List/Audience in your Marketing Automation solution, mark it as "Active" and place each Person Account (Contact) in that Salesforce Campaign as List.
Salesforce reports can help in this task to automate this flow.
Setting up the integration:
Select "Contact" as the Object type to use and in Step 1 of the Set Up, select the feature "Want to use a Campaign or Marketing List to sync Campaign and List Members to Mailchimp? Select this feature." then tap the "Browse Campaigns". Select the Salesforce Campaign with those Person Accounts: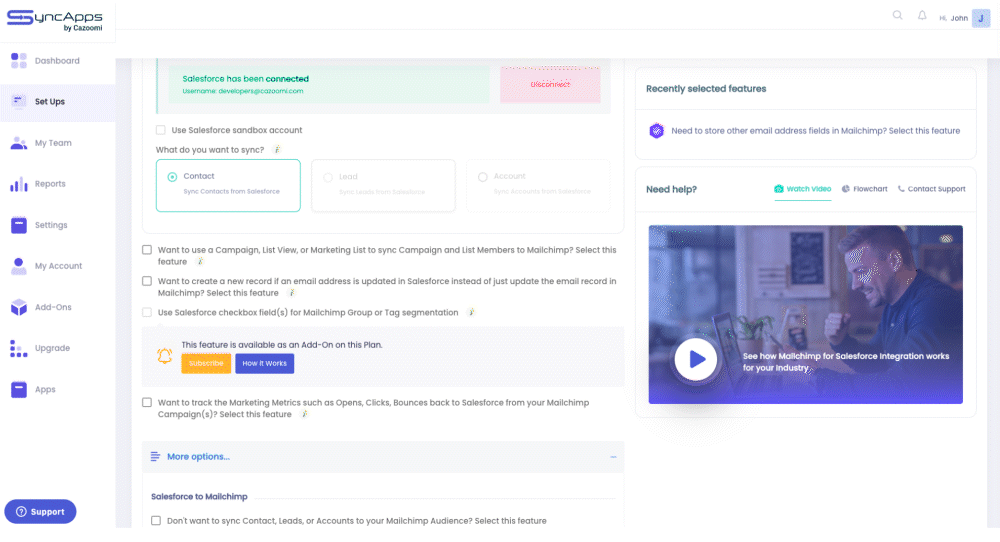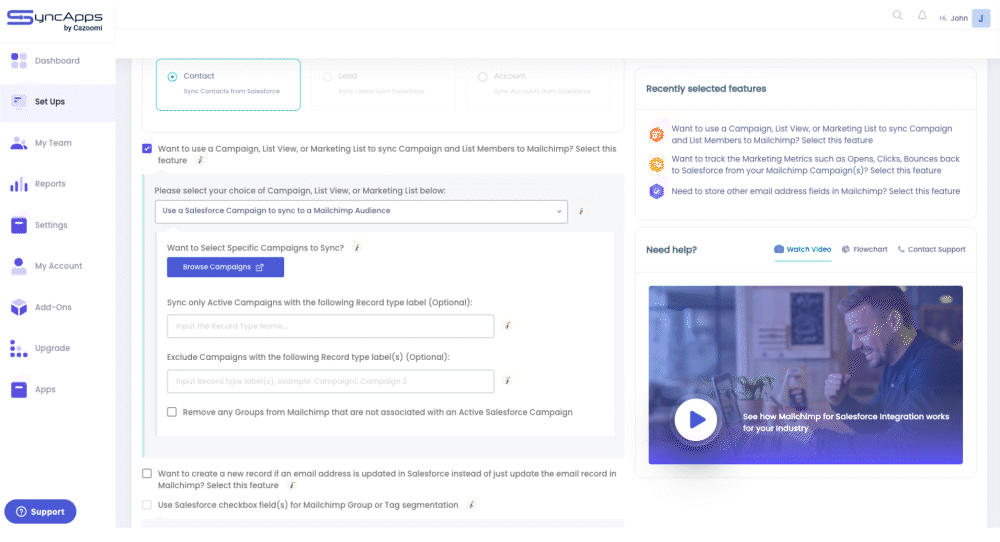 Complete the initial setup and run the sync. The Salesforce Campaign will now be created as a List in your marketing solution or, if using Mailchimp, an Audience with Tag(s) or if using Groups option, as Group(s) under "My Groups" Group category by default.
Next, create a test Marketing Automation Campaign and the recipient should be that List(s), Group(s), or Tag(s) synced via SyncApps. Why? We ignore records that are not synced (Cached) by SyncApps.
Send the Campaign now.
Done? Great!
Now, head back to Step 1 of the Set Up then enable the feature "Want to track the Marketing Metrics such as Opens, Clicks, Bounces back to Salesforce from your Mailchimp Campaign(s)? Select this feature!" and select "Create Salesforce Campaign + Activity" as the Sync Mode.
How Campaign Response brings back Campaign metrics to Salesforce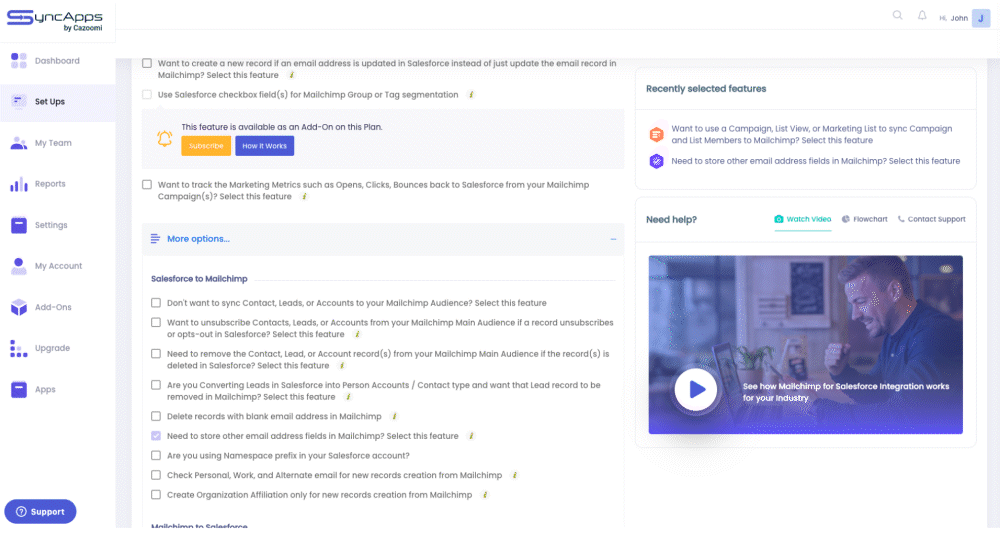 Tap the "Save changes" button and lastly, tap the Reset Sync Process and resync so that the changes will be applied on the next syncs.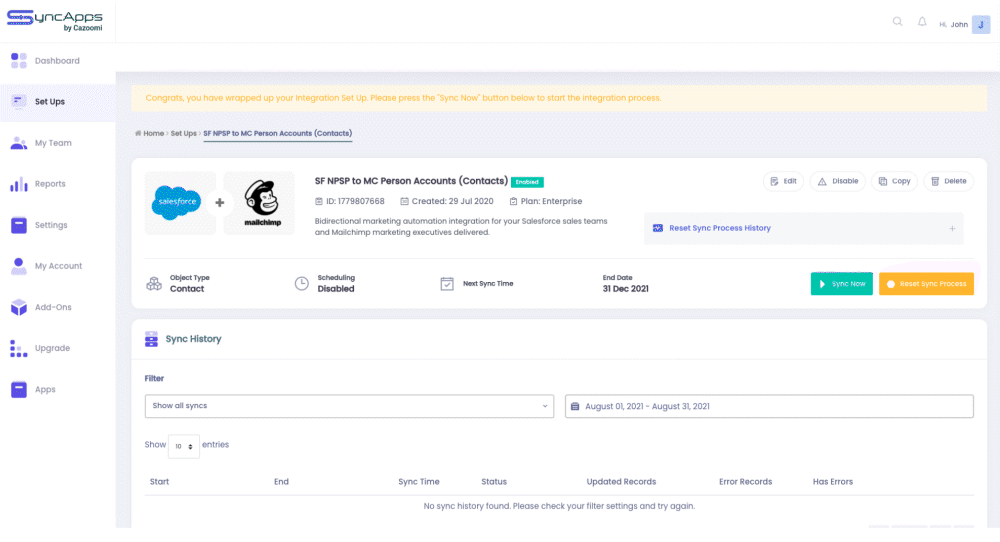 Finally, when the sync is completed, a Salesforce Campaign will now be created with that same name of the Marketing Automation Campaign, with the Marketing Metrics and the Campaign Members:
If using Accounts as Object type for Campaign Response with the same Sync Mode, it will only create a Salesforce Campaign with the Activities on the Activity Timeline or the "New Task".
Need some help?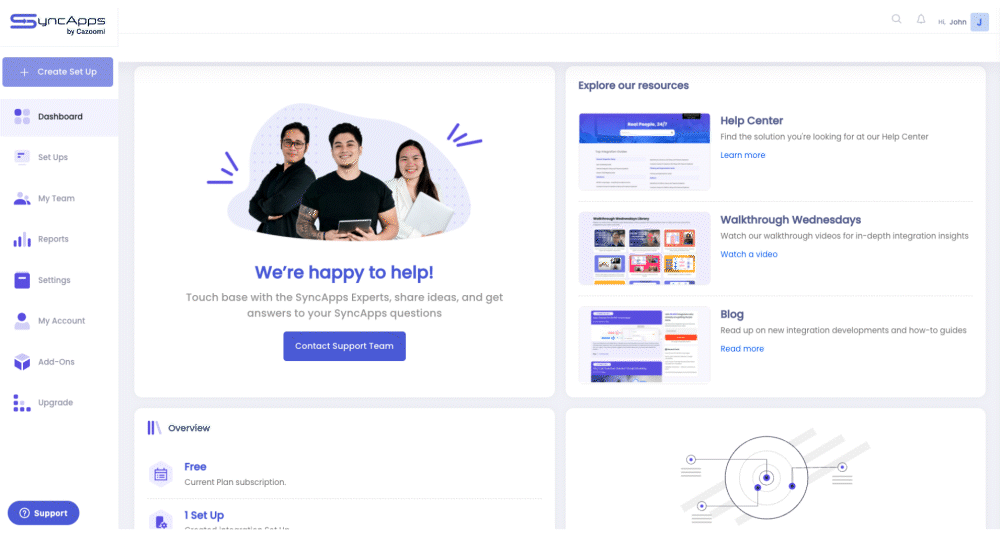 Check out the options below on how you can contact our support team and find the answers you need to help you with your SyncApps integrations.
Help Center & Email is 24/7 to support@cazoomi.com | Live Chat & Phone is scheduled
FAQs
Check out these Help Desk articles for answers to frequently asked questions.
Get Started | Login Issues | Pricing
Check out our subscriber's story here on how SyncApps helped them save hundreds of hours per year!