SyncApps can integrate your NetSuite Contacts, Customers, Leads, and Prospects to Constant Contact lists using Saved Searches and can also sync back the Constant Contact Campaign Responses to NetSuite.
Ready now? Let's get started!
First things first, you need to have a Free Trial in SyncApps so that you can connect NetSuite and Constant Contact. No installation is needed as we integrate via NetSuite/Constant Contact through the API.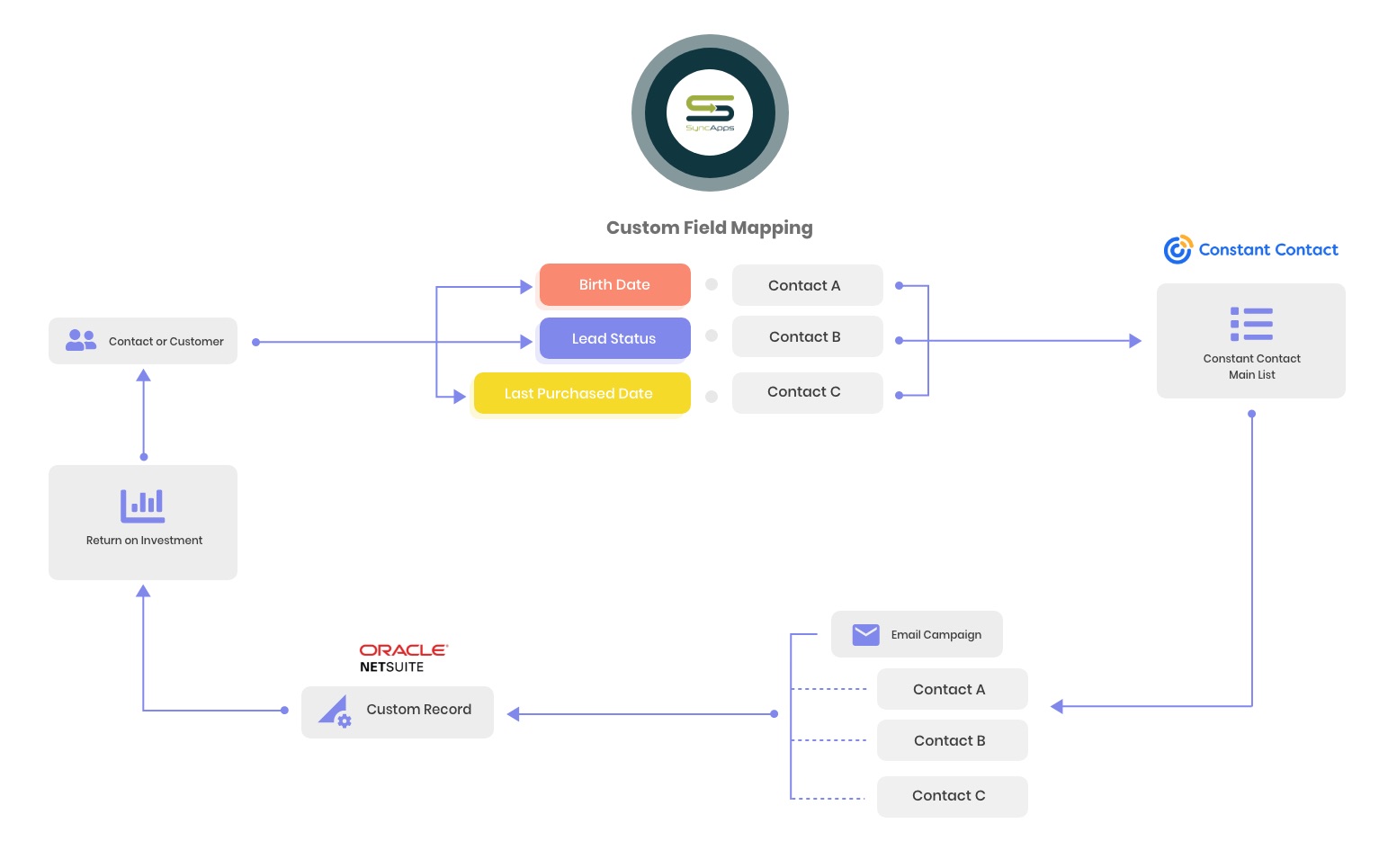 How to Set up the integration?
Before setting up the integration, be sure that you already have the correct Custom Role and Permissions plus the Token-Based Authentication credentials that you'll be using for the integration:
Please note that the Permissions that you've added to NetSuite's custom role will take effect within 24 hours.
1.) Once you're all set on the NetSuite side, log in to your SyncApps account and tap the "Create new Integration" button, or you can tap the "Set Ups" located on the upper left panel of your screen.
"Set Up" is our term for the connector to integrate both software bidirectionally, such as NetSuite with Constant Contact.
2.) Enter your NetSuite credentials, such as the Account ID and Token-Based Authentication credentials: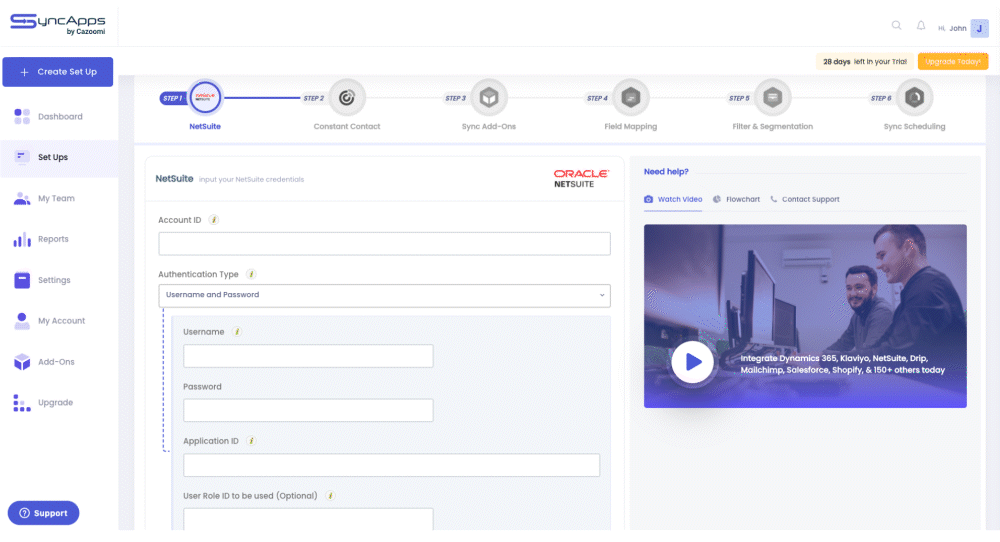 Don't know how to generate Token-Based Authentication credentials? See the TBA article here.
You can use a NetSuite Sandbox, which is a test account type that replicates your live NetSuite account. It uses testing records that will not affect your live or production records when syncing. Enable this option if you are testing records or requirements and want your production records to remain unaltered.
3.) Under the "What do you want to sync" drop-down menu, select "Specific NetSuite Saved Searches" and specify the Saved Search ID, Type and specify what name would like SyncApps to create as an email list in Constant Contact.
Why Saved Search as the best practice? This way, we will only sync the specific NetSuite Saved Search itself and its Saved Search members to the Constant Contact list to limit the number of records synced to Constant Contact. Fields available in Step 4 for field mapping will also be tied up to the specified Saved Search.

How to create a Saved Search? Go to Lists > Search > Saved Searches > New. If you already have an existing one, then you can use that. Mark it as "Public". The Search ID will also be shown in the URL of the Saved Search.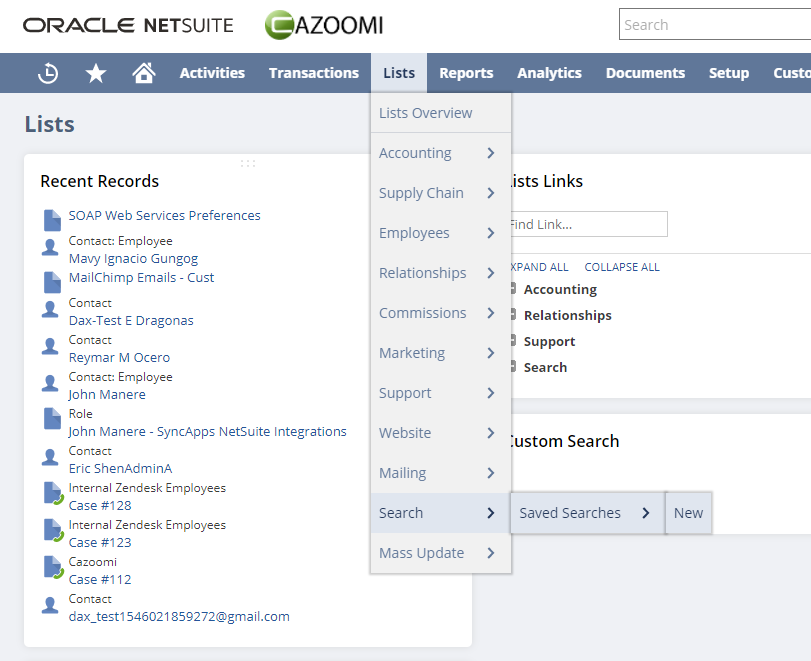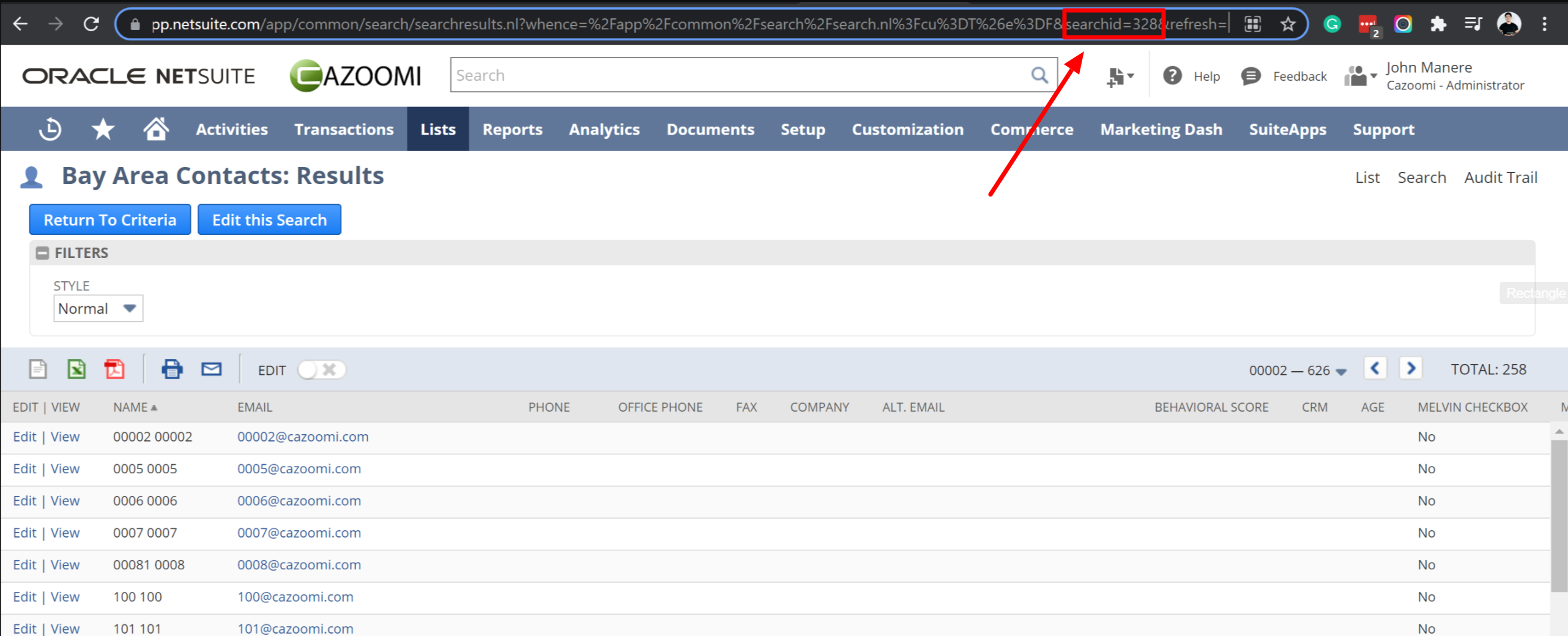 4.) Enable the "Sync Email Marketing Data" so that once you send a Constant Contact Campaign to this Constant Contact List (the Saved Search that will be created by SyncApps once you run the first sync), we can then sync back the responses back to NetSuite.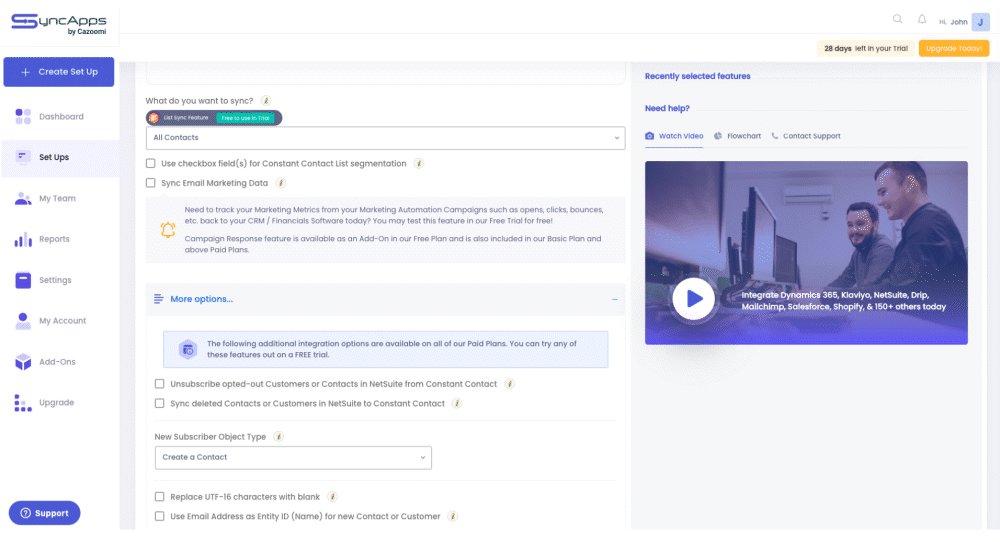 See the article below for more information:
By default, SyncApps will only sync over the Constant Contact Campaign Responses back to NetSuite for those Campaigns that were sent within the rolling 30 days. Need to sync Campaign responses that were sent more than 30 days or even the historical data back to NetSuite? Try our Professional plan or above.
5.) Are you using NetSuite Oneworld? If so, you will need to specify the "Default Subsidiary" as this is needed in NetSuite when creating new records from Constant Contact Main List back to Netsuite, and under the "New Subscriber Object type," this is the controller to what Object type will those records be created in NetSuite would it be Contacts, Leads, or Customers.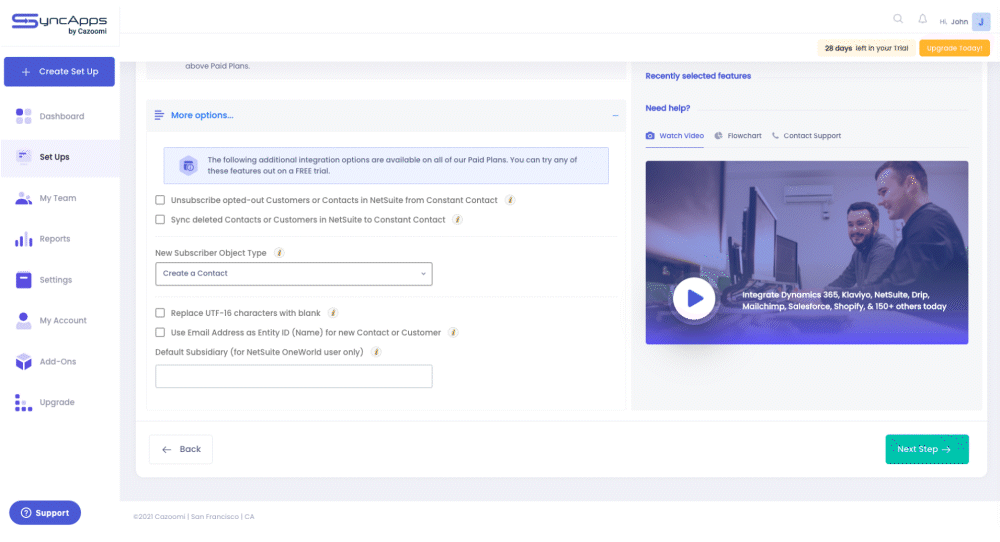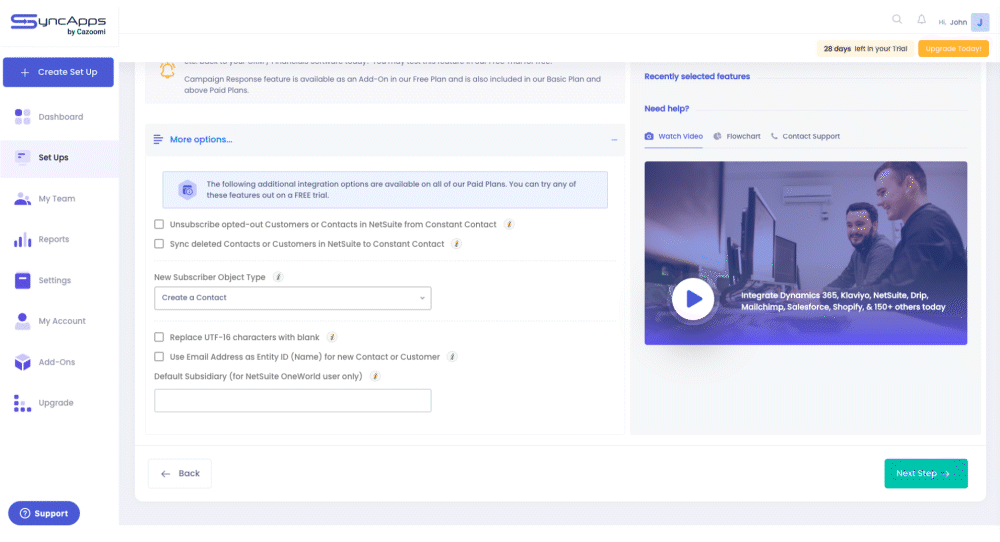 Tap the Next Step button to save the configuration, and will then head to Step 2.
6.) In Step 2 of the integration Set Up, select the Version 3 API and tap "Connect".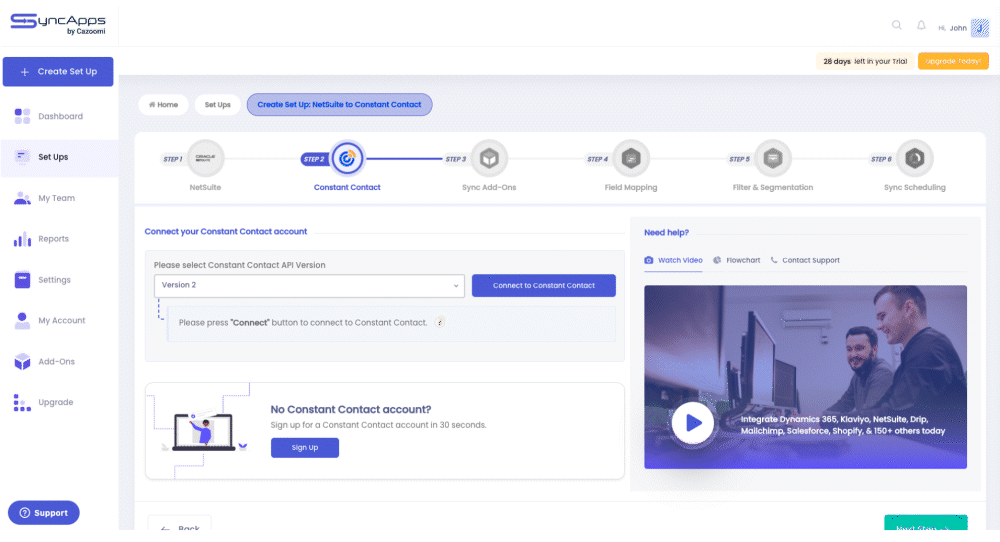 After which, enter or select the name of your Main List. What is the Main List, and why do we need to define it in Step 2?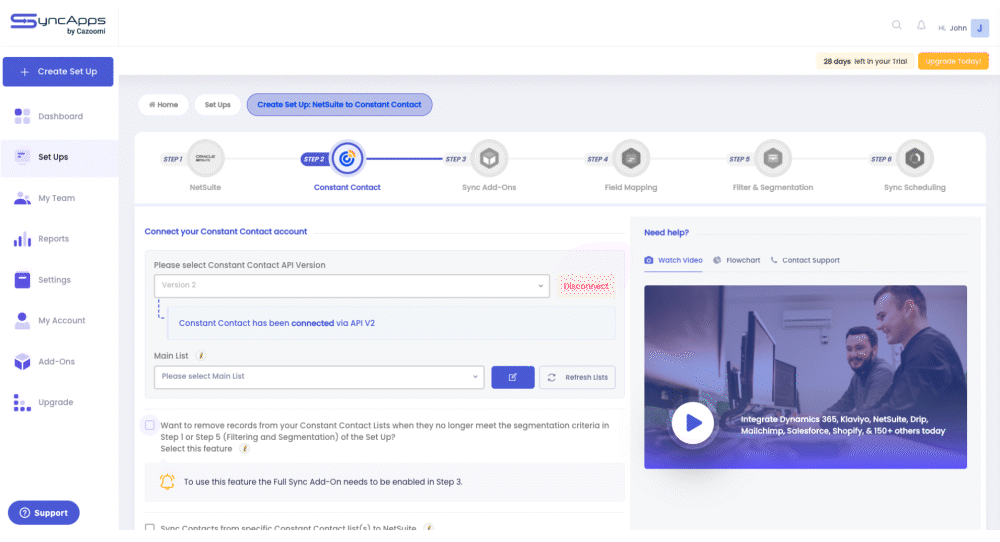 When adding new subscribers to any Constant Contact List, please note that only those in your "Main List" will be synced or selected from the following options; (Sync all active Contacts, not just those in the specified Constant Contact List) to sync the specific Constant Contact subscribers to CRM.
Note: We require you to define the Main List because Constant Contact needs it to create, update, and remove records using its API.
7.) Complete the setup by tapping the Next Step buttons up until you reach Step 5 of the Integration Set Up, set the Sync Interval, then tap the finish button and run the very first sync: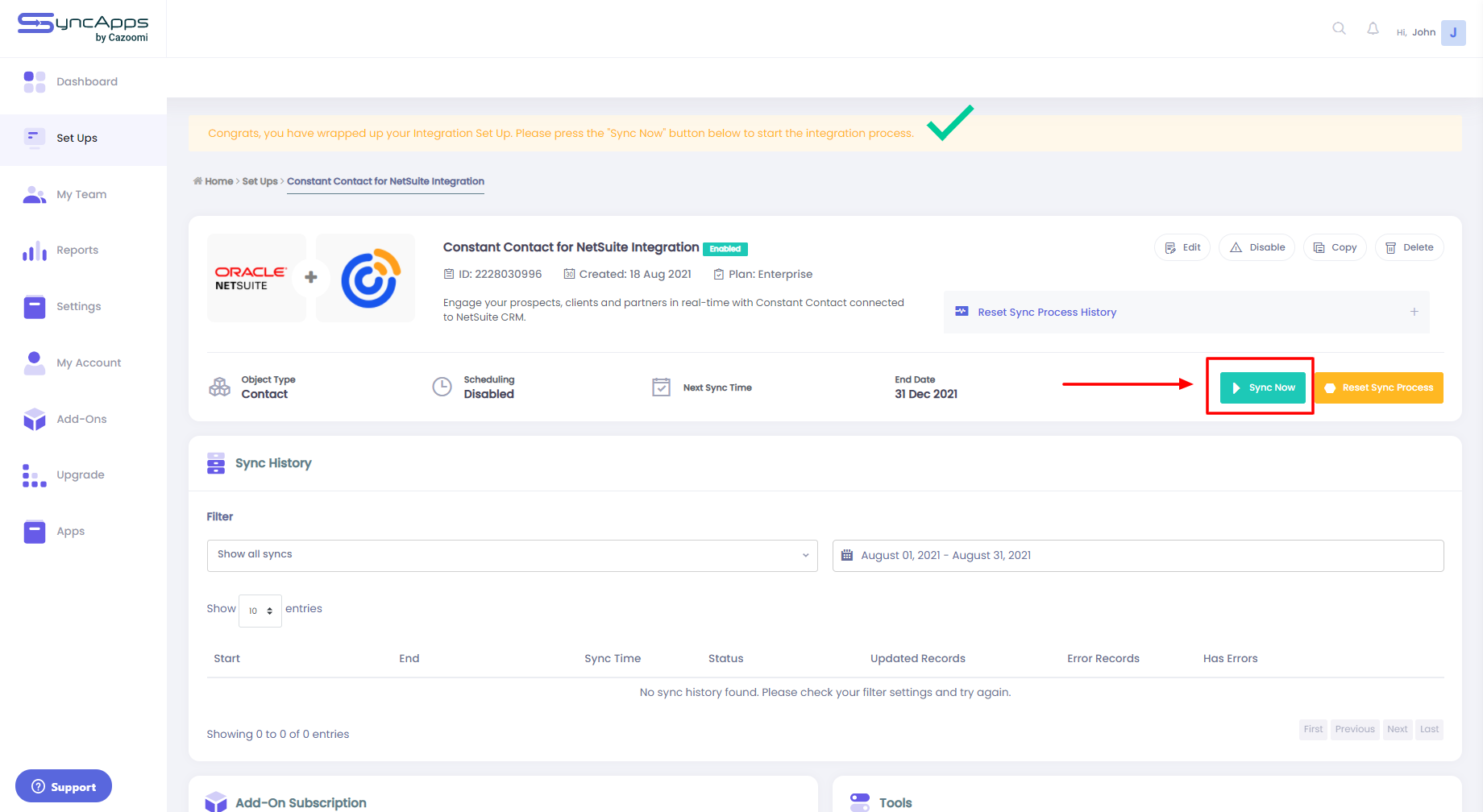 8.) Once the sync is completed, send a Campaign to that Constant Contact List that was created by SyncApps from that Saved Search and wait for the scheduled sync to run, or you can force run the sync by tapping the "Sync Now" button.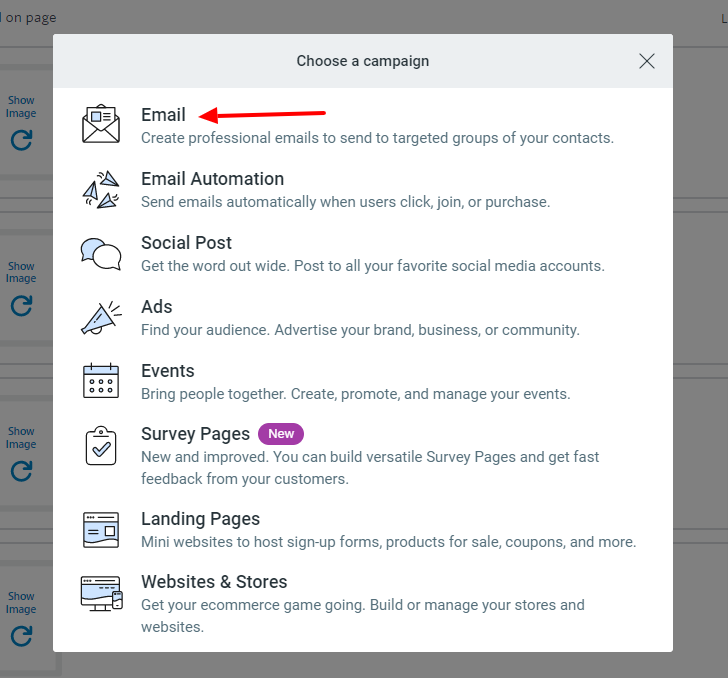 Note: Constant Contact Email Automation is not yet supported for now because Constant Contact does not have an API for it. If you send Campaigns in Constant Contact and want to sync back the Campaign Responses to NetSuite, select "Email."
11.) Sync is completed now? Good! You can head over to the Contact/Customer record now in NetSuite.
A Custom Record with the name " (Your Email Marketing Software) Email History" or " (Your Email Marketing Software) Emails-Cust" is then created.

For individual Contact or Customers, we will automatically create the "Custom" sub-tab, and under that, you can see the " (Name of your Marketing Automation Software) Email History" with the Campaigns and metrics he received.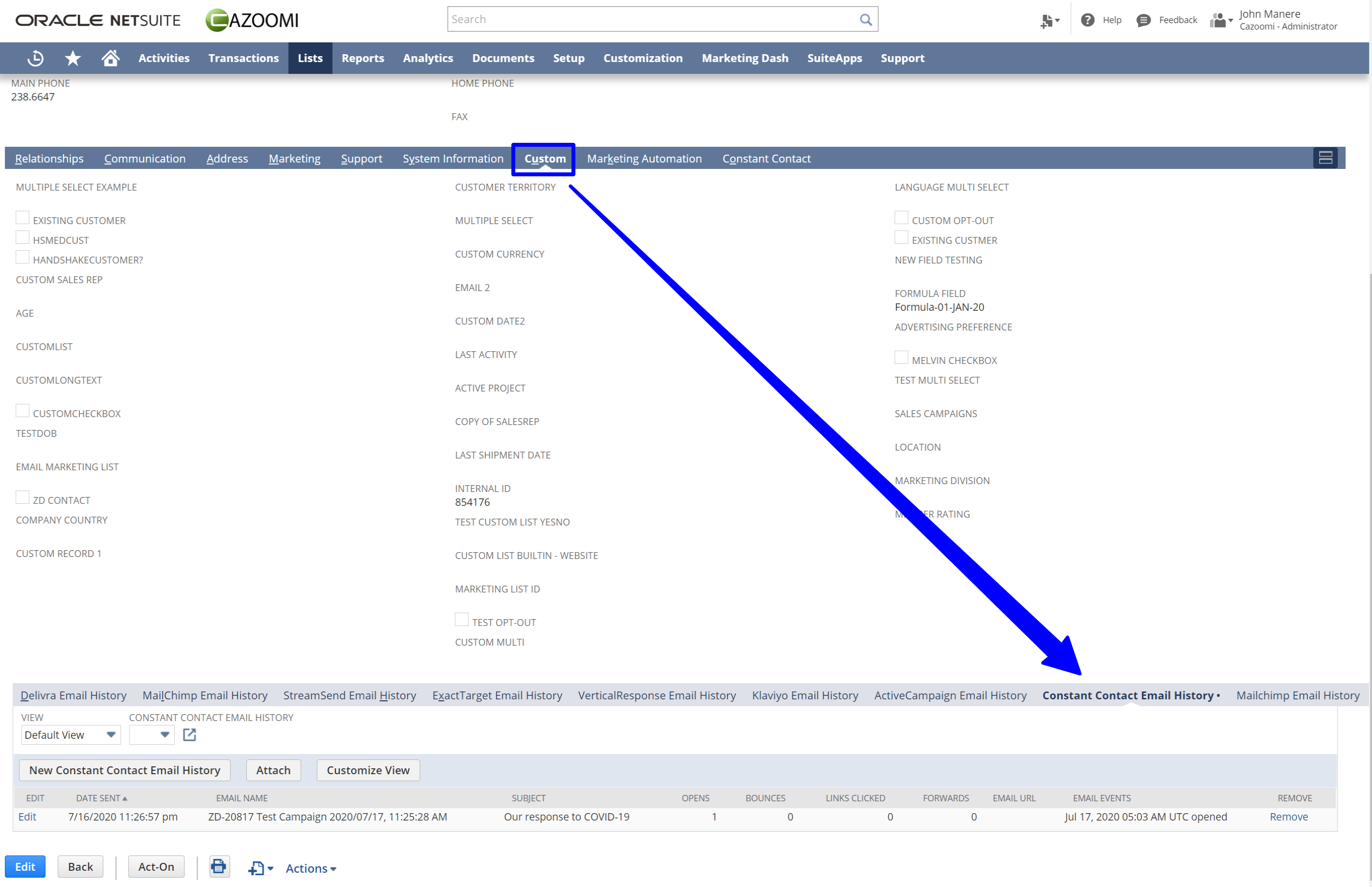 What happens when a Constant Contact Contact unsubscribes from Main List?
If a Contact unsubscribes from your specified Main List, we will update the "Global Subscription" in NetSuite into "Soft Opt-Out," Once that happens, we will no longer touch/update the record.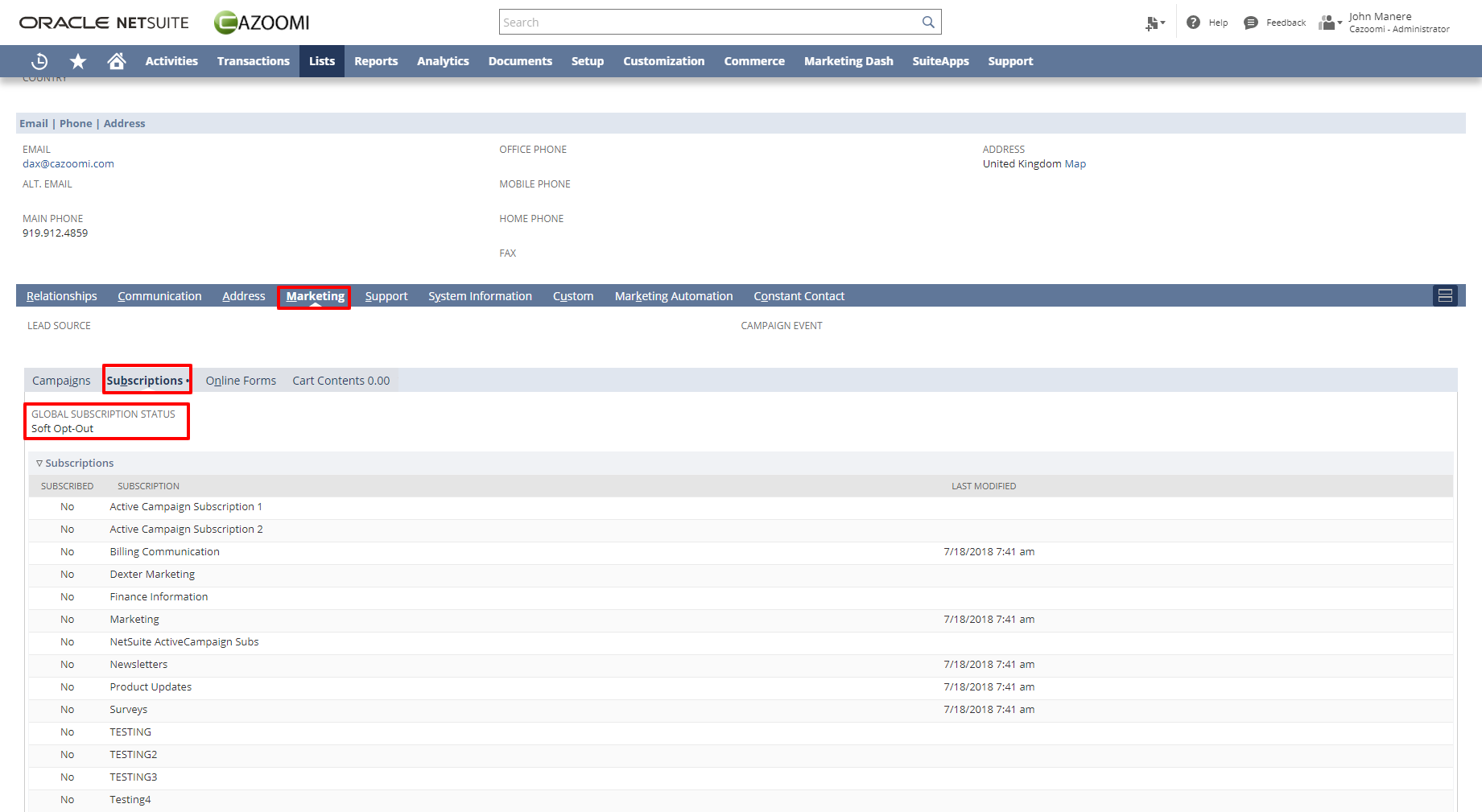 Need some help?
Check out the options below for contacting our Support Team and finding the answers you need to help you with your SyncApps integrations.
Help Center & Email is 24/7 to support@cazoomi.com | Live Chat & Phone is scheduled.
FAQs
Check out these Help Desk articles for answers to frequently asked questions.