Salesforce to Mailchimp is one of our most in-demand integrations. Wondering why our 3,200+ subscribers chose it instead of the native Mailchimp for Salesforce integration?
We've got quite a few reasons why SyncApps is home to the best bidirectional Mailchimp for Salesforce integration!
On SyncApps, you have:
Bidirectional integration of Contacts, Leads, unsubscribes, fields, and Person Accounts
Salesforce sandbox supported
NPSP is 100% supported (Hi, nonprofits, we also have a 25% discount for you!)
Campaign metrics are yours to keep if you ever decide to leave
No setup configuration is needed -- all plug-and-play
Need more reasons to switch to SyncApps? Keep scrolling, and we've got them!
Quick Overview
SyncApps has been integrating Salesforce with Mailchimp for 15+ years. As time goes by, we incrementally add new enhancements that will help your Sales and Marketing teams hit quotas and get excellent ROI.
Updates and enhancements always lag behind in MC4SF since it's a free application with limited developers working on it. This means that you won't be able to use the most recent enhancements in Mailchimp or Salesforce until MUCH later, when (and if) they are added into MC4SF. At SyncApps, the upgrades are done regularly, and you can even enjoy extra features that you can't find in Mailchimp or Salesforce independently.
Added Bonus! Got multiple Salesforce and Mailchimp accounts? We support integrating these in one SyncApps account.
How Do I Get Started with Mailchimp for Salesforce in SyncApps
Sign up for our Free Trial and experience the SyncApps Advantage: save 13 days per year without breaking the bank!
Need support in setting up your integration flow? Book a call with our experts today!
Once you have the integration via SyncApps all set up, you can do the following:
By default, Salesforce, your CRM system of record, takes higher precedence over Mailchimp. Alternatively, you can opt to use the Mailchimp webhooks feature that allows you to have Mailchimp update records in Salesforce
Contact, Leads, or Account updates? We use native (or preferred) email address fields for record creation and updates. Custom Email Fields on the Account or other objects supported.
Are you a nonprofit organization using the Salesforce NPSP version? We fully support it and the objects you need to be integrated into Mailchimp. Click here for unique discounts for nonprofits and save 25% of your yearly subscription fee!
Duplicates management? SyncApps uses the email address field, so if an email address already exists on both ends, then we'll just marry/connect those records
Syncing back your Mailchimp Campaign analytics such as opens, clicks, and bounces back to Salesforce? Learn How Campaign Response brings back Campaign Metrics to Salesforce
Syncing historical data (Campaign metrics/analytics) back to Salesforce? We pull all the metrics back from Mailchimp to Salesforce, which are yours to keep forever.
Salesforce list management to target specific people in your market? You can use Salesforce Campaign (as a Contact/Leads List), List Views, or even our powerful Filtering and Segmentation to segment these specific records into Groups/Tags under your specified Mailchimp Audience.
Subscriptions/Newsletters management works truly bidirectional as well, using SyncApps CRM Checkbox fields for Segmentation to/from Mailchimp Groups
Mailchimp unsubscribes are automatically managed by SyncApps (by default, we manage the "Email Opt-Out" field in Salesforce. Using Custom Opt-Out? Learn how Opt-Outs Work with Integrations.
Sign-up forms for new records in Mailchimp will be synced back to Salesforce whenever the sync runs. You can create them as a Contact or a Lead in Salesforce
Converted Leads Management
Field mappings, such as Member Rating, bounces, and even more!
Scheduled or real-time sync updates!
28 days FREE trial with ALL features included -- you can test ALL your use-cases
24/7 accessible support and onboarding scheduled calls with our Sales Engineers
If you're currently using MC4SF and plan to switch to SyncApps, the best practice is using only one integration platform software to prevent errors on record updates.
What's the Difference Between MC4SF and Mailchimp for Salesforce SyncApps?
A Few Key Differences:
SyncApps uses the API of both Salesforce and Mailchimp, with nothing to install in Salesforce. What this means is that we cover all features of the API that also cover 99% of all use cases. If you ever leave SyncApps, for any reason, the data you have integrated into both Mailchimp and Salesforce is yours to keep.
We also support both Salesforce Classic and Lightning editions as long as your Salesforce org is API enabled. If you're under the Salesforce Professional edition subscription, be sure that you have purchased their Web Service API to be able to integrate with SyncApps.
Our 24/7 Support is available to all plan members.
MC4SF vs the SyncApps Mailchimp for Salesforce Integration: an In-Depth Look
No installation headaches: MC4SF needs to be installed as a package into Salesforce from Salesforce's AppExchange. In SyncApps, you'll just need to sign up, create the integration, and connect each system by authenticating each on our platform, in what we call a Set Up.
Your data is yours to keep FOREVER: One of the disadvantages when using the MC4SF and then deciding to use another integration platform is that once you uninstall the app, it will also remove all the historical data or those synced records as it is a managed package. In SyncApps, we directly sync to the Salesforce API and everything that's synced by SyncApps will stay in both systems AS IS even if you have unsubscribed from the service.
Once you have the MC4SF installed, it will be under the App Launcher in Salesforce: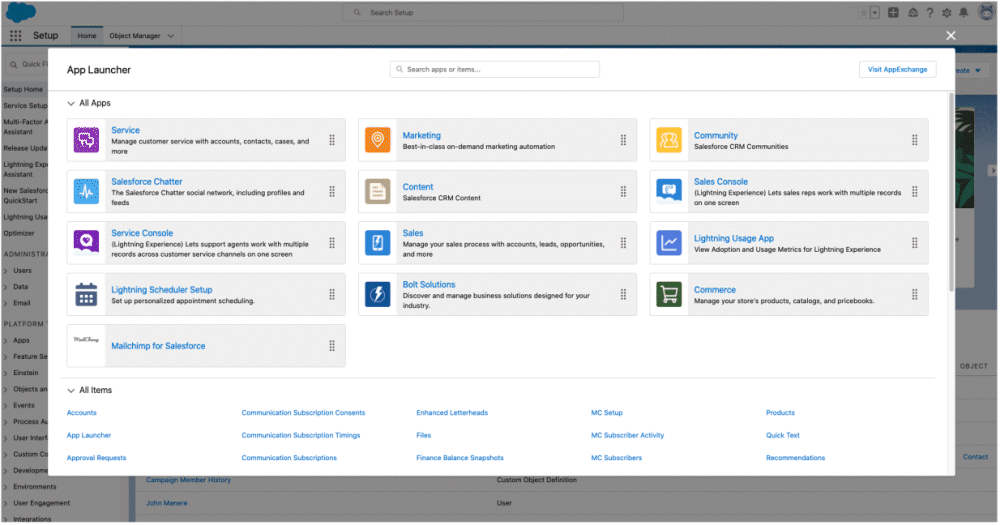 In SyncApps, you will need to log in online and set up the integration. The setup is pretty straightforward, and lots of features are available to tailor to your integration use cases. If you need help, our 24/7 Support Team will always be there to guide you:
Differences in Contacts, Leads, Accounts, and Person Accounts Management
In SyncApps, for Contacts and Leads, as long as they have an email address (using the native email address) we will sync those over to Mailchimp's specified Main Audience. If the email address already exists then we'll just marry to those records.
If you use a custom email address in Salesforce other than the native email address then we also support that to be mapped in Field Mapping to Mailchimp's native email field. Accounts, Contacts, and Leads supported.
For other Salesforce org such as the Salesforce NPSP, some of them are using the "Preferred" field so in that case, the selected "Preferred email" will be the basis for the record's creation as well. The same thing goes for the MC4SF app, they are also using the email address.
In SyncApps, we also automatically detect if you are using Person Accounts and sync these into your Mailchimp Audience and into segments like Groups or also using Tags.
Opt-Outs/Unsubscribes Management
The MC4SF app will only update the "Status" to Subscribed or Unsubscribed without updating the Salesforce native "Email Opt-out" field of the Contact or Lead record.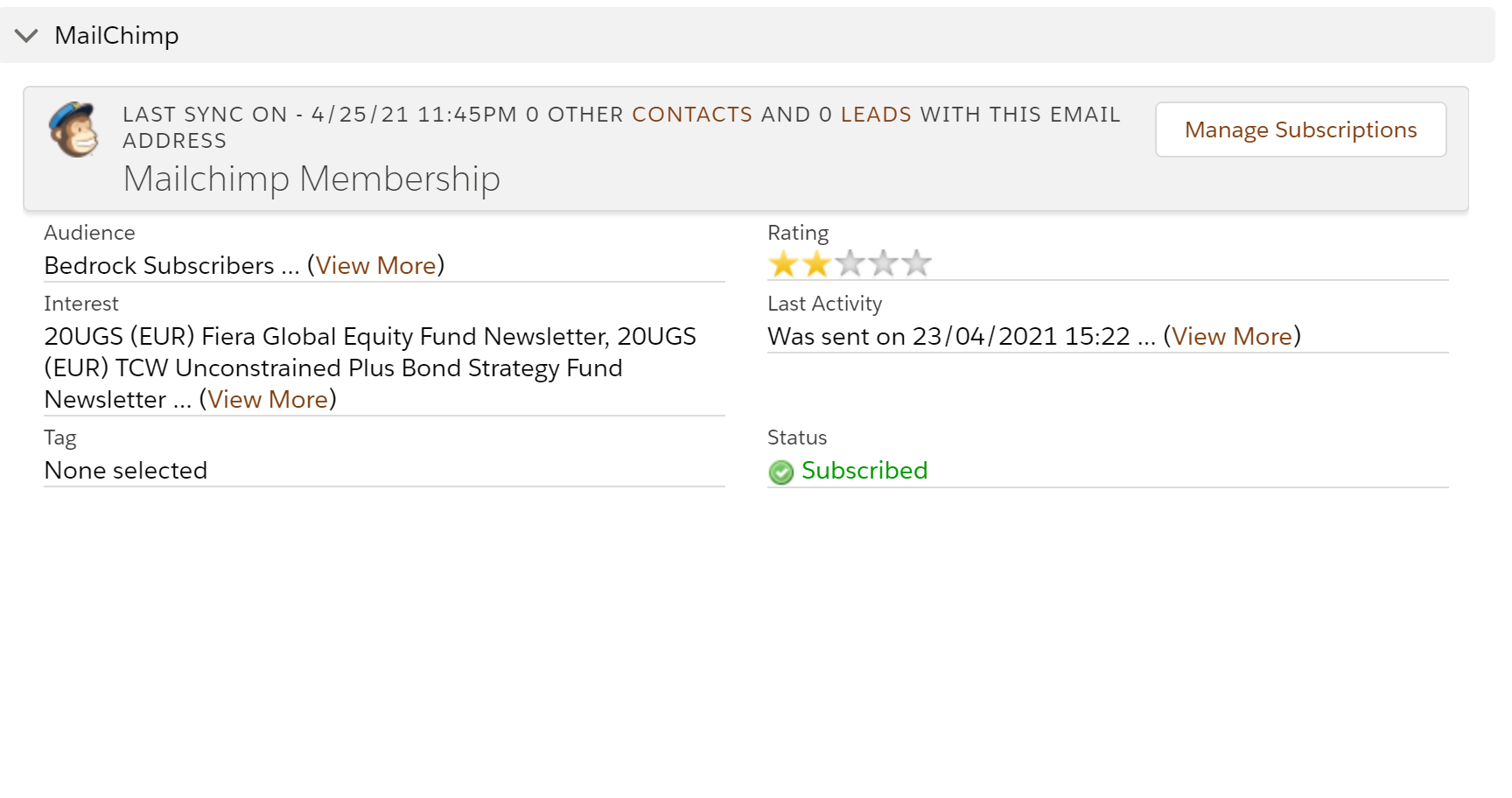 SyncApps uses the native "Email Opt-out" field of a Contact/Lead record in Salesforce once they unsubscribe from the specified Mailchimp Main Audience. Once that is marked as opted out in Salesforce, we will no longer touch/update that record. This is automatically synced by us so there is no need to map it.
If you're not using the native email opt-out field, then we can use and map the Mailchimp Unsubscribe to the Salesforce Custom Opt-out field.

Also, if, in some cases, you manually mark the email opt-out in Salesforce, we can also unsubscribe them from your Mailchimp Audience; you need to enable this feature:
A bonus feature is that anyone who is manually unsubscribed in Salesforce can be automatically unsubscribed from Mailchimp and even removed from the Audience if you like using a simple tick of a box for that feature in tandem with our Full Sync.
A bonus feature is that anyone manually unsubscribed in Salesforce can be automatically unsubscribed from Mailchimp and even removed from the Audience. All you need to do is use a simple tick of a box for that feature in tandem with our Full Sync.
What If the Salesforce Record Is Deleted?
In SyncApps, by default, if the Contact/Lead is deleted, then it will stay in the Mailchimp Audience, but there's a way to override the configuration where if a Salesforce record is deleted, it will also be removed from your Mailchimp Audience:
If a record is deleted in Mailchimp, the best practice is to manually delete or mark them as opted out in Salesforce so that we will not re-add them to your Mailchimp Audience whenever the scheduled sync runs.
For the MC4SF app, once the Salesforce record is deleted, it will stay as subscribed in your Mailchimp Audience. This means that you stand to lose leads that you could have won over with a simple tick of a box in SyncApps.
How Do Mapped Fields Integrate?
In SyncApps, by default, we will automatically sync the email address, first name, and last name.
If you need to map other fields from Salesforce with Mailchimp bidirectionally, enable the webhook feature of the integration setup in Step 2, then map the fields in Step 4. Whenever there are updates in Salesforce, those will be synced automatically to Mailchimp's records, and if there are profile updates from Mailchimp, it will also update the Salesforce fields in real-time as well.
You can use Field mapping to kick off Mailchimp autoresponders with ease or alert Salesforce users of any field changes in Mailchimp too.
The MC4SF app will only work one way from Salesforce to the Mailchimp fields as it does not utilize its own webhook feature and many of its own API features:

Managing Salesforce Campaigns, List Views, or Specific Contacts/Leads to Mailchimp Groups or Tags?
In MC4SF, you will need to run the "Query Builder" to add them to a specific Group or add a Tag. Before that happens, you will need to manually create the Group or Tag first in Mailchimp, as the app cannot auto-create these Groups/Tags from Salesforce. You can also check to which Tag this record is subscribed:
Using SyncApps is a lot easier as there are ways to automatically segment your Contact/Leads to Mailchimp Groups or Tags, but using a few features that are just point-and-click.
If you use Salesforce Campaigns/List Views and if you have selected these specific Campaigns/List Views in the integration setup, each of the Salesforce Campaigns/List Views will automatically be created into Groups (if Groups is selected as the segmentation method) under the "My Groups" Group Category. Please note that "My Groups" will automatically be created by us too. If you're using Tags as the segmentation method, then each of the Campaigns/List Views selected will automatically be created as Tags as well.
If you don't use the first option, the other option is to use the Filtering and Segmentation feature in SyncApps. Setting this up is like running a report in Salesforce where it will be based on the mapped field, and each of the "Segments" will be created as Groups/Tags in Mailchimp.
You can also customize which Group Category you want these fields to be synced over.
The Checkbox feature will also manage your Contact/Leads subscription as well, and it works great with this integration!
What If Some of the Contacts/Leads Are Removed from Your Salesforce Campaigns/List Views?
MC4SF does not have the capability to remove the records from the Groups/Tags once they are removed from the SalesforceCampaigns/List Views. You will need to remove them manually.
SyncApps do have a feature to do that automatically for you. We call this Full Sync. Once they are removed from your Salesforce Campaigns/List Views, we will also remove them from your Mailchimp Groups/Tags. Check this out for more information.
Campaign Responses - Syncing Mailchimp Campaign Metrics Back to Salesforce
Like the MC4SF app, we can also sync back the responses to Salesforce. The only difference is that the MC4SF has its own tab where you can see the responses, not on the native object. MC4SF has other analytics aside from opens, clicks, and bounces.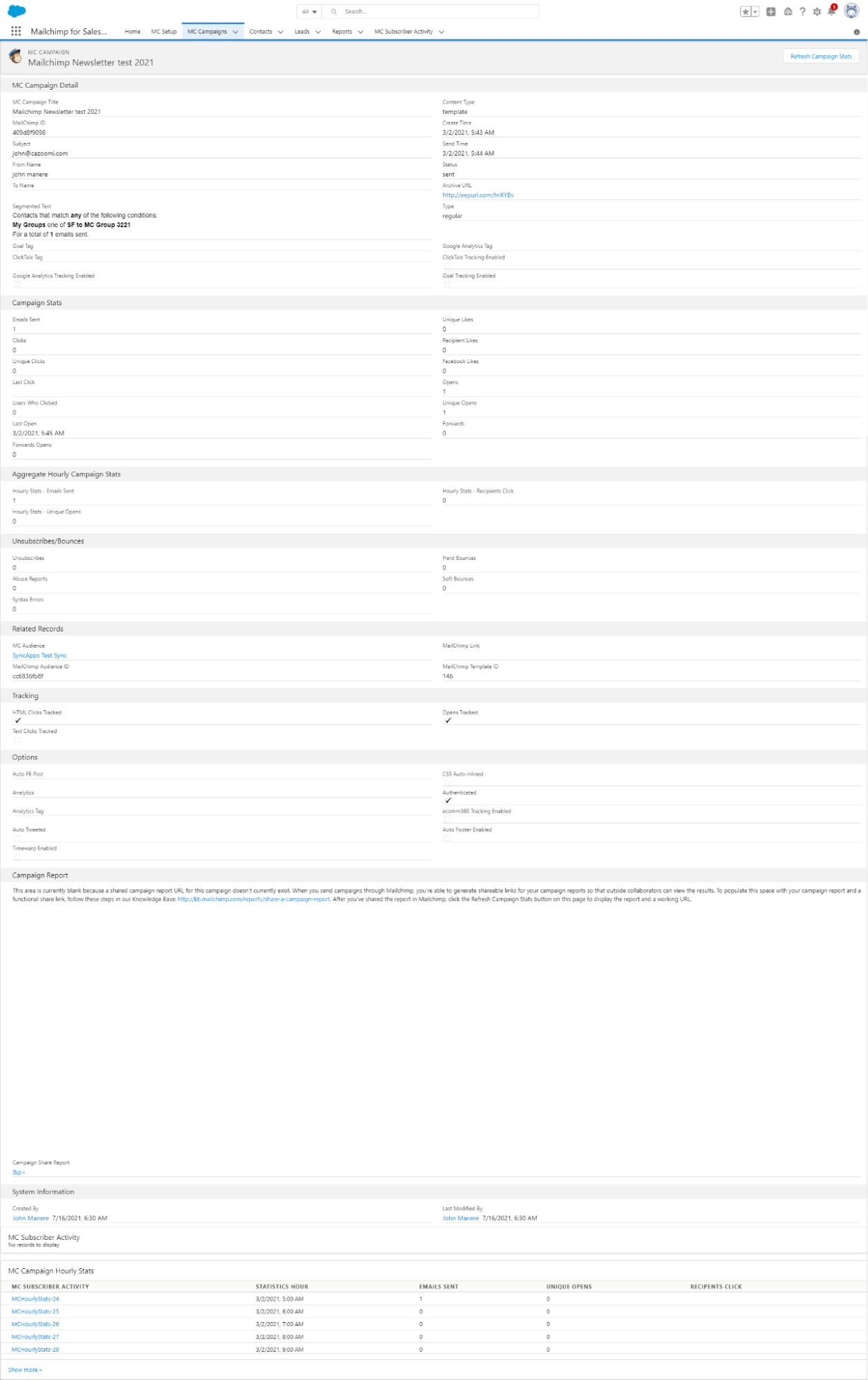 In SyncApps, we will sync directly to those fields in Salesforce, and we do not create our own tab. Instead, we will create the Salesforce Campaign, Activity, Campaign + Activity, Contact/Lead notes, or bring back marketing metrics only from your Mailchimp Campaigns/email automations.
See this article for more information.
Create a Salesforce Campaign: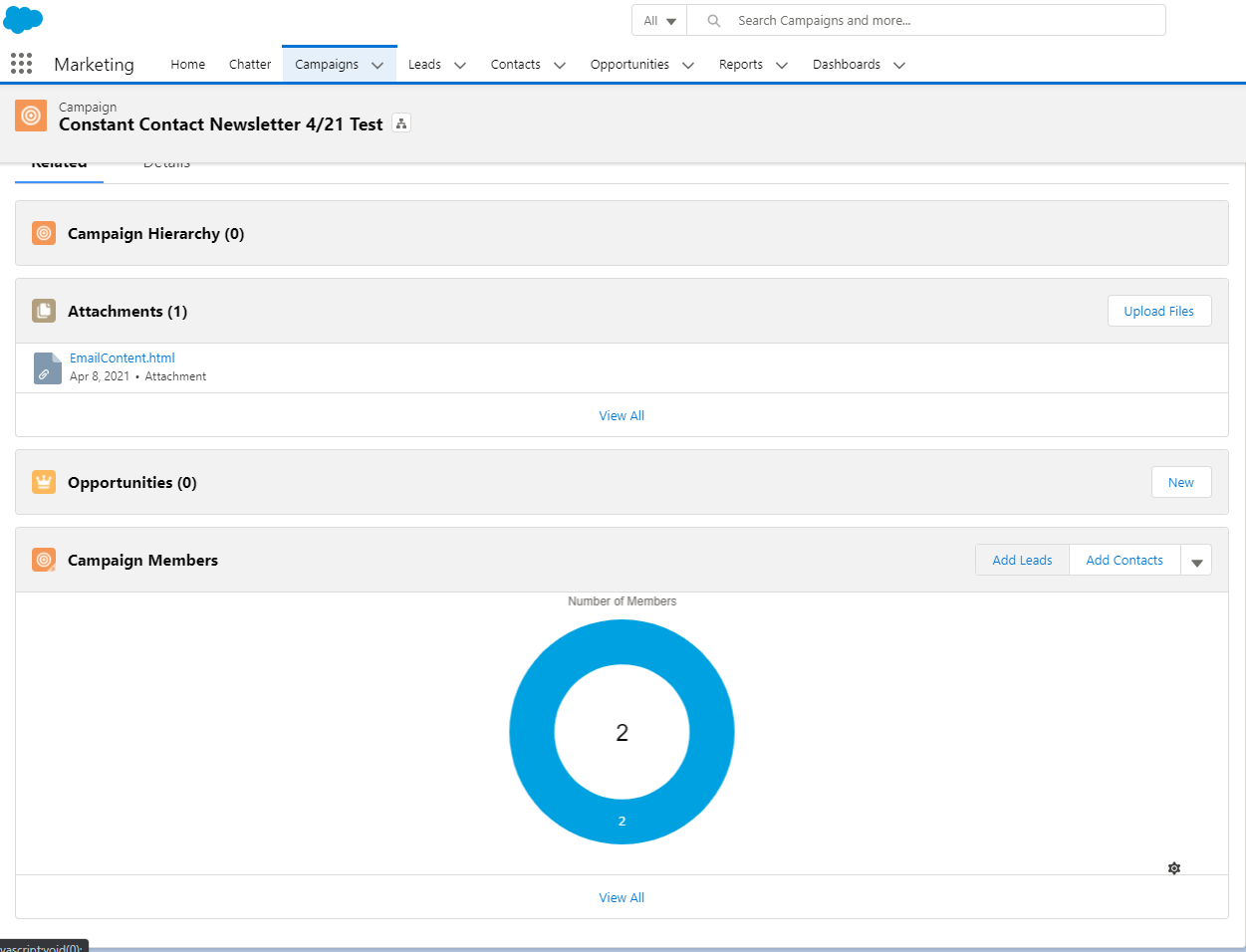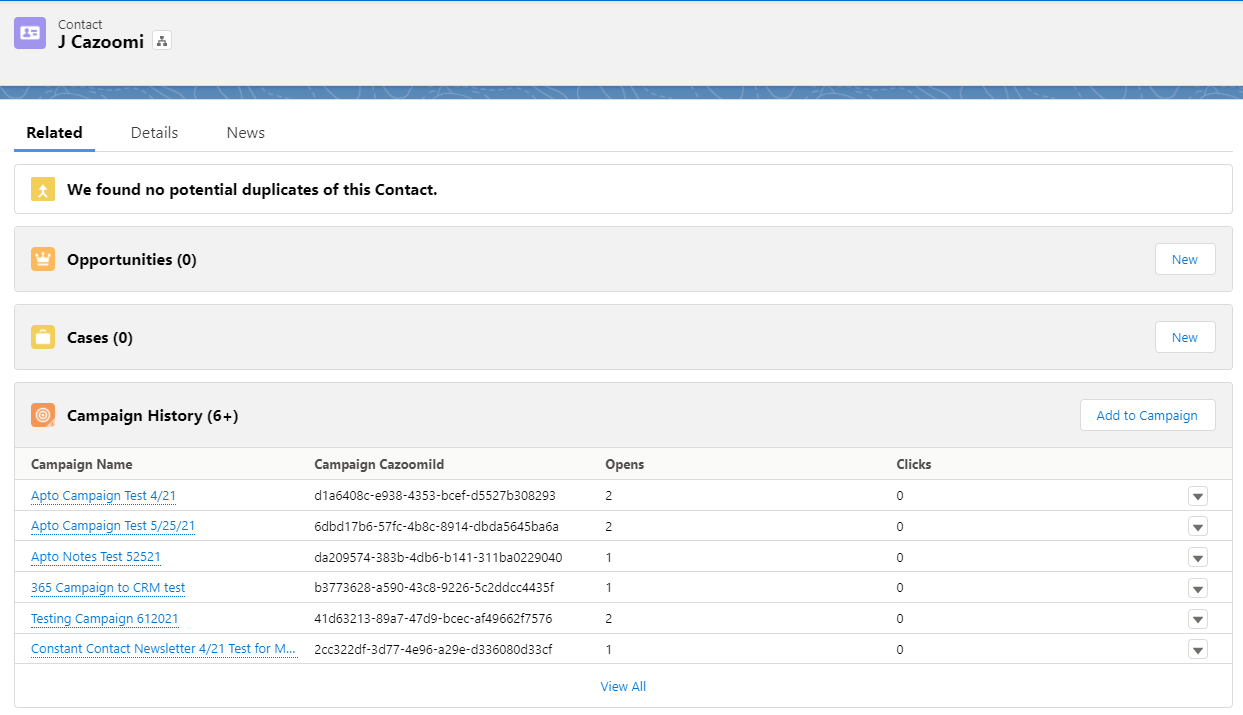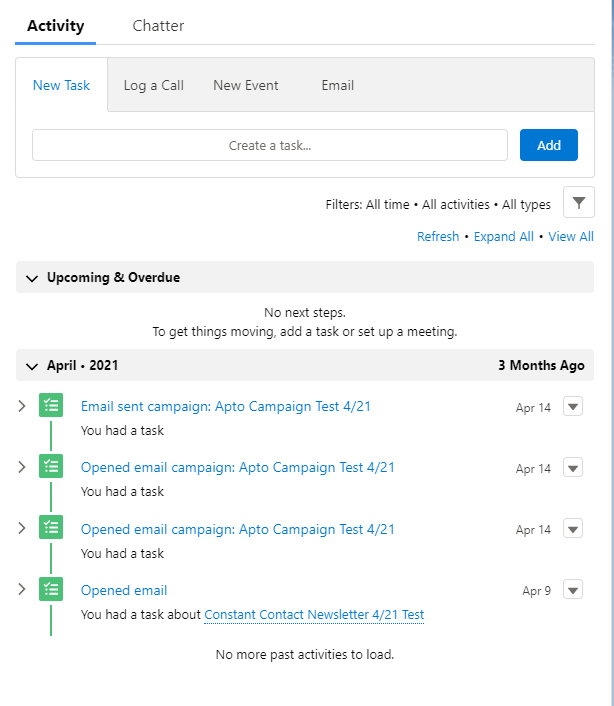 Create Campaign + Activity
Create Contact/Lead Notes:

Bring back Marketing Metrics Only
How to Use Contact/Member Rating
In SyncApps, you can map it via field mapping in Step 4 - Map Mailchimp Member (Contact) Rating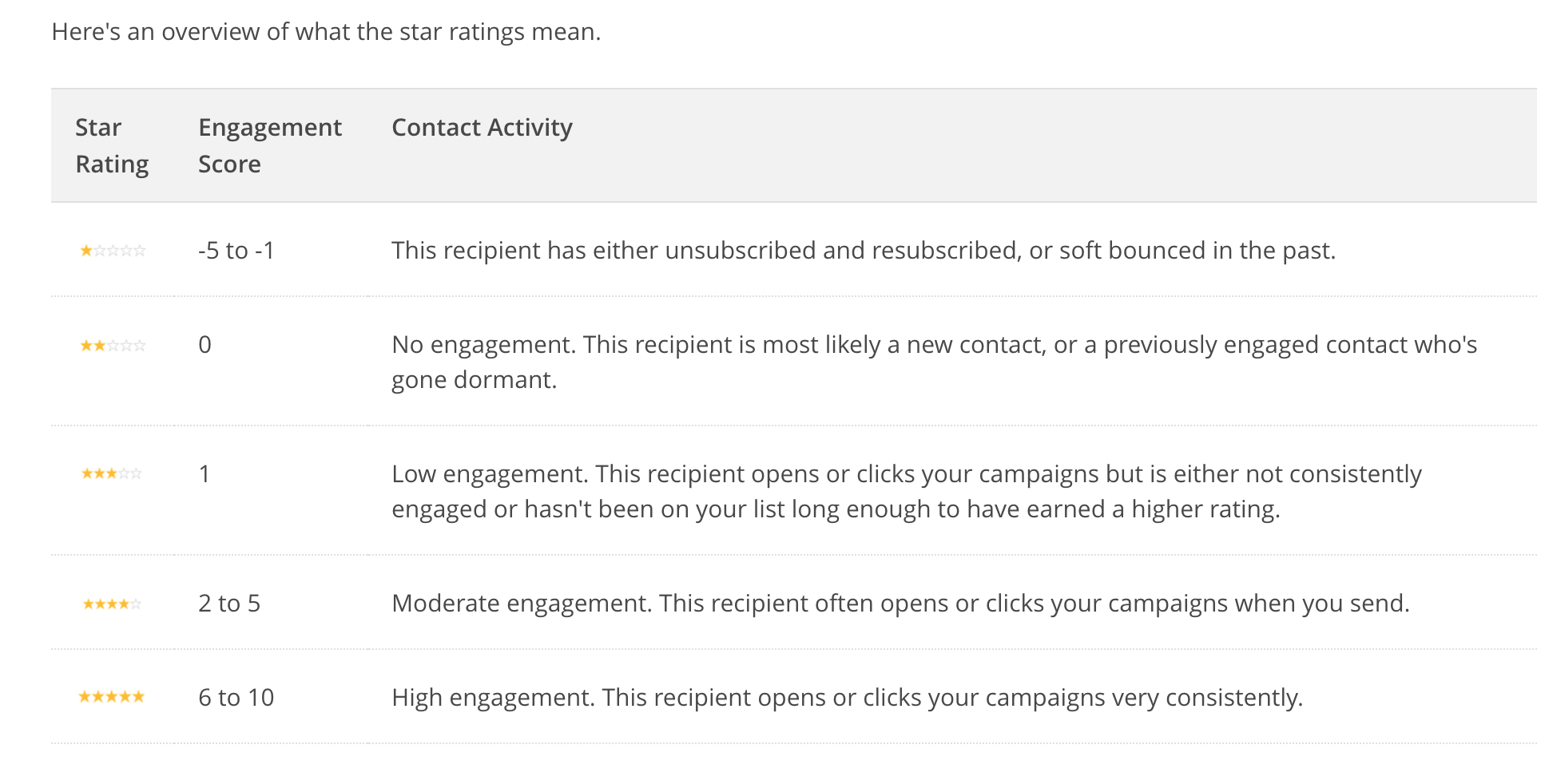 I Don't Know What to Do or What Features to Select -- Who Can Help Me?
Unlike MC4SF, which has less than stellar support, SyncApps offers 24/7 email support and scheduled phone support to help you guide your integration based on your integration needs. SyncApps also has a robust Help Center for guide articles.
We add new features weekly, so if you have any feature suggestions, please reach out!
Need Help?
Check out these Help Desk articles for answers to frequently asked questions.