Are you making use of the email marketing services of Mailchimp to send out emails to your contacts, subscribers, and fans to be able to manage and track them?
How about integrating it with Salesforce CRM to help you manage tasks and relationships with your customers?
A typical flow: Mailchimp for Salesforce
When a Campaign is created in Salesforce and gets synced to Mailchimp, it creates a Group of the campaign members. However, when any Mailchimp Email Campaign is sent to the List or Group flows back from Mailchimp to Salesforce, a new Salesforce Campaign gets created in Salesforce with the metrics such as opens, clicks, and bounces.
This is how we capture all your marketing metrics from Mailchimp to Salesforce, yours to keep forever to slice and dice in Salesforce.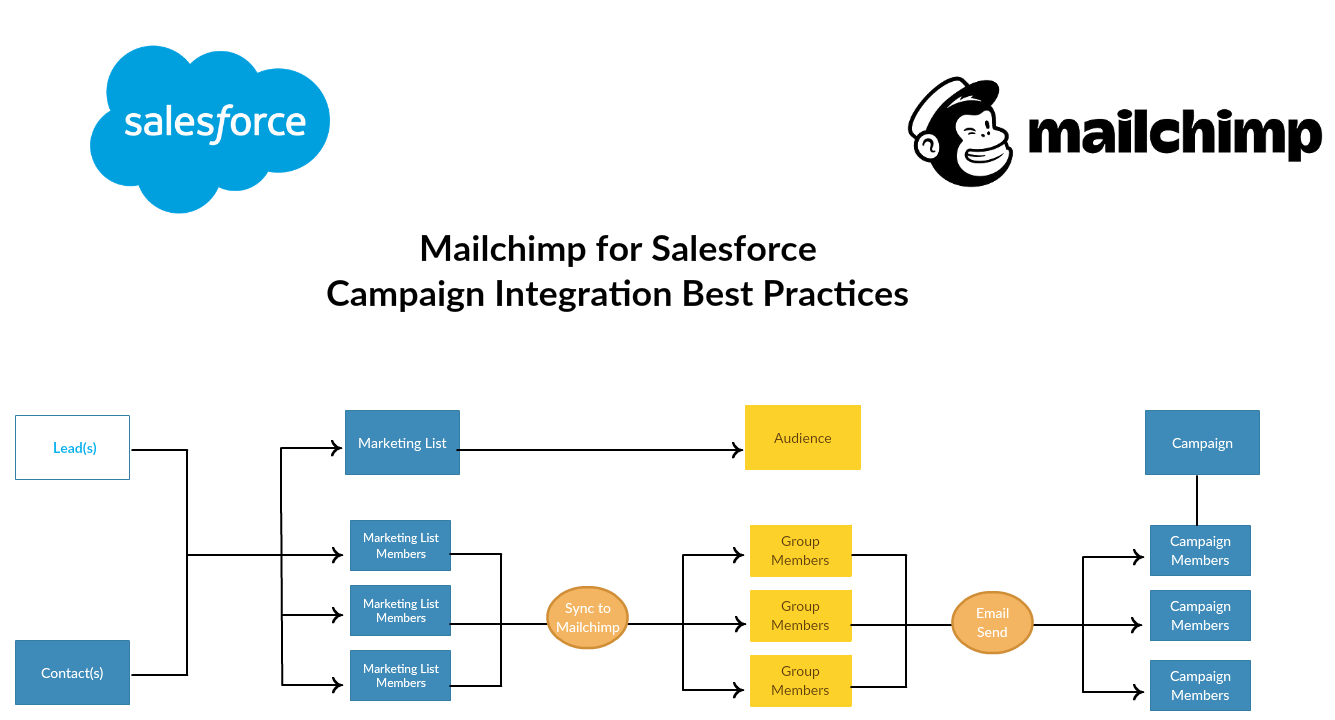 See how the #1 Top rated Salesforce partner implements this integration today!

It is this new Salesforce Campaign where the campaign member metrics sync to not back to the original campaign synced from Salesforce which created the Mailchimp Group.
Why:
"Campaign" is used differently in Mailchimp and Salesforce. In Mailchimp, the term, "Campaign" is an email while in Salesforce, "Campaign" is a defined group to which people can be added and removed based on marketing preference.
Attaching email metrics, the original Salesforce Campaign doesn't make integration sense. What SyncApps does is it creates a new special tracking Salesforce Campaign that just corresponds to the recipients of the Mailchimp Email Campaign.
Solutions:
There are 2 different features namely using Salesforce Campaigns as List (Mailchimp Group(s) integration) for segmentation (can use Salesforce Marketing list package) and Sync Mailchimp Campaign Response to Salesforce campaigns.
Since it is possible to create more than one Mailchimp Campaign for each Segment/Group, the former was decided to be created for each Mailchimp Campaign to store marketing metrics. Also, it is less confusing than the latter.
You can do this to test:
Create a Campaign and/or Salesforce Marketing list in Salesforce. Once synced to Mailchimp via SyncApps, corresponding "Groups" will be created in Mailchimp under "My Groups" Group Title by default - we will automatically create this Group Title if the "Group Title to use" in Step 2 of the Sync Profile is blank.
You can also create a "Test" Salesforce Campaign including one person--your email--which will then create a Group with only 1 email record in Mailchimp. Do a test Mailchimp Email Campaign with the recipients in the Group of 1 (which is your email) that was created.
Upon receiving an email, open it, tap the link, and check Mailchimp to see if it is showing your response. Run SyncApps (Sync Now). Voila, a new "Test" Campaign was created in Salesforce in which you were expecting to see one showing you as a member with your 1 open and 1 tap.
Options:
There are currently a few modes to sync back Campaign Metrics to Salesforce. (Campaign Response Sync Mode)
How Campaign Response brings back Campaign metrics to Salesforce
Create a Salesforce Campaign -

This option will create a Campaign in Salesforce from your Marketing Automation solution with the Campaign Members in it together with the individual Campaign Metrics.

Create a Salesforce Activity for each metric in an Email Campaign like an open, tap, link tapped, etc. -

If this option is selected then each event such as Opening, Tapping will create a new Activity (Task) in Salesforce, an option for tracking URLs tapped, and the end event as Tasks.

Create Salesforce Campaign + Activity

This option is a combination of Option 1 and Option 2.

Create a Salesforce Note + attached HTML Template of Campaign -

If using this option, no extra field placement is needed. We will sync back your Email Campaign(s) to Salesforce Notes and also, add an attachment of the Email sent to Leads and Contacts. (Designed for Financial Institutions, Insurance Agencies, Banks, and others for compliance reasons)

Sync only the Mailchimp Marketing Metrics to Salesforce (No Campaign Members) Saves on Salesforce Storage!
Try the mode above that corresponds to the integration requirements needed by your organization today!
Set up a time to talk with our experts.